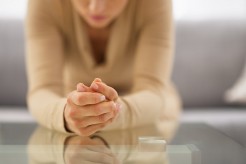 I've always felt painfully average.
When Jesus says the first will be last and the last will be first, I figure… ehh… I'll probably be right in the middle somewhere.
Average.
And by most accounts, my life is, as my friend says "scary normal" — full of monotonous routines, carpool trips, an occasional empty milk jug, messy floors, too much clutter, a rogue calendar and a disobedient dog.
But no real drama.  No deep crises.
All my problems are First World problems.  And even those — they are the tamest of First World problems.
An. Ordinary. Life.
I imagine this is where many of you live as well.
It is easy to miss the extraordinary in this ordinary place.  We crawl into our same cars and our numbingly-familiar routines.  And at the end of the day, we sort through mail and laundry and sticky lunch boxes.
An. Ordinary. Life.
Maybe this ordinary life begs for us to not wait for the extraordinary, but to actually pursue it and find it.  There amidst the messy schedules and the exhaustion and the routine.
Married life looks nothing like the wedding.
I've come to believe, though, that the fairytale doesn't necessarily fade, but rather has to be re-made.  Realistically crafted from the loose threads of kind words, "I'm-in-this-with-you" glances, a genuine touch.
Do you know where extraordinary sex lives?   Not in fancy hotels or once-a-year anniversary trips or the occasional "ideal" date night.  Sure, extraordinary sex visits those places — tags along with you for the ride.
But that's not where it lives.
Extraordinary sex lives in the ordinary.
But it's not a bully.  It won't force its way on to your "to do" list or into your sleep-deprived lethargy.  Nope.
You have to choose that making love is worth the effort.  That the person you fell in love with — the one next to you in the often-debilitating journey — is worth it.  You have to choose.
You have to decide that offering your heart and body and attention is not a mere sub-plot, but rather a defining theme of your marriage.
You have to have the resolve to not be permanently distracted by dusty countertops, muddy dogs, grumpy children or belligerent schedules.
And. That's. Hard.
I. Know.
But — for most of us, it is not impossible.  This extraordinary sex, fashioned out of a giving of ourselves, over and over again, to tender and humble connectedness — no, it is not impossible.
My guess is that if you are reading this and weeping a bit on the inside, it's either because you have long desired just this sort of sex from your spouse, to no avail.  OR, you have pushed aside this sort of sex, causing agonizing — yet not always seen — damage to the person you love and to your marriage.
And to yourself, really.
Thankfully, today is not yesterday.
And as long as you're still in it — the two of you trying to make sense of this thing called marriage — then I believe there is still time.
What will it take for you to pursue extraordinary sex in your ordinary life?
Because that's where extraordinary sex lives.  It lives in the ordinary.
Copyright 2014, Julie Sibert. Intimacy in Marriage Blog. Links may be monetized.
Never want to miss one of my posts?  Subscribe via email on this page.  And be sure to join my more than 9,000 followers on my Facebook page and 10,000 followers on Twitter.