I don't know your husband, so I can't answer for certainty what he would say if we asked him, "What is the sexiest thing your wife can do for you?"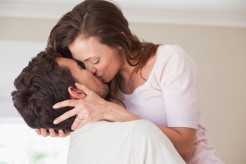 But if he is like many husbands, the sexiest thing you can do is desire him sexually.
Do you desire him sexually?  If so, that is sexy.
Sadly, the skewed sexual messages that society holds up as "sexy" often miss the mark by a long shot.
We are easily led to believe that with just the right body, clothes, make-up, hair and moves, we would be able to really wow him sexually beneath the sheets.
But a fabricated photoshopped life is a poor counterfeit for the real thing.
The sexiest sexual encounters happen between a husband and wife who hunger to be with each other sexually.
It's not just about being available sexually.
It is about being intimately aware of the way he longs for not just the feel of your body, but the presence of your heart and soul.
Yes, the physical touch of your fingertips, breasts, hair, and lips… these take his breath away.
But when you offer your body AND the vulnerability of your true self, well — there's nothing sexier than that.
Do you give him access to it all?  I hear from countless husbands who crave this kind of transparency sexually with the woman they married.
Sex is never just about sex.  It's not just about "showing up;" it's about showing up with a tender and steadfast conviction that making love is immeasurably powerful.
The sexiest thing you can do for your husband is to leave no doubt in his mind that he still is the one who has caught your eye and stirred your heart.
The sexual allure and mystery of the fairytale exists, but not in the way Hollywood serves it to us.   It instead finds it footings in the mess of your daily life.
The cumbersome calendars, stacks of clutter, unfolded laundry, sticky-faced toddlers, and crazy work demands — these are but a backdrop to extraordinary sex happening within the ordinary.
The sexiest thing you can do for your husband?  Don't let the life you have together sabotage the life you have together.
Don't lose track of what it means to regularly close the bedroom door, take off each other's clothes and pursue sexual pleasure.
The sexiest thing you can do for your husband?
Desire him sexually.
Copyright 2015, Julie Sibert. Intimacy in Marriage Blog. Links may be monetized.
Never want to miss one of my posts?  Subscribe via email on this page.  And be sure to join my more than 9,000 followers on my Facebook page and 10,000 followers on Twitter.