There's a reason Shaunti Feldhahn's books have sold so many copies.
Millions of copies, I tell you.
Two of her books in particular — For Women Only and For Men Only — are spot on in helping men and women understand each other.  She updated her latest editions in 2013. (Her husband is a co-author on For Men Only. Don't want to rob him of the props he deserves).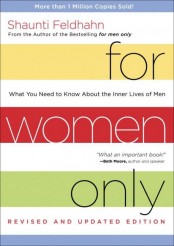 If I had to make a "required reading" list for anyone getting married, I would put these books on the list.
(No one has ever asked me to make a list, but now I'm thinking I just might whip up such a list in my spare time.)
I always recommend both the man and the woman each read BOTH books.
They are packed with insights and research-based stats that afterward will leave you thinking, "Well, that explains a lot."
More importantly, these books can help couples slash the miscommunication that wreaks havoc in so many relationships.
No shocker to all you married folks out there, but miscommunication is a nemesis of authentic intimacy (sexual and otherwise).
Obviously, I am a big fan of anything that is going to help married folks better understand each other (and have better sex).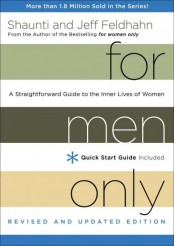 Shaunti was kind enough to give me  a set of the books to give away.
If you want a shot at getting the set, do this:
1. Comment on this post by Wednesday, May 21, 9 p.m. CENTRAL.   Tell me what you think it means to a marriage if the two people in it better understand each other.
2. You can use an anonymous name in your comment, but I need your real email address.  It won't publish for the world to see, but if I have to notify you that you've won, I need to be able to reach you.
3. Be patient, as I moderate all comments.  When you comment, it won't show up right away, but that just means I need to go in and approve it (which I usually do in a reasonable amount of time).
I will draw randomly from the comments late Tuesday evening.
Oh, and please be generous with sharing this post, because that way more people will know about Shaunti's books.
You never know when this sort of info will be the breakthrough many marriages desperately need.
A big thank you to Shaunti and Jeff Feldhahn for being champions for healthy marriages.
Okay… Ready. Set. Go.  Scroll on down and comment.