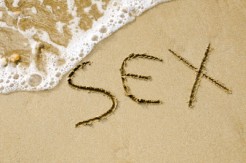 I believe that as long as we are married, we never stop learning how to be married.
It's a process.
It's a journey.
It's winding roads and crappy terrain and scenic overlooks and dark alleys and hairpin turns.
It's steep climbs and quiet valleys.
It's dusty country roads and asphalt gridlock.
It's "Doesn't anyone know how the carpool lane works."
It's "We're stuck."  And it's "We're moving again."
It's "I'm glad you're riding shotgun with me in this thing called life."
I get it.
I'm still learning how to be married.  I'm still learning about savoring all sex can be with the man I love.
If you want sex with your husband to look better in 2014 than it did in 2013, why not try something.
Here are 54 "somethings" you could try:
1. Forgive yourself for ways you've neglected sex to this point.  Forgive. Yourself.  Repent. Decide it can look better.
2. Run your fingers through his hair when you make love.
3. Read Proverbs 5:18-19. And Song of Songs 1:13.
4. Tell your husband what turns you on.
5. Be on top. It's fun. It's arousing.  For him and you.  I even think the Proverbs 31 spouse liked being on top.
6. For that matter, read the entire book of Song of Songs.
7. Take captive all the lies you've been told about sex (like that it is mere duty or is gross or it's just about procreation). Enough already with the lies.
8. Initiate sex more often.
9. Ask him what turns him on. 

10. Plan an overnight date with your husband (If you are financially strapped, plan it at home. Get rid of the kids. Farm them out. Cash in favors with friends. Do what you gotta do to be alone with your husband).
11. Have a romantic dinner. (I recently had the privilege of having coffee with two of my faithful readers, Chuck and his wife Julie, from North Carolina.  They shared with me that when their kids were little, they would plop those kiddos in front of a movie while they ate a steak dinner in their bedroom  On a card table. With the door closed).  A romanctic dinner doesn't have to be a fancy restaurant with a $150 bill. Get creative.
12. Buy my ebook.  (Shameless plug, I know. But it's got good stuff in it, so invest the $7.99 in your marriage. That's like two lattes.  Your marriage is worth two lattes.)
13. Start reading a marriage blog that is new to you.  A few suggestions… Hot, Holy & Humorous; The Generous Wife; The Generous Husband; The Romantic Vineyard; To Love Honor and Vacuum; Engaged Marriage; One Flesh Marriage; Journey to Surrender; Marriage Works; Stupendous Marriage; Marriage Gems; One Extraordinary Marriage; Calm, Healthy, Sexy; True Agape; Chronic Marriage; Forgiven Wife; Pearl's Oyster Bed.
14. Say out loud, "Orgasm feels good. I want more of that." (Remember: God's only purpose for your clitoris is that you enjoy intense sexual pleasure). I've written about orgasm here, here, here, here, here and here.
15. Get comfortable in your own skin. The body image war is futile. And stupid. And fueled by completely unrealistic standards that have the fingerprints of Photoshop all over them.
16. Try a new way to please your husband sexually.  Hand job? Oral sex? My Christian friend J has a "how to" book available for you if you want to be a sex savvy wife.
17. Let your husband undress you.
18.  Try a lubricant.
19. Flirt with your husband in front of your kids.
20. While in church, run your fingernails along his arm or caress his knee.  Or do both. Both is better.
21. Read Proverbs 14:1.  Decide which type of woman you want to be.
22. Write him a letter listing out 10 things you really appreciate about him.
23. Get to know him better. Try a year of various questions. Vulnerability is sexy.

24. Read 1 Corinthians 7.
25. Instead of turning on the TV late in the evening, sit and have a glass of wine or beer together. If you don't drink, enjoy some ice cream together.  Talk.
26. Undress your husband. Go slow. Be sensuous.
27. Shower together. At least once a week or more if possible.
28. Occasionally make sex just about him.
29. Out of the blue before he leaves for work, say to him, "I'd like us to spend some time together later. And by 'time' I mean 'sex.'"  Then smile.
30. Stop waiting for "someday" to make things sexually better between the two of you. Someday never comes on its own. Never.
31. Hold his hand.
32. Express how good orgasm feels to you.  Moan, scream, become an unraveled mess in his arms.  Guys like that sort of thing.
33. Caress his testicles more often.
34. Go to a store together and find colognes that you each like — one for him and one for you.
35. Give him a shoulder rub.  Don't forget to massage his scalp and his ears. If it progresses into a full body massage, enjoy!  Don't want to stop progress, right?!
36. Try a completely new activity with your husband. Visit a museum. Try a new food. Go on a hike someplace you've never been.
37. Install a lock on your bedroom door if you don't already have one.  Actually use it when you have sex. This will give you peace of mind that the kids can't walk in.
38. If you've had deep sexual struggles in your marriage, tell him you want the two of you together to work on healing and making things healthier. Baby steps count.
39. Give your husband complete freedom to explore your body. Ask him to take his time.
40. Stop participating in careless conversation among women that diminishes marriage. Don't be the wife who finds "justification in camaraderie" — meaning, if your girlfriends don't like sex with their husbands then you think it's fine for you to ignore sex with yours. That's bad marriage mojo. Bad for your marriage. Bad for theirs.
Be a bold advocate for healthy sexual intimacy.  I'm on a mission. Be with me, okay?
41.  Everybody loves something, has lost something and is afraid of something. If you don't know what your husband would say to those things, ask him.
42. If you've ever been sexually abused in your past, seek out resources, counseling and prayer that will help you heal.  Resolve that past abuse will no longer take a toll on your marital intimacy.
43. Passionately kiss. For no reason at all.  Just to do it.
44. If your little kids are regularly sleeping in your bed, change that pattern.  Something in your marriage should be sacred territory just for the two of you, and your bed is a good place to start. Teach them to go to sleep in their own bed.  If they come in your room in the middle of the night, teach them to sleep on the floor next to your bed.
45. Watch your wedding video and/or look at your wedding photos.
46. Consider these 5 Ways to Sexually Please Your Husband.
47. Leave a light on during sex. Or some candles.
48. Pay closer attention to your appearance. Not in a superficial way, but in a genuine way that speaks to your husband, "I care about staying healthy for me and for you.  I care about my appearance."
49. If you've been sleeping in a different bed than your husband, talk to him about the two of you transitioning back into sleeping in the same bed.
50. Make love somewhere in the house other than your bedroom.
51. Do Kegel exercises during sex. When you tighten those pelvic muscles around his penis, it feels good for him. And for you.
52. Say "no" to more volunteer activities so you have more energy to say "yes" to sex with the man you married.
53. Share something vulnerable with your husband.  Tell him something about yourself that he doesn't know.  Struggling with what to share?  See #41.
54. Scan the list of all my past posts to see if something resonates with you.
You don't have to do all these things.  I mean, you could if you want.  But at least do some of them, right?  I believe in you.  Do you believe in you?
Make 2014 one of the best years for your marriage sexually.  We need to be a body of believers encouraging one another toward healthy sexual intimacy.
What other ideas would you add to the above list?
Copyright 2013, Julie Sibert. Intimacy in Marriage Blog.