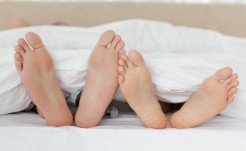 Well, I wasn't in London talking about sex.
Although, that would be totally cool.
Maybe someday soon a church or ministry will want me to come there and talk about sex. (Hint, hint to all my British friends!)
Anyway, Patricia Benjamin interviewed me again on her "Real Love Show," which is a Christian radio show out of London.
If you want to hear the replay, go to the below link.
Once you push the green play button, then slide the smaller button to 7:40 on the play bar.  That's where Patricia starts the talk and introduces me.
Great opportunity to hear my story and my insights on this important area of sexual intimacy in marriage.
Copyright 2013, Julie Sibert. Intimacy in Marriage Blog.