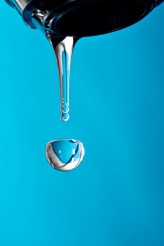 "All in the name of research" is what I said to my husband when I told him I wanted us to review personal lubricants for sexual intimacy.
His response?  I think it was something coy like, "Well, I suppose… for research sake."
Even as sexually aware as I am, when I decided to review lubricants, I did not realize the array of choices out there.
The days of K-Y Jelly being the only choice are long gone.
And honestly, that's a good thing.
Anyone looking for a lubricant really wouldn't have too much difficulty finding one.  I even asked readers for suggestions and discovered many of which I had never even heard.
Quite a few people also suggested saliva, which I agree can often be great lubricant.  And I'm not just talking about during oral sex. Many couples quickly discover that simply applying saliva to the vaginal area or the penis prior to penetration can work quite well.
Other people suggested natural oils, such as coconut, sesame, olive and jojoba.
Artificial lubricants (often called "personal lubricants") are categorized a number of different ways, and can be found over-the-counter or online.
Some are considered vaginal moisturizers and others offer "enhanced sensations" of tingling, warming and so forth. Some are even specialized for fertility, meaning they are less toxic to sperm, which could be an important factor for a married couple that is trying to get pregnant.
Some lubricants are glycerine free, paraben free, hypoallergenic, fragrance free, etc.
There are lubricants marketed for "her" and for "him."   Lubricants come in various consistencies, with some appearing more like lotions and others like gels and still others that are quite liquid-y. (I know. That's not a word. But you get what I'm saying).
I even found some that were "whipped." Like frosting.
Some are classified as organic, but you have to really research and study if something truly is organic.  There are various standards out there.
No surprise, there are lubricants that come in a variety of flavors, likely developed to make oral sex more appealing — or just because "raspberry flavored lubricant" has more marketing appeal than just plain ol' non-flavored lubricant. Go figure.
(A friend of mine, who shall remain anonymous, thinks they should make lubricant flavored like Cabernet Sauvignon. I tell ya, that girl needs some serious help).
And what about bacon-flavored lubricant?
Bacon is all the rage now, so I'm not surprised that there is indeed bacon-flavored lubricant. (Yes. I found it online. You could find it too if you or your beloved really have a thing for bacon. I mean, you'd really have to have a thing for it, right, to have your body, not to mention your bedroom, smell like bacon?).
I also found bourbon-flavored lubricant.  I told my husband we didn't need that one because I'm already drunk on his love. (Insert smirky smile here).
Novelty aside, lubrication is a topic worthy of discussion in many marriages.  There are so many lubricants available that I obviously couldn't cover them all, but hopefully I've done a little leg work for you.
While some people may think they shouldn't "need" artificial lubricant or that such products are not "Christian-like" to use, I really believe there is nothing wrong with artificial lubrication.
In fact, lubrication can do wonders for a married couple's sexual intimacy, making the experience more enjoyable for both of them.  For a newly-married couple just starting out, lubrication can help ease some of the pain that comes as a wife's vaginal walls stretch to accomodate her husband.
If a husband has a particularly large penis, lubrication can make intercourse not only easier, but also more pleasurable.
Some couples find a lubricant is helpful at certain times in a wife's menstrual cycle or during sex where water is involved (like sex in the shower, where the water causes more friction).
Also, some women may find that their vagina does not secrete enough lubrication during sexual arousal and/or may experience reduced natural lubrication during menopause, so an artificial lubricant is definitely worth trying.
And if a couple is using a condom, they may find that added lubrication can increase the comfort during sexual intimacy.
A few basics you should know about lubricants:
They are water-based, oil-based or silicone-based.  This is important to know, especially if you are using condoms.
If you are using a condom, you should not use oil-based (also sometimes called petroleum-based) lubricant because it can break down the condom material.
This also can happen with some silicone-based lubricants. (Supposedly there is a product called Simply Slick that is proven to be the only oil-based lubricant safe for use with condoms, but I don't know much about it).
Suffice to say, you need to read the packaging on any lubricant before you consider using it with a condom.
When it comes to lubricant quantity, less is usually better than more.  If you use lubricant, start out with a small amount. Some friction is still necessary to make sexual intercourse enjoyable for you and your spouse.
There's a fine balance with this.  Too much lubrication and you're sliding all over the place with no stimulation. Too little lubrication and there can be pain.  Trial and error.  Gotta see what works best.
It's easier to start with a small amount and add than it is to try to wipe off what you don't need.
Also, if you are prone to urinary tract infections, you would be wise to urinate before and after sex and wash your genital area thoroughly after using a lubricant. Some people do find that the lubricant is more prone to trap bacteria. There also are vaginal infections, such as bacterial vaginosis, and yeast infections that some studies have found occur more frequently with lubricant use.
As for buying lubricants, this has never been easier.
For one, the stigma is gone, and now you can find a whole section of lubricants beautifully displayed at your local drugstore or superstore (Wal-Mart, Walgreens, CVS, Target, etc.)
Many also are available online, with several lubricants having their own professionally-designed sites.
On some of these sites you can buy directly, whereas others route you to online retailers.
When researching lubricants, I discovered I could find most of them without stumbling across sites with questionable content.  Unfortunately, this is not always the case, but like I said… you shouldn't have any problem finding quality lubricants from reputable sites.
A few of the brands we personally reviewed through actual use included Sliquid, Yes, K-Y, Pure Romance, Firefly Organics, Liquid Silk, Pjur, and Astroglide.
Others that were recommended but we didn't try were Pink, Wet, Wet Platinum, Good Clean Love, Sex Tarts, Good Head, JO Lubricants, and Sylk.
These companies either wouldn't return my emails and/or requests for samples. That doesn't mean they aren't worth trying.  I actually heard a lot of great comments about Wet Platinum.
Quite a few brands offer a whole line of lubricants, with varieties in flavors, composition, specific use and so forth.
Before I give you our insights, you should know that personal lubricant use really is that — it's all about personal preference.
The ones we liked you may try and not like as well.  And the ones we weren't crazy about, you maybe would try and would love.
That's just how it goes with lubricant.
And a lot of things, really. But let's stay on topic.
If you find that you want to try a lubricant either because sex is uncomfortable or because you want variety, then find a few to try.  What one person likes may be different than what another person likes.
With that in mind, here are the insights on the ones we tried:
1. Sliquid
By far, we  liked this one the best.  Great product all the way around, in our opinion. It had the right feel — it wasn't too slippery, but also didn't get tacky.  It had staying power.  Sliquid comes in quite a few varieties, so you would want to check out their website.
2. Liquid Silk
Our second favorite, for many of the same reasons we liked Sliquid. Key for us again was that it didn't become tacky.  Liquid Silk also has staying power. It also is silky white in color, which some people may find appealing because it looks a lot like semen.
3. Yes
Many of my readers recommended Yes, which is an organic lubricant that was developed after thorough research. They offer oil-based and water-based.  We agree that it is quite good and does mimic the body's natural lubrication well.  It easily was in our top 3.
4. Astroglide
By far the best over-the-counter personal lubricant.  Astroglide has been around since the early 90s and, in my opinion, has a much better feel than many of the other lubricants you can find at your local store.  In fact, it is the lubricant I most recommend if someone doesn't want to go on-line to buy a lubricant.
While it is difficult to pinpoint our disappointment with the below lubricants, it really just comes down to they didn't feel right for us.
That's not to say they wouldn't for someone else, but they weren't our favorites:
5. Pjur
This lubricant is made in Germany and quite a few people recommended it to me. We tried the Pjur Aqua and found it to be just okay. It became somewhat tacky, which was disappointing.
Like a lot of the other lubricants, though, it comes in different varieties.  Might just need to find the right one, so to speak.
6. Pure Romance
Again, didn't feel right for us.  We weren't in love with this lubricant.  It's not that it became tacky, but rather it just didn't have the right feel.  They have different varieties though.
While we appreciated that this one seems to be well made, we found that it became tacky too quickly.  I had a few readers recommend it, though, so I know it does have a following.
8. K-Y
K-Y was one of the first to offer lubricant and they have really broadened their product list.  We tried the Yours and Mine, which supposedly increases the sensations for the woman and the man.  We didn't really notice the difference, but that's not to say that some couples wouldn't notice it.
Our other complaint was that it became tacky.
K-Y has a lot of different products, though, so you may find one you really enjoy.
So there you have it!  My insights on a few lubricants.  
I highly encourage you, though, to not necessarily take my word for it. If you want or need lubricant, try a few and see what you and your spouse like. Also, I did ANOTHER POST on lubricants at this link.
You could also check out what Paul Byerly has to say in his post Got Lube?
Your sexual intimacy is worth it!  Any lubricants you would recommend?
Copyright 2013, Julie Sibert. Intimacy in Marriage Blog. Links may be monetized.
Never want to miss one of my posts?  Subscribe via email on this page.  And be sure to join my more than 9,000 followers on my Facebook page and 10,000 followers on Twitter.