I have to give a shout out to all my sisters in Christ out there who really aren't sure how to give great oral sex, but really want to!  You are not alone.

We need to do away with this crazy assumption that a wife will automatically know how to make oral sex an incredible experience for her guy.
No one becomes an expert without a little trial and error, and this is as true with oral sex as it is with anything else.
It's like cooking an incredible meal — even if you follow a recipe, along the way you learn how to add your own nuances and adjustments to make him crave it even more.
Here are 6 insights on orally pleasing your husband:
1. Come to bed clean (both of you!)
Concerns about cleanliness can make husbands and wives wary about oral sex. The solution? Tell your husband that you really want to offer him oral sex, but you would love it if the two of you could shower together first.
I actually think showering together and coming to bed clean is a great precursor to any kind of sexual activity, but it especially makes oral sex more appealing.
Even if a shower together isn't an option, still express to him that cleanliness is a priority to making this fun.
2. Make sure he knows you want feedback.
With a tender, genuine and loving tone, before you even start, say to him things like…
"Tell me what feels good, okay?"
"I want this to be really enjoyable for you."
"I don't exactly know what I'm doing, so you're going to have to help me learn."
Most husbands would die for their wife to humbly offer up that kind of attitude.
If your husband is like most husbands, he longs for you to not only desire him, but also to want to please him sexually.  Obviously it's in his best interest that you learn all there is about how to offer mind-blowing oral sex.
Invite him to be your teacher, and together you two will thoroughly enjoy sexual pleasure.
3. Heighten his arousal before you even put his penis in your mouth.
Anticipation is powerful, especially when it comes to sexual arousal.  Even if your husband is ready to go (if you know what I mean, which I think you do), there's no reason why you can't heighten the sensations a bit more.
Have him lay back and then take your time caressing his entire body with a good mix of light and firm touches and kisses.  Pay close attention to caressing and gently massaging his inner thighs, testicles, chest and neck.
And don't underestimate the way you can use your breasts to gently caress his entire body as well.
All of that foreplay focused solely on him increases the likelihood that when he does climax, it will be amazing.
4.  Use your mouth and tongue generously and creatively.
Here is where you most need his feedback. He is the only one who can help you understand what sensation on his penis feels the best. He may like you to suck, lick and/or circle the head of his penis with your mouth, tongue and lips.
He may want you to move your mouth up and down his penis quickly or at a slower pace. He may want variety — or he may want you to stick mostly with one motion that brings him intense gratificaiton.
Generally speaking, because of the number of nerves in the head of the penis, you have to pay close attention to what you are doing in that area.  Surprisingly, that doesn't always mean being super gentle.  Just like the clitoris, the head of the penis usually requires firmer and more stimulation to build sexual pleasure.
5. Use your hand as well.
When we think of a wife orally pleasing her husband, we tend to think the mouth and tongue are the only players on the field.
But I think you can increase his pleasure so much more if you also use your hand around the shaft of his penis, while you are using your mouth as well.
Again, you need his feedback. Does he like a firm grasp and movement on his penis?  Does he want to feel your hand and mouth go down as far as possible? Does he want your hand to wrap up and over the top of the head of his penis in a rhythmic motion?
The best oral sex usually has a bit of hand job thrown in as well, so don't be shy about using your hand. The saliva from your mouth generally gives you enough lubrication to easily move your hand along the shaft of his penis.
6. When he is about to climax…
Okay, this is the struggle for a lot of wives.  Should you receive and swallow as your husband ejaculates?  Or should you finish with your hand?  Or should you receive the fluid in your mouth but then spit it out?
I can't answer this for you.  I think what is key, though, is that whatever you do, make sure it isn't going to be disruptive to him enjoying the experience.
Abrupt changes right before he climaxes may diminish his sexual pleasure. This shouldn't be too hard for us as wives to relate to.
Think about that moment right before you have an orgasm — at that moment, the last thing you want is to have a sudden change in what is actually making you climax, right?  It's the infamous "cliff of pleasure" you're about to plunge over. Once you are starting to go over, you want to go over with full freedom and enjoyment.
Your husband wants that as well when he is about to climax.
So when it comes to ejaculation, you and your husband should talk before sex even begins so you are prepared for what is going to happen in that moment.
Some husbands find it very loving and affirming that their wife would swallow, but I know that's not going to work for every woman. Some women have stronger gag reflexes, and obviously there's nothing sexy about gagging (or worse) as your husband climaxes.
Guys, if you are reading this (who am I kidding? you saw the headline.  you are reading this)…  please be sensitive to the fact your wife may have a hard time swallowing.
Consider having a towel nearby in case swallowing is not a good option.
On the flip side, though, wives if you think you can give swallowing a try — your husband would probably really like this.
Obviously the above insights are not exhaustive.  See also my posts…
3 Secrets to Amazing Oral Sex
Some Thoughts on Oral Sex
Is It Reasonable to Say "No" to Oral Sex?
Enough With the Double Standards Regarding Oral Sex
An Important Follow Up to the Oral Sex Post
Other bloggers have written about oral sex too, and I think you can gain good ideas from them as well.  Consider…
Oral Sex: How To
Oral Sex: Better to Give and Receive, Volume 1
Oral Sex: Better to Give and Receive, Part Deux
Oral Sex: Survey Says…
Oral Sex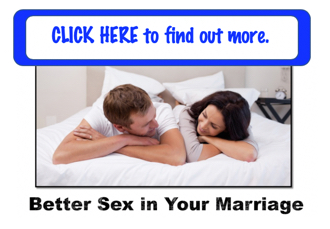 Copyright 2015, Julie Sibert. Intimacy in Marriage Blog. Links may be monetized.
Never want to miss one of my posts?  Subscribe via email on this page.  And be sure to join my more than 9,000 followers on my Facebook page and 10,000 followers on Twitter.