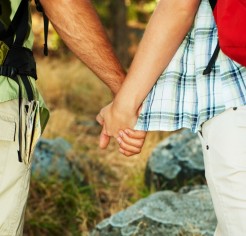 Enough already with all these silly attempts to paint men into a corner as bumbling adolescents with a one-track mind.
TV sitcoms, one-liner jokes, stand-up comedy routines and conversations at the local hair salon brim with commentary about the male sexual appetite.
How he wants it all the time.
How you just have to show up naked and bring food.
Now, I'm not saying sex and fun shouldn't mingle closely.  They should indeed!
I just think we as wives have a passionate privilege to please our husbands sexually.  So let's not get caught up in unfair stereotypes about sex and men.
Instead, let's get to the high calling of sexually pleasing our husbands.
Here are 5 ways to sexually please your husband…
1. Be sexually confident.
Do you want your husband sexually?  Do you initiate?
Do you occasionally take the lead in bed and let him be on the receiving end of all things sexual?
How willing are you to bless him with your hands? Your mouth? Your breasts? Your entire body and soul?
I once wrote a guest post titled "I Think the Proverbs 31 Wife Liked Being On Top."  It's more than a catchy title.
I was simply trying to throw falsehoods to the wind that being a strong and faithful Christian wife is incongruent with being sexually confident.  If anything, being a Christian wife should go hand-in-hand with sexual confidence.
Marriage is the one place where sex is not a sin.  All other circumstances that involve sex are intricately entwined with grieving the Lord's heart.
But your marriage bed?  That's where we can confidently embrace sexual intimacy for all it is worth.
If you are not sure how to grow in your sexual confidence, the good news is you can learn.
2. Enjoy your orgasm and his orgasm.
I've long held to the mantra that while orgasm may not be everything, it certainly is a very strong something.
And though I know for some women in particular, having an orgasm EVERY time is not necessary for the sexual encounter to be fulfilling, I always get a little leery if a wife says she couldn't care less about climaxing.  Really?!
God created orgasmic pleasure.  That was 100% His idea for a husband and a wife.  That being the case, why do we not pursue it with fervor and abandon and deep gratitude to the Creator?
When you as a wife climax, it is not only good for you, it is incredibly affirming to your husband (at least if he is like most husbands). That's why I wrote the post 3 Reasons Your Husband Likes it When You Climax.
Husbands, if you are reading this and you have been a selfish lover, ignoring what it will take for her to climax, find some humility, okay?  Stop being selfish. It's not helping you or your marriage.
And if you are a wife who struggles with climaxing, consider the posts I've written about orgasm on my orgasm page.
3. Bring God into the bedroom.
Whoa.  Did I just say that?
I think too many Christian wives allow themselves to be held captive by sexual inhibition that is anything but Christian. In fact, they may even be sacrificing their intimacy on the altar of inhibition.
Proverbs 5:18-19 tells the man, "May your fountain be blessed, and may you rejoice in the wife of your youth. A loving doe, a graceful deer — may her breasts satisfy you always, may you ever be captivated by her love."
So there we have it, straight from the Lord:  A "fountain" (code word for penis), a wife, breasts, satisfaction, captivation and love.    Doesn't sound like inhibition to me, but rather sounds like ravenous delight in marital intimacy.
Check your heart to see if it is aligned with God's Word on what it means to freely and passionately enjoy sex with your husband.
When you pursue your husband sexually, you aren't just saying yes to sex, you are saying yes to the Lord.  Invite Him into your bedroom.  He's already there, but I imagine would be happy if you acknowledged it.
4. Be sexually playful with your clothes on.
You don't want to tease unless you are going to follow through, so make sure your sexual playfulness is alluring, not aggravating.  I'm amazed at how many husbands and wives no longer have fun turning each other on.
If you struggle with being sexually playful, then you're just going to have to get out of your comfort zone and try something. Here are 5 ways to be sexually playful while clothed.
5. Learn some new sexual skills.
Don't know how to perform oral sex?  Don't know how to give a hand job?  Aren't sure the best ways to turn your husband on?  Aren't sure about positions other than missionary style?
You're not alone.  Most wives don't intuitively know how to have amazing sex.  Ask your husband to help you understand what is arousing to him.  Or check out the deliciously wonderful resources available on the Christian market.
Any other ideas on how to sexually please a husband? Do tell.
Copyright 2013, Julie Sibert. Intimacy in Marriage Blog. Links may be monetized.
Never want to miss one of my posts?  Subscribe via email on this page.  And be sure to join my more than 9,000 followers on my Facebook page and 10,000 followers on Twitter.