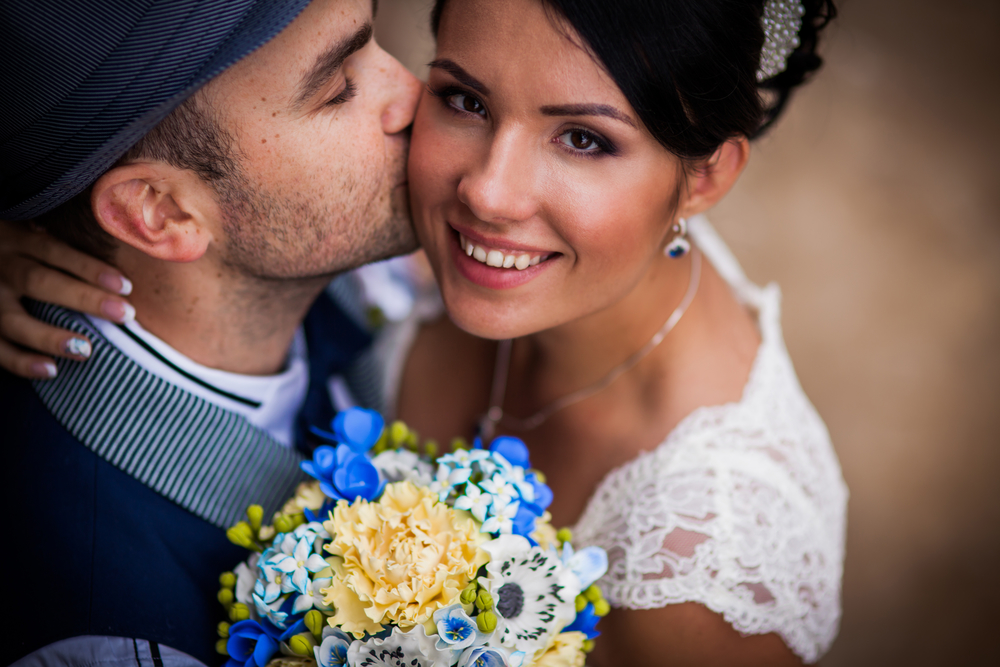 Is there a couple in your life getting married soon? Have you given much thought to what you will give them as a gift?
How about the gift of sex?!
Well, not sex per se, but something that will help them get their sexual intimacy in marriage off to a magnificent start.
Sure, you could just cruise on over to Target or Bed Bath & Beyond and get something off their registry list. But come on! You have more game than that!
Be the gift giver with a sexy gift that stands out.
It may feel bold to give any of the below (or a combination thereof), but it could be the best investment you make in their relationship.
Anyone who would deem the below gifts inappropriate probably is missing the point. It's totally appropriate to want a young couple to value sex in their marriage and to encourage them in that direction.
When giving one of the below gifts, be sure to include a card with a sentiment that gives them a why behind your gift. Something along the lines of "Sex is such a vital part of marriage, and we  encourage you to be intentional about nurturing it. Enjoy sex in your marriage!"  
If you have struggled at times with sex in your marriage, you could allude to that in a way that helps them see why you want them to not take sex for granted. Something along the lines of "We haven't always valued intimacy in our marriage, and we want you to start out on a better footing than we did. We encourage you to never take your sexual intimacy for granted. Pour into it and enjoy it!"
Whatever you write, just speak from the heart and don't be afraid to invest in their relationship. Below are some ideas. Remember, you can combine some of these too for an even more elaborate gift!
5 Sexy Wedding Gifts for the Young Newlyweds in Your Life
1. Quality lubricant
Whether a married couple has had sex or not, the reality is that many young couples can benefit from a sexual lubricant. A wife's vagina likely is fairly tight, especially if she is young and/or has never given birth OR has never had sex.
I absolutely love the lubricant brand Sliquid. I highly recommend their combo packs, where you can get sample boxes that include a variety of small packets of their most popular lubricants.
If you want other ideas for lubricants, I did reviews at this link and this link.
2. Christian sex book
How blessed are we these days that there are so many sex books on the market written by Christian authors and speakers?
Some of my favs are listed below. Even if you think the younger generations aren't reading many books, I guarantee getting a sex book as a wedding gift will at least pique their interest and inspire them to crack the cover.
And once they open it up, they are bound to pick up a few insights and inspirations.
When Two Become One
Hot Holy & Humorous: Sex in Marriage By God's Design
Pursuit of Passion: Discovering True Intimacy in Your Marriage
Pillow Talk
The Sexually Confident Wife
The Good Girl's Guide to Great Sex 
Awaken Love
The 5 Sex Needs of Men & Women
Sheet Music
3. Gift card to online Christian intimacy store
Honoring Intimates is an online store that offers lingerie and lubricants. They offer digital gift cards at this link. It is a respectable site with no suggestive photos, so it makes for a safe online shopping experience.
4. Trip to a marriage enrichment seminar or retreat
If you want to spend a bit more money, you could do some research and purchase a weekend getaway for the new couple to a seminar or retreat.
Of course, the best approach is to find a few options and then make up a gift card for the couple, indicating you want to invest in their relationship by paying for their trip to a marriage enrichment seminar or retreat.
They could then look at available options and dates over the next year or so and pick one that works with their schedule.
5. Creative dates 
This is a super easy and fun gift idea! Purchase a few gift cards for various restaurants or outings. If you're feeling particularly creative, you can add a playful note.
As far as outings, some ideas are golfing (if they golf), a couple's massage therapy session, a paddleboard outing, one of those places where you can paint a picture, a winery or brewery (if they drink), a museum, or a cooking class. 
The options are endless! You can simply search online for "fun date ideas" in the city where the couple lives.
Another option is to put two $20 bills in an envelope with a note that says they each need to plan a simple romantic date that costs no more than $20! Or how about a picnic basket full of all the makings for an afternoon at a park or a hike?
The point of the "Creative Dates" gift is that you want to emphasize to them the importance of nurturing their friendship—and that this lends itself well to nurturing their sexual intimacy. People ask me what the key to great sex is, and I always say deep authentic friendship.
So don't skip on including a message in the card about why friendship in marriage is so important not only for their marriage overall, but also for their passionate sexual connection.
Any other ideas?! Please share in the comment section other gift ideas you may have, so that we can all be the coolest gift givers EVER!
Let's shed more light on the joy and connection sex brings to a marriage. Let's not be shy about helping young newlyweds chart a course for passionate sexual intimacy!
For more reading, you can cruise through my list of past posts, as well as my page with a bunch of posts on orgasm.
Copyright 2020, Julie Sibert. Intimacy in Marriage Blog. Links may be monetized.
Never want to miss one of my posts?  Subscribe via email on this page.  And be sure to join my more than 10,000 followers on my Facebook page and 11,000 followers on Twitter.