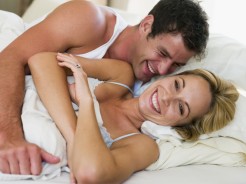 Awhile back I reviewed lubricants, and lo and behold, more lubricants came my way.
So I wanted to follow up with a post on three of those I received after the initial review.
I have not received any compensation for offering my opinion.  I've simply received samples and had fun using them.  (I know. One of the tough assignments of being a sex blogger, right?).
What is most encouraging is that there are many personal lubricant products to choose from, varying in ingredients, price, consistency, packaging, fragrances, flavors, etc.
Someone looking for a personal lubricant need not look far.
Plus, the world of the internet has made it easy to discreetly research and purchase personal lubricants from the comfort of your home.
If you want to see the original post, which is a bit more comprehensive as far as talking about more options available, check out Slippery When Wet: Lubricant Review.
As for the ones I'm reviewing today, here goes:
Simply Slick
I actually mentioned Simply Slick in my first review because I had heard that it is an oil-based lubricant safe for use with any condoms, regardless of the material they are made of (latex or non-latex).
I didn't know much about it, but Simple Solutions, the maker of Simply Slick, reached out to me and sent me a sample.
A huge positive about Simply Slick is that it is completely organic.   After the first post I did on lubricants, I did receive some emails and comments from people who were incredibly concerned about the ingredient make-up of some lubricants, so it is good to know that Simply Slick is an all-natural option.
While it is not the only lubricant that claims to be all natural or organic, I did find it fascinating that it is "the first 100% natural personal lubricant to receive a Section 510(k) medical device approval from the U.S. Food and Drug Administration." (according to a press release Simple Solutions sent me).
The FDA regulates lubricants as medical devices, rather than drugs.  If you are considering using a lubricant, it's good to research and understand not only what is in the lubricant, but also what type of testing has been done on it.
A chemist developed Simply Slick, which is free of coloring, fragrance, suspension agents, parabens, propylene glycol, hormones, silicone and petroleum.
A few of the main ingredients are castor oil, water, jojoba oil, glycerin and pectin. You have to remember to shake the bottle to adequately mix it, because it does not contain any suspension agents. The ingredients will separate (like oil and water naturally do).
When well mixed, it is a milky white liquid with great consistency.
We liked Simply Slick quite a bit and have used it more than once during lovemaking. Definitely a quality product that stands apart in the world of personal lubricants.   And from reading the materials included with the sample, the company is committed to the positive benefits the product has on the health and wellness of the people who use it.
Love Alchemy's Love Lotion
This is another company that reached out to me and sent me a sample of their product.
Developed by Dr. Eric Weiss and his wife Christine, who has nutrition and chemistry degrees, Love Lotion combines high grade botanicals, is completely organic and is safe for use with sex toys and condoms.
The first thing that stood out to me about Love Lotion is that the packaging is stunningly beautiful.  I know that some people may not see this as a huge positive, but other people certainly will.
The packaging is sexy and looks like something that comes from a classy boutique. In this regard, it would be ideal for a wedding gift for a couple you know well (or for an anniversary gift between spouses).
As for the product itself, Love Lotion is a white solid that quickly melts to oil when taken from the container with your hand.  It is made of grapeseed oil, coconut oil, shea butter, sandalwood oil, jasmine, yang-ylang, sweet orange, patchouli and lavender.
The written materials claim it is non-greasy, but personally I thought it felt a little greasy at first.  This isn't a bad quality, though, as it absorbs into the skin while still providing plenty of lubrication.
I absolutely love this product because it lends itself well not only to actual intercourse, but also to massaging and caressing.  It's a great moisturizer too!
It definitely has what I would consider a distinctly floral smell (maybe it's the lavender), and this may not be a big plus for men. My husband and I didn't mind it, though, and in fact, I really like the smell of it.
The Weisses have gone to great lengths to research, develop and offer a product of exceptional quality.  In that regard, they've hit a home run with Love Lotion.
Astroglide
In my first review, I did mention Astroglide as one my top 4 lubricants.  What I didn't mention is that there are a variety of products offered under the brand umbrella of Astroglide.
For example, on their website, they highlight eight different products.  A PR firm sent me samples of some of the products, including Astroglide Liquid, Astroglide Ultra Gentle Gel, Astroglide X, Astroglide Natural and Astroglide Diamond Silicone Gel.
As far as reasonably-priced personal lubricants that have been around for quite some time, Astroglide is one that comes to mind.   When someone asks me about lubricants, it's usually the first one I mention that easily can be found at commonly-known stores such as Wal-Mart, Walgreens, CVS, etc.
In my opinion, Astroglide was the first lubricant to really differentiate itself as a more effective lubricant than the other more common lubricants that had name recognition at the local drug store.
We liked Astroglide Natural quite a bit.  It is a water based lubricant that contains purified water, aloe, pectin and chamomile, among other ingredients.   It is latex safe, so you are good to go with the condoms.
Astroglide X and Astroglide Diamond are both silicone-based lubricants.  If you appreciate silicone lubricants (they can be great for water play, for instance), then these are worth considering.
Astroglide Ultra Gental Gel is free of alcohol, glycerin, parabens and fragrance and is latex safe.
Obviously Astroglide offers many options, which is characteristic of the personal lubricant industry as a whole.  There are an abundance of choices out there and lots of benefits to using a personal lubricant if you need one, so don't hesitate to research and try some that are on the market.
Now for the Giveaway!
The PR firm for Astroglide sent me duplicate packages of some of the Astroglide samples, so I do have some to give away.
*** UPDATE as of noon 11/17/14 ***  Congratulations to Tammy who won the free giveaway!
Copyright 2014, Julie Sibert. Intimacy in Marriage Blog. Links may be monetized.
Never want to miss one of my posts?  Subscribe via email on this page.  And be sure to join my more than 9,000 followers on my Facebook page and 10,000 followers on Twitter.