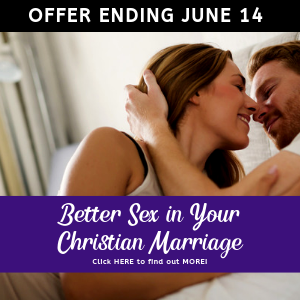 Hello all my followers, whether you are new to the blog or you've pulled up a chair at the table of my musings for quite some time now, I wanted to let you know that tomorrow evening, June 14, I'll be closing the introductory offer for the Better Sex in Your Marriage program.
My heart with this program is all about how it can benefit you and your spouse in your marriage! I designed it with the goal to get the two of you really talking about your sexual intimacy in a way that helps you embrace the amazing gift God designed sex to be for you two.
After I close the program, it will no longer be available at the $99 price with all the great bonuses, including a bonus Q&A, entry into a book giveaway with a collection of author-signed books, and a bonus video on the genitals. That's a lot of bonuses — in addition to the 5 videos, downloadable PDFs, list of awesome Christian resources on sex, and list of 30+ specific tips on making sex great that are the base of the program!
All for only $99.
Want to know more about investing in your marriage with this program? Just go to this link or click on the below image!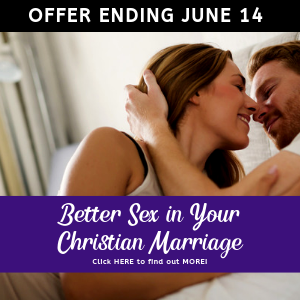 For more reading, cruise through my list of past posts. as well as my page with a bunch of posts on orgasm.
Copyright 2019, Julie Sibert. Intimacy in Marriage Blog. Links may be monetized.
Never want to miss one of my posts?  Subscribe via email on this page.  And be sure to join my more than 10,000 followers on my Facebook page and 11,000 followers on Twitter.