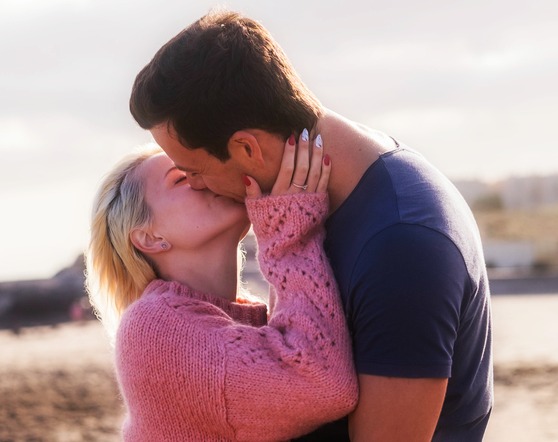 There is a restaurant in Omaha that offers a flight of bacon, like how you can get a flight of wine or a flight of beer. A. Flight. Of. Bacon. Seriously.
I'm not just teasing you. If you come to Omaha, go to Early Bird and get the flight of bacon called When Pigs Fly. Four different kinds of bacon worth every cent, every calorie, every slathery greasy last bite. (Is slathery even a word?)
The bacon is sooo good, my friends. And it emphasizes (to me, of course) that a little variety can go a long way with bacon…and with sex. I just put bacon and sex in the same sentence. My work here is done.
Just kidding! I still have lots to say (not about the bacon, but about sexual variety).
Recently I wrote a post titled You Can Have HOT Sex Without it Being Pornographic. I wrote the post because I think too many married couples are not willing to embrace more sexual freedom in their lovemaking — not because they don't want to, but because they think God has crazy tight reins on what is permissible sexually in a marriage.
Ironically (or not ironically, depending on how you look at it), the safe covenant of marriage is what makes exploration of sexual arousal so erotic between a husband and wife.
Marital exclusivity is not a dead end to sexual boredom, but a vast highway to sexual passion and pleasure.
Why in the name of God would a married couple want to narrow their lovemaking to only a few touches or only one position or only one pattern of this-is-the-only-way-we-have-sex? I'm not sure all the answers to that, but I am sure that it's not God who is shutting down all the sexual variety.
God isn't the killjoy when it comes to off-the-charts sex. We are —when we hold tight to skewed perceptions that if something is exciting sexually then it must automatically be forbidden fruit.
What does it take to have amazing sex in marriage? I've spent a lot of time pondering that (and experiencing it and trying to help others experience it). A good post to dig into is at this link. It is titled What It Takes to Have Amazing Sex in Marriage.
As you look at your own intimacy in your marriage, are you still sexually excited? Were you ever sexually excited? If you answered no to either of those questions, have you put in the heart work in figuring out why?
Sex is part of marriage, and the sexual playground in marriage contains more than just one swing. (I might be playing with too many analogies and visuals here, but I think you are tracking where I'm going).
Sure you could have one type of bacon. Or you can have the flight of bacon! The flight of bacon, sexually speaking, is the freedom to enjoy different touches, communicate authentically about sex, teach each other what feels good, and embrace your sexual pleasure rather than be afraid of it or downplay it.
As a wife, lean into the ways you can use your breasts, your vagina, your mouth, your tongue, your hands, your nipples, your fingertips, your hair, your entire body — how does all this lend well to not only your husband's sexual pleasure, but yours, too?
As a husband, lean into the ways you can use your penis, your mouth, your testicles, your hands, your fingertips, your tongue, your entire body — how does all this lend well to not only your wife's sexual pleasure, but yours, too?
And I didn't even touch upon positions. Or the way you can use furniture or pillows or the wall. Or what sex toys or lingerie or a blindfold or a silk scarf or music or lighting may add to the sexual anticipation and climax.
Just so we are clear, I am not talking about variety for variety's sake. I'm not talking about being perpetually dissatisfied and always wanting the next sexual high. Nope. I'm simply homing in on sexual freedom and what it means for the two of you as a husband and wife.
You are a married Christian couple and God designed not only sexual intercourse for your enjoyment, but also sexual foreplay and sexual arousal that extends beyond the scope of missionary position.
You have the opportunity for the flight of bacon, sexually speaking. (Well, also the actual flight of bacon if you are eating at Early Bird).
Do you want a sexual feast? It awaits if you're willing as a husband and wife to venture there. Abandon the unhealthy inhibitions that have sabotaged sexual intimacy in your marriage and go instead to the healthy boundaries that are overflowing with godly sexual freedom.
The sexual feast is yours. Do you want it? It's scrumptious.
For more reading, cruise through my list of past posts. as well as my page with a bunch of posts on orgasm.
Copyright 2019, Julie Sibert. Intimacy in Marriage Blog. Links may be monetized.
Never want to miss one of my posts?  Subscribe via email on this page.  And be sure to join my more than 10,000 followers on my Facebook page and 11,000 followers on Twitter.