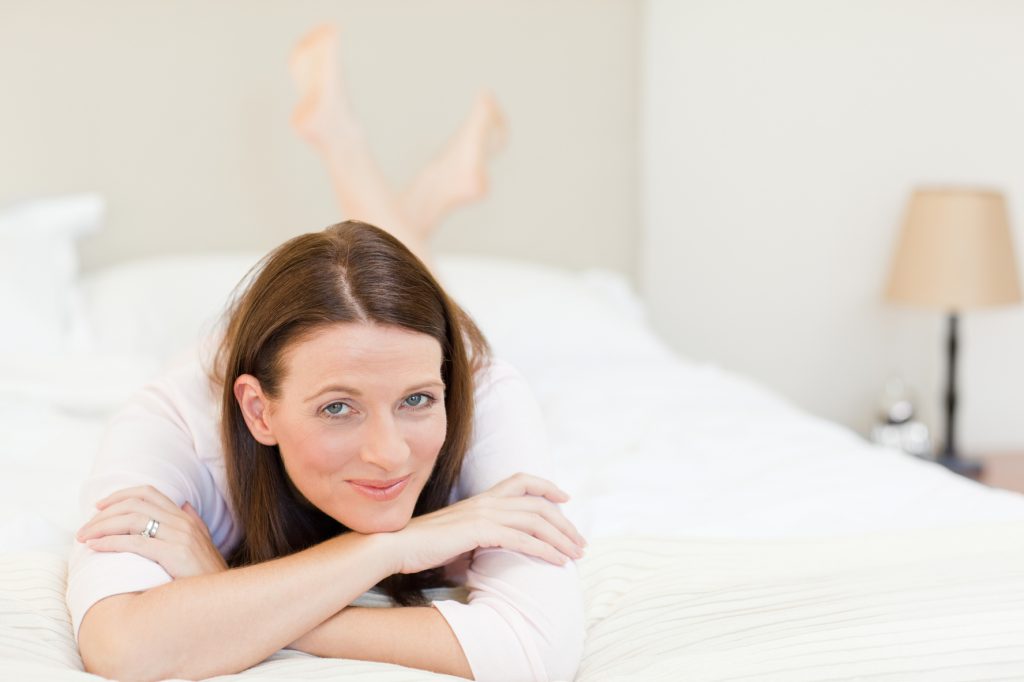 When my beloved and I said our vows, we had never had sex with each other.
In those first few months (and even first few years, really) of our marriage, we had much desire (and much lovemaking), but little sexual variety.
I think we were just trying to figure out being naked together.
The idea of trying anything beyond the basics we had already mastered didn't cross our minds.  Our sexual repertoire was narrow, and we settled into a pattern of predictable (albeit frequent) lovemaking.
Don't get me wrong. We were definitely sexually satisfied. But we had not found true sexual freedom in our bed.
Do you know what changed everything and made sex better for us?
We became comfortable enough in our own skin to try new sexual techniques and talk about what we liked.
I know.
Sounds simple enough, all written out in one concise sentence, right? But wow is there a plethora of truth in that sentence.
Comfortable enough in our own skin to try new sexual techniques and talk about what we liked.
When we let go of the idea that there are only a few ways to please each other sexually, it transformed sexual intimacy in our marriage.
And we started having a lot of fun making love, and connecting with deeper oneness that I knew was different than we had experienced in our first few years of marriage.
It's not that we haven't had our share of sexually difficulty in our marriage, because we have.  BUT what has carried us through is that we have a deep understanding of what it takes to bring each other intense sexual pleasure and nurture closeness.
We are turned on by turning each other on.
That understanding in our bed is profound.
And we would have missed out on that level of sexual enjoyment and connection if we hadn't embraced — even pursued — the freedom God gives a husband and wife in the exclusivity of their sexual intimacy.
Trying new ways to arouse each other and please each other sexually may be as simple as new ways of touching, new positions, undressing for each other or making love with more light in the room.
Just to be clear, I'm not talking about doing anything that would compromise your exclusivity (there is no room nor need for third parties in your lovemaking, no pornography, no illicit behavior).  And certainly I'm not talking about one spouse demanding or forcing certain sexual acts.
Nope.
God has always intended sexual intimacy to be a place of respect, mutuality and sacred covenant.
What I am talking about is taking great liberty in exploring your husband's body and inviting him to explore yours.
Our capacity to give and receive pleasure is multi-faceted because what appeals to our senses is multi-faceted.
Are you ever surprised by what you find arousing?
In that surprise, we can be tempted to downplay or even run from the arousal, overwhelmed by the exhilaration of maybe something we have never before felt. Don't run from it. Believe instead that it is sweet privilege for a husband and wife to please each other and find mutual enjoyment in making love.
This is your marriage bed, after all.
Exclusive ground for the two of you alone to explore each other, share, talk, touch, climax.  Exclusive ground to feel valued, desired and enthralled with sexual connection.
What will it take for you to become comfortable enough in your own skin to try new sexual techniques and talk about what you like?
When you do that in bed, it just might change everything.
Copyright 2016, Julie Sibert. Intimacy in Marriage Blog. Links may be monetized.
Never want to miss one of my posts?  Subscribe via email on this page.  And be sure to join my more than 9,000 followers on my Facebook page and 10,000 followers on Twitter.