1. Wait. wait. wait. And everything will instantly be great, great, great.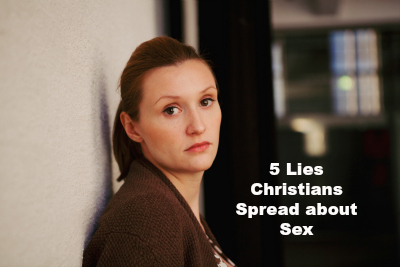 Oh man.
There are young people who hold up their end of the biblical bargain by maintaining their purity, only to discover on the wedding night that they kind have been duped.
Not by God.
But by other Christians.
I know, the lie wasn't malicious.  But nothing good comes from painting a sweeping generalization that from the wedding night forward, sex will instantly be amazing.
Yet, that is what we tend to do.
We scream purity from the rooftops, but are conspicuously vague about sex in marriage. We offer up these polished promises that sex as a married couple will be a flawless blend of ease, tenderness, romance and pleasure.
It will look like every romantic chick flick they have ever seen. Then — in what must feel like a shocking turn of events — many freshly-married couples close the door of the wedding night suite, only to find everything but sexual bliss.
Instead, they find themselves trying to soldier on through sexual awkwardness, confusion and disillusionment (and maybe even pain).
"THIS looks nothing like the movie," they silently ponder to themselves.
As a body of believers, we simply have to stop lying to these young couples. We have to help them understand that building phenomenal and mutually-valued sexual intimacy in their marriage takes effort.
And patience. And communication. And a willingness to pursue and learn how to bring each other indescribable pleasure.
I'm all for purity for singles (it is, after all, God's clear plan).
But for Christ's sake, can we please give some equal air time to how to enjoy great sex once they are married!?
Seriously, when I say for Christ's sake, I literally mean it.
Because I think He would really appreciate it if we didn't set these couples up for major disappointment at the very time when they have full privilege and permission to unabashedly learn how to enjoy each other beneath the sheets.
Things can be great, great, great after the wait, wait, wait.  But not if we don't teach them how to make sex great.
2. Your past sexual encounters will destroy sex in your marriage.
Okay, I know that some most Christians come to the altar without their purity pledge perfectly upheld.
Why is it, though, that sexual sin gets relegated into its own category, where forgiveness seems more like quasi-forgiveness? This is a big stumbling block, particularly for women. They think that their past sexual promiscuity is something beyond the reach of Christ's blood. That God will "sorta" forgive them. But not really.
So they head into marriage suspecting that their "punishment" will be mediocre or difficult sex going forward.  When sexual struggle do arise, they only take that as confirmation — rather than motivation to set in place healthy patterns.
Or they think that everything they did sexually before marriage is now off limits. But just because something is sin in one context does not inherently make it sin in another context. (Oral sex, for example. Sin before marriage. Completely acceptable after marriage, in my opinion).
We need to let go of shaming people for their sexual past. And we need to proactively show people why they should stop shaming themselves.
3. Sex is just for the husband.
I don't even know how this lie got started, seeing how God Himself came up with the clitoris.  The clitoris serves no other purpose but sexual pleasure in a woman. No other purpose, people.
So it should be obvious that sex is for the wife too, right? I mean, I know sex isn't just about the pleasure, but seriously — we can't really talk ourselves around how God is fanatically generous in His design of sexual pleasure for both a husband and a wife.
And if we unpack one of the most direct scriptures about sex (1 Corinthians 7), we see crystal clear encouragement that neither a husband nor a wife are to withhold their body from the other.
Can you picture it?  Paul is writing to the folks in Corinth.
And he's basically saying, "Hey you — yeah, you Joe. If your wife wants to get naked with you, you gotta do it man. Enjoy it. Enthusiastically say yes to her as often as possible!  In fact, you should only go without sex if you two have decided to go deep in prayer.  But even then, don't let praying keep you from each other for very long. That would put a huge damper on things. Not good Joe. Not good for you or the Mrs. or your family or this whole town."
Okay, I might be paraphrasing a bit.
But suffice to say, sex is not just for the husband. It's for the wife too.
4.  We can't talk about sex. That's private.
Yes, sex is an exclusive act between a husband and a wife.  I'm not lobbying for ripping off the proverbial filters and everyone start talking about the details of their sexual encounters. We need discernment.
BUT, what I am advocating is that we stop skirting around genuine dialogue.
We have got to get more comfortable as a body of believers talking about enjoying sex in marriage, facing and overcoming struggles, and heralding God's truth about sex.
And I don't mean only talking about it for 20 minutes in pre-marriage counseling.  And then staying eerily silent until a marriage is about to fall apart.
Sexual intimacy is an aspect of marriage where couples often need the most guidance and biblical truth, yet the church is clumsily vague at best and painfully silent at worst. And by church, I don't just mean the preachers, because we all are the church.
Take up the cause. Buy a t-shirt. Wave a banner. Start talking about sex.
Churches across the country should be having annual or semi-annual multi-week sessions about nurturing sexual intimacy.  Kind of like Dave Ramsey classes. Only for sex. (Better yet, offer both! Talk about money one week and sex the next. That would make for interesting pillow conversation).
5. Raw uninhibited sexual pleasure is wrong, even in a marriage.
I hate this lie. Probably because I like sex so much.
I think this lie is the worst one, perpetuated by too many Christians who are robbing themselves and their spouses of fully enjoying all God has to offer them sexually. And before you think I'm talking only about physical pleasure during sex, I'm also referring to a nakedness that is fuel for uninhibited passion — the baring of our souls, you might say.
Within the exclusivity of marriage, a husband and wife have tremendous freedom to seek and share the most intimate of experiences — their feelings, desires, vulnerabilities, and sexual expression.
The covenant of marriage isn't just well suited for raw uninhibited sexual pleasure, it's perfectly designed for it.
Hmmm. I wonder Whose idea that was.
Often, these lies make me want to freak out speak truth.
Truth will ultimately win in the end. I know. But can we aim for sooner than that?
For an insightful and much-needed post that digs deep, check out 4 Devastating Assumptions About Sex in Marriage. So many great links in that post that could springboard into authentic conversation in your marriage or church.
Also take a look at Why God is So Thrilled When You and Your Husband Make Love.
Copyright 2015, Julie Sibert. Intimacy in Marriage Blog. Links may be monetized.
Never want to miss one of my posts?  Subscribe via email on this page.  And be sure to join my more than 9,000 followers on my Facebook page and 10,000 followers on Twitter.