This situation isn't exactly unique, right? A married Christian couple. Who slept with each other before marriage.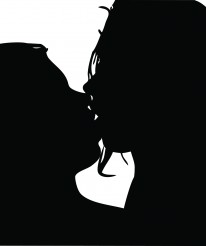 But what is baffling for some couples is that the sex before the marriage was better than it is now.
"What's up with that?!!" they may ask quietly to themselves, not really wanting to dig through the rubble to look for the answers.
Yes, some couples may chock it up to "life is busier now" or "that was when we were younger."
Sometimes, though, I think couples land on a different answer — sadly, one that is incredibly short-sighted.
It's one I hear particularly from women in these situations.
She knows they were out of God's will with the premarital sex, so when sex in the marriage begins to tank, she assumes it's punishment.
It's their lot in life now, she thinks. God's payback for doing things in the wrong order.
Consider, though, why that reasoning is short-sighted:
First, God is totally in the forgiveness business.
It's His main gig. His calling card. His neon sign. His love letter.
So if you think the sin of sexual promiscuity and premarital sex is worse than other sin — some how beyond His reach of forgiveness — I beg of you to adjust your lens and turn it toward His heart.
Why is this so hard? I'm not sure.  Probably has something to do with our innate struggle to humbly accept something we've come to believe we in no way deserve.
Any. Way. What I do know is this…
What He asks of you regarding your past sexual experience — even if it was with the person to whom you eventually pledged your life — is that you ask for forgiveness and repent of the sin.
The good news about that is the mere fact that your sexual activity is now in marriage shows that you do indeed know how to repent.  You have left your sexual promiscuity behind you. Any sex you are having now is in its right and holy context.
Yeah you! Yeah God!
But you have to believe and accept forgiveness for it to authentically transform your life, your marriage and your sexual intimacy.  Will you do that?
Second, when you get stuck thinking mediocre sex is God's punishment, you put a big smile on Satan's face.
What?!
Yeah, that enemy, he is a conniving, scheming, manipulative, sneaky jerk (and I'm saying that through my filter, so feel free to add any choice words that come to mind).
It delights Satan to no end to see your marriage suffer.
Satan hates marriage, something that is so drenched with God's heart and vision that Satan can't help but do whatever possible to sabotage it.
And here's the thing. Satan is kind of a grassroots sort of guy.
Sure, we see glimpses of him in the larger social realm where marriage is being re-defined and maligned.  BUT where does he really gain ground?
In individual marriages.  Maybe even in your marriage.
And he has become so adept at spinning one particular lie that we are often unaware of his presence until long after he has been snuggled up at the foot of our marriage bed, possibly for years.
Yes. Years.
The lie?  He tells singles to have sex because "Everyone is doing it!" and "It feels good and you deserve to feel good!" and "If something feels so good, how could it possibly be wrong?!"
AND THEN…
Wait for it…
He tells those EXACT SAME PEOPLE after they are married that "Sex is boring! sex is duty! Your spouse is selfish for wanting sex! You sinned before marriage! God won't let you have great sex now! You don't deserve it!"
See what I mean?
Conniving jerk.
Satan's "go to" strategy is always division. Always. So whatever he can do to cause division and disconnect in your marriage and in your sexual intimacy, he will do it by any means possible.
The good news is that you can take back the ground in your marriage Satan has said is his.  You can.  Tell him he has to go.
"Well, how do I do that?!"
Ask for God's help. And start shedding light on the pain and sexual disconnect and sexual lethargy between you and your spouse.
Satan works in the dark (a.k.a. silence, isolation, confusion, assumptions).  God, on the other hand, works in the light (a.k.a. humility, honesty, transparency, conversation, tenderness).
Talk to your spouse about how you want things to look different — better — healthier in your marriage bed than they look right now.
Take baby steps to undo mediocrity and replace it with authentic and frequent intimate connection.
Pray. Seek God's Word. Go after biblically sound resources that give you insights about sex.
Do all this enough and Satan will crawl right out of your bed, retreating to the shadows where his influence is nil.
If you had sex before you were married, even with the person who is now your spouse, those past sexual encounters do not define the course in your bed now.
You and your spouse define the course.
And God.
I don't know if you think the sex now isn't as hot because you've got a couple rugrats running around — or you think it's not hot because you haven't allowed yourself to truly walk in God's truth.
What I DO know is that God's vision for your marriage is nurtured and passionate intimacy all the way around.
You, your spouse and God define what's happening sexually in your bed.
How about the three of you get together and come up with a plan?
Never want to miss one of my posts?  Subscribe via email on this page.  And be sure to join my more than 9,000 followers on my Facebook page and 10,000 followers on Twitter.
Copyright 2015, Julie Sibert. Intimacy in Marriage Blog. Links may be monetized.