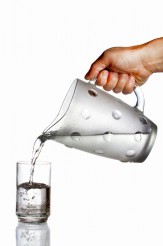 When sex is denied in a marriage, especially if there is a long pattern of withholding sex, one of the most common excuses given is something along these lines…
"Sex isn't a need.  It's not like air or water or food."
Let's be humble and dig deeper into this, because I think God longs for us to shed light where there is pain, disconnect and heartbreak.
Sure we all know that none of us could go very long without air (3 minutes), without water (3 days) and without food (3 weeks).
(The water and food time frames can vary based on a few factors, but suffice to say… no one is going to survive very long without some hydration and sustenance).
How long can a person go without sex and still survive physically?  Well, the answer is obvious, isn't it?  Lack of sexual intercourse is not going to kill anyone.
But either is lack of time scrap-booking…
or lack of time volunteering at church…
or lack of time reading the latest New York Times bestseller…
or lack of time talking on the phone with friends…
or lack of time working…
or lack of time getting a manicure…
or lack of time meeting a friend for lunch…
or lack of time cleaning the house…
or lack of time preparing the perfect Christmas tree…
or lack of time praying…
or lack of time playing with the kids…
or lack of time serving others…
There are many many things in our life that are not necessary to our physical survival. But if we removed them all, our lives would not be what we envision them to be.
They would be empty, without purpose, enjoyment and appreciation for the human experience.
If you are someone who has denied sex to your spouse because it is not a "need," stop to consider how painfully empty such an excuse is?  Stop to consider how you are robbing yourself and your spouse of something that is inherent to marriage.
We do not need sex the same way we need air, water and food.
But God never intended us to put sex in the same category as air, water and food.
I believe when we look closely at His Word and we press against His heart, we discover that sexual intimacy in marriage has a sustaining force that deserves its own accolades… its own category.
And when we embrace that — when we get that — we begin to see that it is a deep need.  Oh what encouragement it is that my husband and I need each other in this way!
When I say I need sex more than I need  coffee with my friends or playing with my kids, I'm not saying "instead of."   Do you see the difference?
It's not that God is saying we sacrifice everything else so that we can focus solely on sex. But He is clear that sex deserves our intentional and authentic effort, rooted in love, endearment and respect.  And that if we walk in that direction, we benefit in unfathomable ways.
Sex was never meant to sit indefinitely on the proverbial back burner.  Out of such a choice we can't help but come face to face with horrendous fallout.
If you have denied your spouse sex, claiming or simply thinking to yourself that it is not a "need," do you really want your fingerprints all over such a tragic wrongdoing?
Sex is a cool cup of water in marriage.  And personally, I need that.
Copyright 2012, Julie Sibert. Intimacy in Marriage Blog. Links may be monetized.
Never want to miss one of my posts?  Subscribe via email on this page.  And be sure to join my more than 9,000 followers on my Facebook page and 10,000 followers on Twitter.