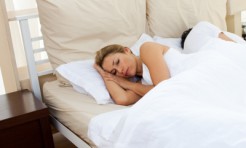 Do you "accommodate" your husband's desire for sex, but never really show up?
Do you make your body available, but never your heart and soul?
While "lack of sex" is a common storyline that sadly shows up in many marriages, equally discouraging is accommodation sex — whereby one spouse merely goes through the motions, but never really shows up.
We can try to argue it otherwise (and trust me, many people have), but God truly designed sex to be a profound encounter between a husband and wife.
A oneness.
A reaffirmation of what is good and holy and right in the covenant of marriage.
A physical playing out of marriage vows.
It's no wonder that we intuitively and quickly recognize when such experience is reduced to nothing more than duty or "going through the motions."
We know when our spouse is begrudgingly doing something, rather than vulnerably offering their whole self.
I've heard from some people (mostly husbands, but some wives as well) who say they can't decide which would be worse — no sex at all or sex that is done only out of obligation.
Ask yourself these questions:
Has accommodation sex become the standard in my marriage?
Is it the pattern from which we never deviate?
Does it define all (or nearly all) of the sexual encounters between me and my spouse?
Why is accommodation sex so devastating? If you are the one going through the motions, you may actually be asking this question with contempt, rather than contemplation.
Many wives have argued, "He is getting what he wants — sex. What does it matter if I'm really into it or not?  Why is he disappointed? He got what he wanted! He got his release."
Well, that's not what he truly wanted.
He wanted the woman he married to desire him sexually.
He wanted the woman he loves and does life with to value sex not simply for the physical release, but for the indescribable connection it creates.
He wanted his wife to crave his touch and his mouth and his body.
He wanted her to show up.  Really show up.
The good news is that if accommodation sex is all that you have ever offered, you don't have to stay stuck in that pattern.
Change is hard and awkward and sometimes overwhelming. I get that.  But it is possible.
And if it is the kind of change that can strengthen your marriage, why wouldn't you walk in the direction of change?
Not sure where to start?  How about getting real with your spouse about wanting sex to look different in your marriage.   How about a humble, "I'm sorry. I'm sorry I've treated sex as duty rather than a gift."
Maybe the hardest part will be digging into why you feel the way you do about sex.  As bewildering and overwhelming as that can be, it is so worth the heart work.  You're worth it.  Your marriage is worth it.
Sure, you could just sit back and hope things will improve on their own.  But why gamble with something as precious as the relationship with the person you fell in love with and married?
For more reading along these lines, check out Why the Excuse "Sex Isn't a Need" Doesn't Hold Water.
Copyright 2015, Julie Sibert. Intimacy in Marriage Blog. Links may be monetized.
Never want to miss one of my posts?  Subscribe via email on this page.  And be sure to join my more than 9,000 followers on my Facebook page and 10,000 followers on Twitter.