There's a lot to say about sex. So much that this blog has seen a post every single day this year! So many insights about sex!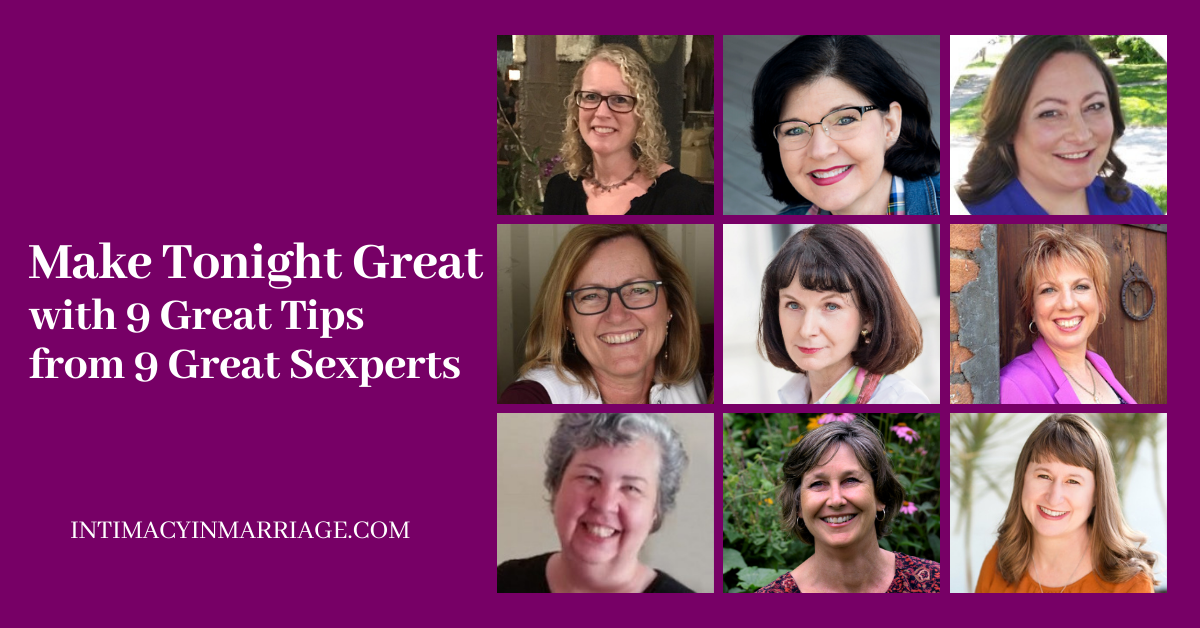 But today, nine Christian sexperts are here with the narrow focus of giving you a single tip for your sex life that you can start using today, tonight, or five minutes after you close this post. Whatever works for you.
I have the best blogger friends in the world that they would share these tips with all of you in this post!
These tips are mostly for couples with reasonably healthy marriages. If you're encountering bigger problems, check out my other posts on marriage struggles and sexual struggles instead.
Without further ado, here are your must-know sex tips:
Kate Aldrich, One Flesh Marriage
Those things you want to see changed in your marriage? You can change them. You can be the first person to make some changes that are needed. We tend to want to wait for our spouse to invest in changes. We can be that change, impact our marriage for the good, and move towards our spouse, rather than away from them.
Choose one thing today that you can work on for the next couple of weeks, that you know needs to change. Ask God to give you what you need to make small steps each day to change.
Bonny Burns, OysterBed7
Whether you are knee deep in the parenting years or overly obligated in the retirement years, life has a way of filling up. Sometimes, it is so full that we allow sexual intimacy to get crowded out. If you can't remember the last time you made love, it's time to start scheduling sex. Seriously.
We schedule teeth cleaning and oil changes. I suggest you schedule a lube job with your beloved in the bedroom. It's one of the best strategies for prioritizing intimate moments.
I admit, the first few times may feel a tiny bit awkward. But I assure you the awkwardness will dissipate as you bond through a few moments of bliss. Because that's one of the reasons God made sex, to bond.
Chris Taylor, The Forgiven Wife
If it's too cold for lingerie, wear one of your husband's shirts to bed. It will give him a visual thrill and will keep you warmer than regular lingerie.
Debi Walter, The Romantic Vineyard
Our best sex tip we can offer couples is to make it your goal to get your spouse to say, "Wow!" This will require you both to be willing to take your sexual intimacy to the next level over and over. It is what makes marriage sweeter as the years pass.
And what we love about this tip is it will be personal to you and you alone. We love the secrets we share in the bedroom, and we believe all marriages can benefit from practicing this one tip.
Gaye Christmus, Calm.Healthy.Sexy.
Mix things up! One of the reasons that married sex can sometimes seem a bit dull is that we tend do the same two or three things over and over again. While that might be efficient, and even comforting, it's not very exciting!
So when sex starts to feel kind of ho hum, mix things up a bit. As a matter of fact, mix things up before you get stuck in a boring routine.
One easy way to do that is to agree to try something new about once every two weeks. The "something new" can be small—making love in a different room, making love on the floor, switching sides of the bed, trying a simple new position, playing sexy music, experimenting with sensual scents or oils, or giving each other a massage. Or it can be something a bit more involved, like trying an "interesting" new position, taking a shower together, trying a sex toy, playing a sex game, wearing provocative clothing or lingerie, or getting away for a completely uninterrupted night together.
The possibilities are endless, and you don't have to try anything that makes you feel uncomfortable. In fact, just making small, simple changes regularly can add energy to your sex life over time. Talk with your spouse and agree to try it for the next few weeks, then see what happens.
Sheila Wray Gregoire, To Love Honor & Vacuum
This is a super simple one, but it helps a ton! When you're having intercourse, get comfortable in whatever position you're using, and then tilt your pelvis forward (like squeeze your butt). Trust me.
This activates the right muscles, and improves the angle so that, during penetration, his pelvic bone is more likely to come into contact with your clitoris, AND his penis puts more pressure on the TOP of your vaginal wall rather than the bottom, so that your G-spot area, or the really sensitive area, gets more stimulation. And it gets the blood flow going in the right direction too!
Lori Byerly, The Generous Wife
Whether you are having intercourse, manual, or oral sex, it is more pleasurable for your husband if you can pull the skin on his penis a little tighter. Put your hand around his penis and gently pull down on the shaft until the skin on his penis is a bit taut (using a lubricant can be a good thing). For a man who is uncircumcised, this means fully retracting the foreskin. For a man who is circumcised, that means moving down enough to pull the skin slightly tighter.
Anything you do at this point will feel very good. Intercourse can be a bit tricky because you have to fit a hand down there too (some positions are easier than others), but using your hand or mouth can be a nice treat for your husband.
Ruth Buezis, Awaken Love
Some of my most intimate times with God happen when I take the time to just sit and be still with Him. I stop moving, stop asking, stop striving, and experience Him. The same principle of stillness can move us towards intimate connection during sex.
Try beginning sex with a short time of lying face to face, with your bodies melded together, eyes open, taking in each other's scent. Settle your mind and just be together before you begin to move somewhere. Or try starting intercourse with a short time of stillness. Look into each other's eyes and just be still. Can you feel his body inside of yours? Can you settle and relax into her hold?
Establish connection and then move together. Discovering the power of stillness to connect can lead to some of the best mind-blowing sex you've ever had.
J. Parker, Hot, Holy & Humorous
Find a way to stimulate her clitoris during intercourse. The husband can use his hand, she can use her own hand, or you could add a bullet vibrator to maintain stimulation, but giving her additional pleasure and possibly bringing her to orgasm this way can take the experience to a new level of delight for both of you.
There you go! Nine straightforward sex tips. Put one, two, three, or all of these ideas into practice and take your lovemaking to the next level.
For more reading, you can cruise through my list of past posts, as well as my page with a bunch of posts on orgasm.
Copyright 2020, Julie Sibert. Intimacy in Marriage Blog. Links may be monetized.
Never want to miss one of my posts?  Subscribe via email on this page.  And be sure to join my more than 10,000 followers on my Facebook page and 11,000 followers on Twitter.