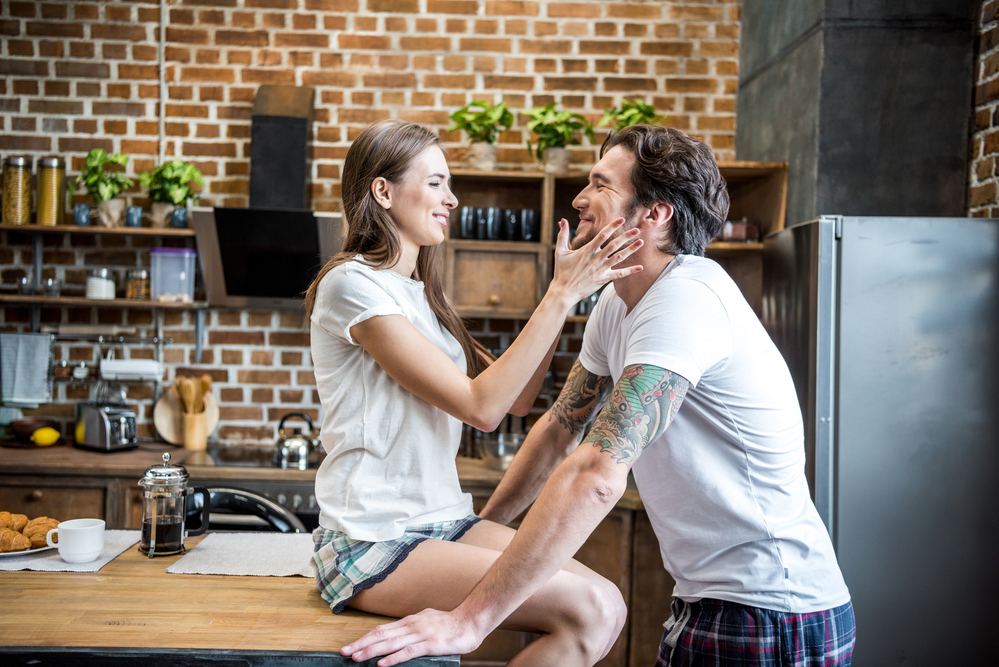 I always have to laugh a little when I see a scene in a movie where in a fit of passionate frenzy, a couple clears everything off a table or desk to have sex there.
The kitchen counter is another place often depicted. In a flurry of unabashed foreplay, they just can't make it another 40 feet to the bedroom. The kitchen counter seems like the best option in the moment.
Is it just me or does this look horribly uncomfortable?
So where's the most uncomfortable place you've ever had sex? And I'm talking actual intercourse. Not just oral sex or hand jobs or something along those lines, because clearly that kind of sexual fun is easier to accomplish in a multitude of settings.
Occasionally the shower is portrayed as a great place to have intercourse. But wow! Talk about needing the stars to align (not to mention a few other things) for that to come off as a comfortable experience! Sexual intercourse in the shower? Not overly likely for most couples. But the shower can be great for foreplay and oral sex and hand jobs.
My husband and I had sex once in a bathroom (no, not on an airplane. An airplane bathroom sounds more than just uncomfortable; it sounds impossible, considering the geometry and physics involved. But I know that people have done it).
Anyway, our bathroom sex was on the bathroom floor in a hotel room and was a desperate move because of the circumstances. It did suffice to take the edge off the sexual frustration that had been building, so for that, we were grateful. I think we went to dinner with smiles on our faces. But I can't say the bathroom was incredibly comfortable. If I recall, we did use some towels for padding, though.
In my recent post 10 Places You'd Love to Have Sex (But Haven't), I added the caveat that the presumption of physical comfort would be a given. Pillows. Blankets. Padding of some sorts. I mean, if you're going to dream of fantasy locations, let's make sure your back and knees survive the endeavor.
That being said, if my husband and I were going to have sex on a table or a desk or kitchen counter, I'd want to at least grab a few throw pillows from the couch. Seems reasonable…if we could tear ourselves away from each other for 11 seconds to grab pillows.
Anyway.
Clearly, this is a lighthearted post! But feel free to comment. Where's the most uncomfortable place you've ever had sex?  Was it all you'd hoped it would be? Or did you end up with some regrets—or worse, in need of a chiropractor?
For more reading, you can cruise through my list of past posts, as well as my page with a bunch of posts on orgasm.
Copyright 2020, Julie Sibert. Intimacy in Marriage Blog. Links may be monetized.
Never want to miss one of my posts?  Subscribe via email on this page.  And be sure to join my more than 10,000 followers on my Facebook page and 11,000 followers on Twitter.