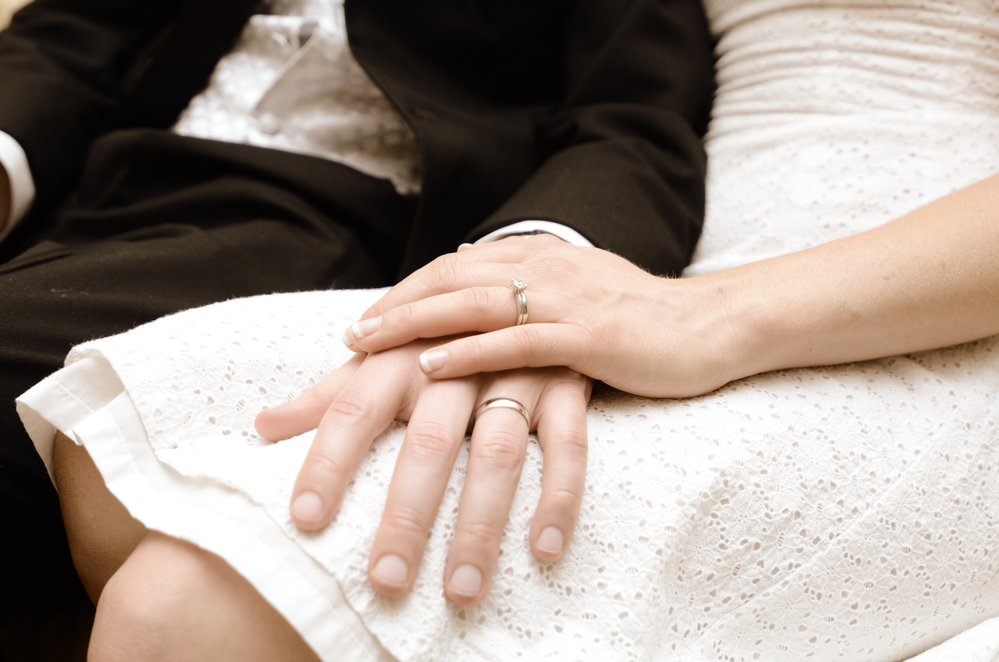 Will you lend your spouse a hand sexually? Yes, that's a clever play on words, but I am talking about actual hand jobs today.
Of course, we always think of the term "hand job" in reference to something a wife would perform on her husband, but for our purposes here — because I'm an equal opportunity sex advocate — let's spread a wider use of the term.
Let's say a "hand job" also refers to a husband bringing his wife to climax with his fingers and hands.
Do you give hand jobs? Do you receive them? What do you like about them? What could make them better? What makes for a good hand job?
Certainly this shouldn't be the only way you bring each other sexual pleasure, but it definitely can be a nice skill to have in the sexual repertoire. I highly recommend that you both be "good with your hands" when it comes to sex!
5 Tips on Giving a Great Hand Job
1. Make comfort a priority
By comfort, I literally mean being comfortable physically. Whether in bed or on the floor or on the couch or in a recliner (or wherever), you each should be as comfortable as possible. Use pillows or blankets or something to make sure you aren't going to be distracted by a muscle strain because you're in an awkward position. Even if you are standing, be as comfortable as possible.
And definitely if you need to adjust your position as the sexual encounter moves a long, then adjust. Embrace sexual freedom. Lean into even.
While we are talking about comfort, remember that as with any sexual experience, room temp matters. Being too hot or too cold can be a huge distraction when you're trying to give or receive pleasure, and this is as true with hand jobs as with other sexual experiences.
2. Use lubricant
Lubricant can be touchy, meaning too much and there isn't enough friction to climax, but too little and there could be agitation or even pain. Saliva is a suitable lubricant for some couples, but generally speaking, you'll need to continually add more saliva to have enough lubrication for handiwork. (I just had to work that word "handiwork" in there!)
When a wife is aroused, her vagina may naturally secrete lubrication, but for some women, it may not be enough for hand stimulation of her clitoris.
And if you are giving a hand job in the shower, then lubrication is a must. Lubrication is our sexual friend always, but probably nowhere more than when water is part of the sexual atmosphere.
There are many fabulous options for lubrication, including natural oils as well as artificial lubricants. I'm not going to give an exhaustive list here, but you can find oodles of choices in this post and this one too.
And if you don't find one in those lists that you want to try, you could ask around. I mean, it's not exactly cocktail party conversation, but maybe you have a safe confidante who is a big fan of sex in marriage and could offer some lubrication suggestions.
3. Vary your touches (but listen to what your spouse wants)
Just like with other sexual encounters, the best hand jobs involve a variety of touches. As your spouse nears climax, they may prefer you stay with one particular touch or motion, but building the arousal to that point usually works best with a variety of touches.
A husband may like a firmer and tighter stroke up and down his penis, with particular attention to how you wrap your hand up and over the head of his penis. He may also want you to caress or touch his testicles in a particular way. And many a husband has been turned on by the way his wife uses her fingernails to send sexual shivers up and down his entire body.
I don't want to sound like an anatomy textbook here, but I want you to have good information about arousal points. One you may not have explored is the perineum.
A man's perineum is the surface area between the anal opening and the scrotum, the sack that holds the testicles. As a wife, you may want to try massaging this area and/or applying pressure to it with your fingertips. Your husband may find this particularly arousing.
A woman's perineum is between her anus and the base of her vulva. She too may like this area massaged or caressed.
Not sure what to do? Show each other what feels good, ask what feels good, and volunteer what feels good (even if you haven't been asked).
Words like "harder" or "faster" or "what you're doing is amazing!" or "keep doing that" lend themselves well to better understanding each other sexually. And isn't that the point? To learn what is going to be wildly arousing for the person you loved and married.
A wife's clitoris may respond differently depending on where she is in her monthly cycle. And it often is just a matter of preference as to how she would like you as her husband to use your fingers and hand.
She may want you stimulating her clitoris while also using your other hand to stimulate her internally. Or you may want to use one hand to stimulate her clitoris and vagina while using the other hand to stimulate her nipples.
No surprise here, but a variety of touches — light and firm; fast and slow — will lead to indescribable pleasure.
4. Use more than your hands
I always have said that any good oral sex experience usually is part hand job too, so it stands to reason the reverse is true as well — any good hand job usually is going to have some oral pleasure mixed in there as well.
Stimulating your spouse with your hands may become even more enticing and tingly if you also occasionally use your tongue and mouth in the experience. As a wife, you also may want to use your breasts on your husband's penis as your hand is on him as well.
Get creative in pleasing each other and you will discover that connecting with each other sexually is rarely limited to one sexual act or technique.
5. Enjoy each other visually
This goes for any sexual position or technique, but let's not forget the visual experience when giving a hand job. The huge blessing of sex being an exclusive and private experience between just the two of you means that you have the safety of being uninhibited. And it can be a huge turn on to see how turned on your spouse is.
Play to the visuals, including having some light in the room, even if it's a closet light with the door slightly open to shed some light into the room.
So there you have it! 5 tips on giving a great hand job!
Will you lend your spouse a hand sexually?
Hand jobs are quite fabulous, so if you have not included this in your sexual connection, why not give it a try?
For more reading, cruise through my list of past posts. as well as my page with a bunch of posts on orgasm.
Copyright 2019, Julie Sibert. Intimacy in Marriage Blog. Links may be monetized.
Never want to miss one of my posts?  Subscribe via email on this page.  And be sure to join my more than 10,000 followers on my Facebook page and 11,000 followers on Twitter.