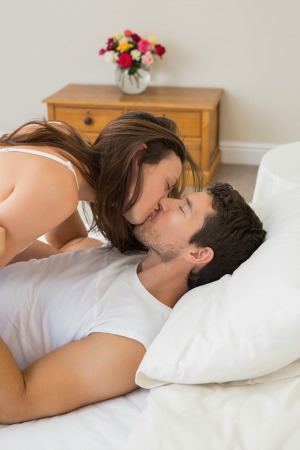 Some wives and I were chatting about sex positions and came to the conclusion that there are about 5 that most of us can do.
Any positions beyond those are probably best tried and mastered by Cross Fit gurus or American Ninja Warriors.  (Of which I am neither. Insert sad face here).
Just for clarification, I'm talking about sexual intercourse positions.
Certainly a lot of sexual fun can be had without intercourse. For the love of God, I hope all your sex isn't only intercourse.
Anyway. Where was I?
Oh yeah. Talking about sex positions for everyone except Cross Fit people and American Ninja Warriors.
If you and your husband have kept your sexual encounters to only one or maybe two positions, you might want to broaden the repertoire.
One of my most popular posts when I first started blogging was Hey I'm a Housewife, Not a Gymnast. And I also did a guest post for Stu and Lisa Gray titled I Think the Proverbs 31 Wife Liked Being on Top.
Even though I've written about positions before, certainly it's worth visiting again. You might even be inspired by the end of this post to try something new tonight.
Let's look at the 5 sex positions that nearly everyone can do:
1. Husband on Top Facing His Wife (a.k.a Missionary Position)
Everyone knows this position.  I don't need to explain it.  Has some great pros — it's one of the easiest to do and there is face-to-face intimacy that can be incredibly bonding.
Probably the biggest con is for some couples it can be one of the worst positions for the wife to climax.
If you as a wife are having struggles reaching orgasm with missionary position, I have a few suggestions.  Have your husband move forward so that the shaft of his penis is in more direct contact with your clitoris.
This will put his chest more at your face level, but the difference in stimulation can be significant. The fancy name for this is coital alignment technique (CAT) and you can read a great post about it here.
If you aren't doing CAT, but want more stimulation, don't rule out simultaneously using your hand to stimulate your clitoris while he is thrusting.
This can help get you close to the edge enough that then his thrusting will bring you to climax. The nice bonus is your hand and fingertips will rub up against his penis, which he may find heightens his arousal.
2. Wife on Top Facing Her Husband (a.k.a. Cowgirl)
Again, this one is pretty self explanatory and obviously has the two same pros that you find with missionary (easy to do and lots of opportunity for eye contact, kissing, etc.).
It also has some pros that I think honestly make it a BETTER position than missionary.
For starters, the wife is in control, which some guys (and some wives) find incredibly arousing.  Also, she is able to better manage the stimulation of her clitoris and G-spot because she is able to control the rate of thrusting, the angle, etc.
And last but not least, it's quite the visual feast for the husband (wives, you can really work this quite seductively, which will likely drive him wild).
Bonus for both the husband and the wife is that his hands are free for more caressing of her breasts, hips, face, arms, etc.
Some husbands really like this position too because it shares the burden of the physical exertion necessary during sex.  Wives, if you only make love in missionary position, your husband is doing almost all of the work.  Wouldn't it be nice to share the workload… uh, I mean, playload?
3.  Wife on Top Facing AWAY from Her Husband (a.k.a. Reverse Cowgirl)
Basically, wife is on top but she turns around so her back is to her husband.
This one can be a little difficult to manage at first, but once you get the logistics figured out, this position can be incredible.  It's a different sensation for both of you and allows your husband to get a really clear visual of all the action.
Some guys love that view!
4.  Husband Behind His Wife (Vaginal Sex, Not Anal)
Sadly, many wives won't even consider intercourse where their husband enters her vagina from behind.
Some women find it degrading (Let's be honest, the slang name of "doggy style" doesn't exactly earn it any PR points).
Other wives are hesitant to try it because they think it will be too cumbersome to figure out.
But here's the thing.
With a bit of trial and error, many couples can find the right angle and approach to make this position work well.  And when they do make it work well, some women are pleasantly surprised at how arousing it can be.
The obvious arousal is that it stimulates the G-spot.  The not-so-obvious arousal some wives discover is it feels provocatively enticing to have her husband physically in charge.
It's unfortunate this position gets such a bad rap, because it could be rocking the sexual world of more married couples. If only they would give it a try.
5. Wife on Top, Both Sitting Up
Many people would have thought fifth in my lineup would be the "side" position, where the couple is laying on the bed side by side — either facing each other or the husband behind the wife.
But I think the side position is challenging, because neither the husband nor the wife has tremendous mobility to thrust in this position.
Anyway, I'm not a fan of the side position.
I AM a fan of the wife on top with the couple in a sitting position.  Take extra pillows and prop them behind him sitting up in bed.
In this position, the wife is supporting her weight entirely with her knees and is able to do so with quite a bit of stability.
That stability and being upright leaves her hands free for countless other ways to arouse him and caress him.
You also can put your hands on the wall or headboard for more leverage, which he may find totally hot.
So, there you have it.  Sexual positions for those of us who are not Cross Fit gurus or American Ninja Warriors.
For more reading on sexual positions, check out these posts:
Hey, I'm a Housewife, Not a Gymnast
I Think the Proverbs 31 Wife Liked Being on Top
Why Try More than One Sexual Position
Positions and Orgasm: A Survey
Vulnerability When Trying New Sexual Positions
Sexual Positions for Pregnancy, or "My Belly's in the Way!"
Hovering Crab and Clock Face Positions
Copyright 2015, Julie Sibert. Intimacy in Marriage Blog. Links may be monetized.
Never want to miss one of my posts?  Subscribe via email on this page.  And be sure to join my more than 9,000 followers on my Facebook page and 10,000 followers on Twitter.