Husbands, this post is for you (although I hope your wife reads it too.  Better yet, I hope you read it together.)
Does your wife have a hard time climaxing when the two of you have sex?
Do you suspect she is faking orgasm, either to protect your ego or to bring the sexual encounter to a close quicker?
Do you think you are supposed to intuitively know all the nuances of her body, when in reality, you haven't got a clue?  (Not your fault, guys.  The female body is baffling landscape. Even we don't fully understand it about 80% of the time).
Do you long for her to embrace pleasure — even pursue it with you — to the point that you both are eager to initiate?
Some women may try to minimize the importance of orgasm, but reality tells us otherwise.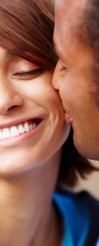 When sex is pleasurable, we are more likely to want it and be enthusiastic about it.
On the other hand, when sex is regularly void of orgasm, we are are more likely to have a ho-hum attitude about it.  We glance at lovemaking in passing and half-heartedly admit, "Hey, maybe we'll get around to this to someday."
And then someday rarely or never comes.
Yet God's design is sexual pleasure for both a husband and a wife.  God was not stingy in this regard.  Universally, men and women who experience orgasm agree that the sensation is unlike any other.  And God designed that… God created orgasm.  Go. God.
For as long as I've been speaking and writing on sexual intimacy in marriage, I've never backed down from this stand:  Orgasm isn't everything, but it is a very strong something.
If your wife is having difficulty climaxing, here are 5 ways you can help her:
1.  Explain to her why her sexual pleasure matters to you.
Too many wives downplay their own orgasm, because they think sex is nothing more than their "duty."  As long as the husband is satisfied, then all is good — at least that's the skewed line of thinking perpetuated, particularly among some Christian women.
My BS meter is fairly accurate on that sort of thinking. And yours should be too.
Carve out some time to talk to your wife about this. Tell her that her sexual pleasure matters to you, because you love her.
Remind her that you consider it a high honor to sexually please her and that you want nothing but God's best for her as a wife.  Orgasm is part of God's best for her as a married woman. Far be it from you to cheat her out of that — or to let her cheat herself out of it.
2. Tell her you don't know what you're doing.
This seems so brazen for me to put this out there like this, but I actually find it an admirable quality.
No one can be an expert on anything without some guidance and teaching, and this goes for you being an expert on your wife's body as well.
It's not a character flaw that you don't know how to bring your wife to orgasm.  But I do think it is a character flaw on her part if she puts that sort of assumption on you.
A better approach?
Through a good mix of trial and error, feedback and each of you actually saying "this is what feels good," I believe any married couple can mine the depths of incredible sexual pleasure.
Ask her what feels good. Be specific.
Sure, you'll likely get some cues from her physical and verbal reactions if you're on the right track, but never underestimate the power in saying to her…
Do you like it when I do this?
Will you tell me and show me what arouses you?
Word to the wise — the clitoris typically needs more stimulation than either a husband or wife initially realize.  No, lovemaking is not all about her clitoris, but for her to orgasm, you have to become incredibly familiar with that part of her body.
3.  Invest more time in foreplay.
This is not a news flash.  Generally speaking, it takes a woman's body more time to warm up to the idea of sex, let alone the idea of sexual pleasure.
To use an analogy, let's say you and your wife are going to a musical concert of a performer you really both love.
Yes, seeing the main performer is a huge highlight of the evening, right?  But what makes that highlight all the more enjoyable is everything leading up to it — anticipating a date night, dining at a restaurant beforehand, arriving early enough to the venue so you don't feel rushed, taking in the sites and sounds of the atmosphere, enjoying the opening act that gets your heart pounding, etc.
If you want the main event to wow you both, don't underestimate the power of foreplay.  For more reading, check out How to Get an A+ in Foreplay.
4.  Reassure her that sex isn't just about sex.
This is the one that trips up a lot of wives.  They grow resentful because they think that sex for their man is just about the sex.
Nearly every husband I hear from tells me otherwise.
Sex isn't just about sex.  It's about connecting with the person you love.  It's about feeling safe and affirmed.  It's about agreeing with God that marriage is different from any other relationship.  It's about "I want you to want me."
Get vulnerable and specific, and tell her what it means to you when the two of you make love.
Together read 3 Reasons Your Husband Likes It When You Climax and 3 Things Your Husband Wants in Bed.  
5. Genuinely build your friendship when your clothes are on.
Life is so darn crazy, what with the demands of parenting, working, and juggling a million other responsibilities that are hell bent on dividing you and your spouse.
No, you can't put all those responsibilities on hold.  But, with some intention, you can make your marriage a priority in the midst of all the chaos.  Ironically, when a husband and wife put a strong emphasis on nurturing their relationship, they are better equipped to navigate the frenzy of daily life.
When I say genuinely build your friendship, I'm not just talking about an occasional night out.  I'm talking about weaving into the fabric of your life authentic friendship.
How do the two of you talk to each other?  What do you talk about?  Are you able to be real with each other about your insecurities, hopes, fears, dreams, disappointments?  Do you laugh together?  Are you supportive of each other?  Do you physically and verbally show affection to each other on a regular basis?
Those are some mighty challenges, I know.  But don't shy away from them.
Within the intimacy of marital friendship, you will find the keys to amazing sexual pleasure.
If you want your wife to not just experience orgasm, but to crave it with you, the above 5 insights are a good place to start.
My heart's desire is that countless married couples courageously read this article together, all in the name of fighting for their marriage (maybe in a way they've never fought for it before).
Will you be one of those couples?
For more reading on orgasm, check out The Orgasm Page on my site.
Copyright 2015, Julie Sibert. Intimacy in Marriage Blog. Links may be monetized.
Never want to miss one of my posts?  Subscribe via email on this page.  And be sure to join my more than 9,000 followers on my Facebook page and 10,000 followers on Twitter.