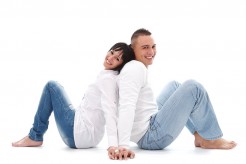 Okay. I can't lie.
I like my husband better after we have sex.
I mean, not just in those immediate moments.
(Although, those immediate moments… wow.  Deliciously astounding, I tell you).
More importantly, though, I like him in the moments and days beyond the bedsheets.
Beyond the knowing.  Beyond the climax and the sweat and the raw emotional nakedness and vulnerability.
Yes, I like him better after we have sex.  After after.
It occurs to me that it is this residual positive impact of sexual intimacy — this after after — that is woefully overlooked in too many marriages, making it all the easier to overlook sex itself.
Have you considered how your lackadaisical attitude about sex could actually be making it harder to like your spouse?
And the irony, of course, is it is already quite hard to like each other in marriage.  Love may be a given because that's where marriage vows find their footing.  But like… well, it's the liking of each other that equips us to not completely cave under the weight of daily life together.
Marriage — a lot of it, at least — is just plain hard.
What with the daily compromising, financial finagling, parenting conundrums and relentless jumble of details jostling for my attention. And his attention.
Sure, I have my moments of being deliciously romantic.  And he does, too.
But that's not where we live most of the time.  It's really not where any married couple lives most of the time, is it?
When we consider what a married couple must navigate, it is quite astonishing that anyone comes out on the other end of it 40, 50 or 60 years down the road even tolerating each other, let alone in love.  And in like.
Yet no one stands at the altar and thinks of building something mediocre. Or unbearable. Or burdensome.
Nope.
We stand there on the cusp of something extraordinary, bent toward believing that we will indeed buck the odds.  Our marriage will be different than others.  And in those moments, at least for most of us, it's as if the assemblies are on our side as well.
We are all in love with the idea of being in love, as the Pink Floyd song echoes.
But an authentic friendship — that you and your spouse take to heart the like aspect of your relationship — is quite crucial to this thing called marriage.
And while some couples may try to argue that they "are already great friends" and as such "don't need sex" in their marriage, I am a wee bit leery of such reasoning.
Okay, not a wee bit.  A lot.  A lot leery.
I like my husband better after we have sex, and though I'm not one to wager, I long ago made the connection that the more soul drenching sex we have, the stronger our friendship becomes.
I'm not gonna lie.  I like him better after we have sex.
And though that doesn't make our marriage easy.  It makes our marriage easier.  Better.  Further away from mediocrity and closer to extraordinary. I have no doubt.
Could taking better care of your sexual intimacy in your marriage help the two of you like each other better?
Copyright 2014, Julie Sibert. Intimacy in Marriage Blog. Links may be monetized.
Never want to miss one of my posts?  Subscribe via email on this page.  And be sure to join my more than 9,000 followers on my Facebook page and 10,000 followers on Twitter.