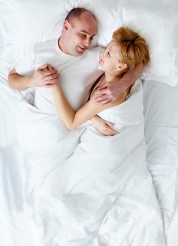 I cried the other night as my husband and I made love.
Tears I couldn't stop, wet against his neck.
I cried because I felt safe.
I cried because making love to him was much-needed refuge from our life outside our bedroom, which, right now, is steeped in unknowns and curve balls; details that seem bent on driving us apart rather than together.
It's a raw vulnerable place to be.
My husband and I find ourselves in that sandwich generation — caring for children (one of whom has unique challenges), while we are simultaneously caring for an elderly parent.
It's not impossible, but I'd be lying if I said it has not taken its toll.  It does have its blessings — but bewilderment too.
Our story possibly is not unlike your story.
Though the circumstances may look different, certainly the story of life feeling… well… beyond full… is reflected in the faces and calendars of so many married people, right?
(Single people too, but this is a blog about sex in marriage, so my lens is leaning that way).
Do you remember that 1989 movie Parenthood?
It is a film speckled with comedic moments — and brutal realities.
Regardless of whether you have seen it, let me describe a scene that will resonate with many of you, I'm sure.
It is a brief but powerful scene in which Gil Buckman (Steve Martin) is talking to his wife Karen (Mary Steenburgen) in their bedroom.
She has told him she is pregnant with their fourth child.
He is overwhelmed with the responsibility of life in general, and at the moment, is rushing to get to his oldest son's baseball game, of which he is the coach.
She hungers to talk to him, as a wife often hungers to be heard and understood.
She is sensing their life is crashing in on them a bit.  She says something to him along the lines of, "Do you have to go?"
With such genuine transparency and revelation of his own discouragement and gut feeling that he is failing in every area of his life, he responds…
"My whole life is 'have to.'"
Even if you have not seen the movie, do you recognize the emotion behind that scene?  Her emotion? His?
My husband and I get it.  Do you and your husband?
The details of life don't always pan out how you envision.
Even as we grow in wisdom in knowing that the Lord does not give more than one can handle, our humanness wants to scream, "Enough already!"
Struggling children. Debilitating illnesses. Responsibilities that blind side. Financial stresses. Miscommunication. Job losses. Grief. Disappointment.
In our 8 years of marriage, we have journeyed through all of those.
"No one comes through this life unscathed" is how the saying goes.
But none of us really needs a quaint quote or rhetorical brush to paint lines around the messiness we slosh through daily.
So what does this have to do with sex?
What does it have to do with me crying in my husband's arms after experiencing such profound physical intimacy?
We all need refuge.
Isaac needed refuge when he faced grief when his mother died, and he found that comfort with his wife. (Gen. 24:67).
A more recent example that I found profound is in a post on Brad and Kate's blog One Flesh Marriage, where their friends share how their intimacy helped them begin to heal after horrendous loss of a child.
Husbands and wives need to find such refuge with each other.  I mean, I love my girlfriends and I love my Lord — all of whom fill voids and make the confusion less palpable.
I'd be foolish, though, if I didn't intentionally embrace and find strength with the man who is my husband.
I wonder where you find refuge.
I wonder if your sexual intimacy with the person you married is safe haven for you, quintessential to helping you get your bearings.
Does sex help you get your bearings and gain perspective on the "to-do" list and uncertainties that are hell bent on doing you in?
I've spoken of this before, when I talked about how healing it was to make love to my husband after we discovered someone had tried to break into our house.
Crazy right?  On a night that so rattled us, I hungered for nothing more than to make love?
It was good.  Beyond good.
So was the other night.
Why I cried when we made love is because sexual intimacy in marriage affords us a one flesh depth that is indeed healing.
I could just wait for my life to calm down.
I could just wait for the storm to pass; the responsibilities to seem less taxing.
I could just wait.
I could believe the lie of the Enemy that I "toughen up" and "go at it alone."
Or I could lean into my husband's arms and stop pretending that I'm invincible against life's tragic edge.
Why I cried when we made love?
Certainly, after all you've read to this point, it's gotta be blatantly clear.
Copyright 2012, Julie Sibert. Intimacy in Marriage Blog. Links may be monetized.
Never want to miss one of my posts?  Subscribe via email on this page.  And be sure to join my more than 9,000 followers on my Facebook page and 10,000 followers on Twitter.