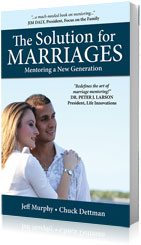 Is it just me or does anyone else find it ironic that we are a society that will seek out guidance on everything from our career goals to our hobbies — yet we won't make a similar focused plea for help with our marriage?
Just think how many dissolved marriages could have been saved had the couple had wise mentors to help them navigate the treacherous, yet common, challenges of married life?
Weeks ago I was able to read an advance copy of The Solution for Marriages: Mentoring a New Generation by Jeff Murphy and Chuck Dettman.
Marriage mentoring is not necessarily a new concept, but we would be foolish to think that all that is needed in this arena is already available.
The truth is that a resource like The Solution for Marriages offers fresh insights and specific action steps on the marriage mentoring landscape.
Just so we are clear about my motive, I am not making any money off of saying any of these things.
I'm just a wife who has a passion for marriage, and when I see similar passion in other individuals, I like to draw light to their efforts.
If God is tugging on your heart to either become a marriage mentor or to bolster your skills in this endeavor, give The Solution for Marriages your time.
You will either be confirmed in your calling or you will simply pick up some valuable information about bettering your own marriage and others — either way, you win.
Sadly, I think too many people bail on their marriages not because they don't love each other, but because they are ill-equipped to invest in their marriage when the going gets tough.
(And let's face it — it's not a question of if the difficulties are going to come; it's only a matter of when).
Many people are blindsided by the very things that virtually every marriage encounters.
Their fight or flight response kicks in. What they most need is a calm and clear-headed confidante who can not only prepare them, but help them think clearer about what commitment means.
We need to raise up a revolution of married folks who are dedicated to encouraging others in their marriages.
That may be through a formal mentoring setting.
Or it may be in conversations on your back patio with the young married neighbors.
Let's pour the same effort into mentoring marriages as we do to hungering for help with our career, our businesses, our hobbies and our home projects.
Thanks Jeff and Chuck for taking up this cause with such well-written and easy-to-follow guidance.
Copyright 2012, Julie Sibert. Intimacy in Marriage Blog.