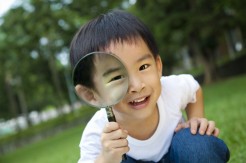 There are just some things you can't possibly know when you hold your first newborn child.
Like that Easter grass loses its appeal after about 1 day (same goes for tinsel, glitter and sprinkles).
And you aren't going to care how cute the design on the sippy cup is when you find it under the front seat of your car with milk in it. In July. Three days after you gave it to your child.
As for your child's artwork, you will toss most of it, especially anything made out of pinto beans and macaroni. (No nurse in the maternity ward ever tells you things these like this, I know.)
By the time your children are coming home with boatloads of artwork, you will have perfected the process of moving it from the backpack to the front of the fridge to the top of some pile on your counter to the trash.
For the really crappy pieces, you will go straight from backpack to trash (while the child is not looking, of course.) No one is sitting in therapy because they can't find the macaroni cornucopia they made when they were 7.
The frugal relevance of the $1 menu vaporizes once a child reaches about age 12. This is especially true if the child is a boy. Good Lord, I might as well take out a second mortgage just to gain entrance to the drive-thru lane.
You know what else you won't know when you hold your first newborn baby?
You won't have any inkling that sooner than you can even fathom, media and society will be on a relentless pursuit to saturate your child with lies about sex.  The blatancy — and more so, the subtlety — of these efforts will blindside you.
You don't want to be that blindsided parent, right?  So you tell yourself that you will indeed do the right thing — you'll be sure your kid receives better information than you received about sex.   This is a fabulous intention. Just make sure it doesn't run smack into…
The 10 Worst Mistakes You Can Make When Talking to Your Kids About Sex
1. Never actually starting to talk about it.
Most children by age 3 or 4 can begin to understand when you teach them about appropriate touch. Think this doesn't have anything to do with eventually talking to them about sex?  Guess again.
When you convey to them their body is precious and a temple of the Holy Spirit, you are helping protect them from potential sexual abuse.
You also are building a foundation that is congruent with a message of sexual purity when they are single… and sexual oneness when they are married.
As a child grows through gradeschool and into middle school, high school and college, continue to incorporate more age-appropriate information.  If you believe most 9-, 10- and 11-year-olds aren't already receiving at least some messages about sex, your naiveity is freaking me out.
And if you think it's "too late" to start talking to them because you didn't start when they were little, stop beating yourself about this. Instead, just get to talking.
You don't have to "make up for lost time."  You need to start where you are and move forward with authentic conversation.
Set aside time to talk, but also be on the look out for media and entertainment soundbytes that are ideal springboards for impromptu conversations about sex.
2. Thinking you are not qualified.
Let's say you had sex before you were married, and now you feel painfully ill-equipped to talk about God's plan for sex — like an arsonist warning of the dangers of playing with matches.
Here's the deal, though — if you had sex outside of marriage, you are similar in at least one aspect to the vast majority of adults, Christian and otherwise.
You think you are the last person who should be talking to your children about sex, right?  Wrong. For most children, a parent is one of the most trusted adults in their life.
No one takes your child's best interests to heart like you do.  Who better than a reformed arsonist to talk about the dangers of playing with matches?  I'm just saying.
And if you think you aren't qualified because you yourself don't understand a lot about sex, then get educated by reading accurate information about how the female and male bodies work. You may surprisingly learn a few things that can help you in your own marriage.
3. Becoming paralyzed by embarrassment.
Many of you aren't overly thrilled with words like "penis" and "vagina" and "sex" and "orgasm." Just thinking about talking to your child about puberty and sex turns your face red.
This is because healthy accurate dialogue about sexuality doesn't just weave itself into everyday conversation.
If you wait till a "perfect" moment materializes or you aren't feeling embarrassed, you better grab a case of Diet Coke and a People magazine to keep you company while you wait… indefintely.
A better approach?  Splash a bunch of light on the embarrassment. Try initiating a conversation with your child like this:  "I know this is kind of embarrassing for both of us, but it really is important that we talk about things like this."
It's normal to feel embarrassed, but it's just plain crazy to sacrifice your child's wellbeing on the altar of embarrassment.   Here's the thing… you and/or your child may never stop feeling embarrassed by these conversations. You need to have them anyway.
4. Becoming paralyzed by fear.
What are you afraid of?  Afraid you'll tell them about sex and they'll run out and do it?  Afraid they'll ask you a question for which you don't have an answer?
Consider this — the world is already telling them to run out and do it.  For crying out loud, I've seen children's cartoons and billboards with sexual innuendos.  "But they don't catch on to that," you may say.
How about repeated messages over years flying past their eyes?  I'm not one for operating from a place of fear, but what should scare the hell out of us is the rate at which our children are exposed to inaccurate, damaging and promiscuous messages about sex.
And if your child asks you a question for which you don't have an answer, give yourself permission to say, "That's a very good question.  I'm going to give that some thought and look into it and we will talk about this again."
5. Not dealing with your own issues.
If you are hesitant to talk to your kids about sex because of what it stirs in you, then get your courage on.  I don't need to read any statistics to know that many people have sexual issues and pain from which they have not healed.
Whether it be past sexual abuse, sexual promiscuity, marital sexual struggles or skewed theology about sex — start facing this stuff and replacing false tapes with God's truth.  If necessary, consider professional Christian counseling or other Christian resources.
Plain and simple — the healthier you get in your own sexual beliefs and behaviors, the more confident you will feel in talking openly with your kids about sex.
When it comes to your kids and sex, it's not a matter of if they will have to navigate sexual matters; it's only a matter of when. And this is true whether they have sex or not.
Whew!  This is a lot of info to get your arms around.
If you are game for PART TWO, be sure visit that post here.
Be blessed.  And be thinking about what's at stake if you don't talk to your kids about sex.
Copyright 2011, Julie Sibert. Intimacy in Marriage Blog. Links may be monetized.
Never want to miss one of my posts?  Subscribe via email on this page.  And be sure to join my more than 9,000 followers on my Facebook page and 10,000 followers on Twitter.