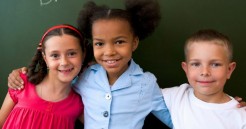 Occasionally, I suck at being a parent.
Okay, not just occasionally, but that's really not material to my point.
My point is that I need all the help I can get, which is why I am particularly grateful for my kindergartner's teacher.
When she wants all  us parents (probably mostly just me) to really remember something that is happening the next day, she will stick a label on each child's shirt as they come out from school.
She knows the whole "note in the backpack" approach is futile with parents like me.  I need blatant prompts so I won't forget things like…
"FIELD TRIP tomorrow. Bring sack lunch. Wear sunscreen."
"Early dismissal tomorrow."
"Book fair tomorrow."
I never complain when my little boy comes out "labeled."
If all crucial parenting came with such blatant prompts, wouldn't that be nice?
How convenient would it be if our kiddos occasionally walked out of school with a label that said this:
"I need someone I trust to tell me about sex.  The world is lying to me."
Not quite as simple as remembering to lather your kid up with sunscreen for the field trip, is it?
The reality is that Satan and society are relentlessly distorting God's truth about sex. Back in the day, when I was prone to hang out in the camp of idealism, I believed the solution was to stop the onslaught of distortion.
I commend the grand-scale efforts, mind you, but I think that possibly there is a sweet spot of more significant impact found right within our own homes — where we can speak thoroughly and authentically with our own children about sexual intimacy.
Can I change the world through my own kids?  Can you change the world through your own kids? I believe the world (even though it won't admit it) is begging for that kind of change.
So if you missed PART ONE of The 10 Worst Mistakes You Can Make When Talking To Your Kids About Sex, cruise on over to that post and then come back.
The remaining mistakes you don't want to make when talking to your kids about sex:
6. Thinking it consists of a one-time "talk."
I regularly cross paths with adults who tell me their parents talked to them about sex by handing them a book and saying "let me know if you have any questions."
The other version of this is actually reading the book with the child (once) or stumbling around a talk (once).
Using a book is a fabulous idea, but don't think a one-time approach will have any lasting effect.  (Sorry. Just calling it like it is). When was the last time you told your child something once and it stuck?
"Yikes!" is all I have to say to the presumption that something like sex education can be reduced to one talk.
Your goal should be on-going age-appropriate dialogue over a lifetime.  Your pre-teens and teens may respond with infamous eyerolls (cuz that's their thing, ya'll), but who cares.
Don't be offended by their eyerolls because deep inside they are longing for the right information.
7. Lying to them.
It's bad enough the world is lying to them.  Don't you lie to them too. Don't tell your kids sex is just for procreation.
Don't tell them, especially girls, that it is just a wife's "obligation."  Don't tell them you never had sex before you were married if indeed you did.
Sex education is one of your most important responsibilities as a parent, so dialogue needs to happen in the context of trust.
And as we all know, our children have tremendous capacity to see through our inconsistencies.  They need to know you will tell them the truth, not only about sex, but also about what God says about sex.
If you have false tapes in your head that are sabotaging all this, refer back to the portion of my PART ONE post where I talk about dealing with your issues.
8. Watering down God's plan.
Though many people, even some Christians, go to great lengths to rationalize sex before marriage, the Word is clear.  God designed sex for marriage.
Here's where parents slip up, though — they overemphasize the "don't do it" message and don't give equal air time to "this is what you get to do once you are married."
Teenagers are not clueless about arousal and attraction. (As a commonly-quoted statistic goes, "A teenage boy thinks about sex every 7 seconds.  And he's lying about the other 6.")
Help your children understand that those feelings are completely normal — even God-designed.
But then take the time to help them understand why God wants sex within marriage.  Elaborate on the negative consequences of pre-marital sex and the huge benefits (physical, emotional and spiritual) of sex within marriage.  Sex is great — in the right context.
9. Not enlisting the help of other trusted adults.
Give your children freedom and encouragement to speak about sex with other adults you and your child know and deeply trust. This could be a godparent, a pastor, a relative, etc.
Obviously, you need to give this person a heads up before you express the option to your child, to make sure the other adult is comfortable with it.
Talking to another trusted adult can be particularly helpful for teenagers. Don't hesitate to say, "If you are ever uncomfortable asking me a question, you can talk confidentially with ___________."
If they are too nervous to make this call themselves, offer to set up a time for your child and this trusted person to meet.
While I believe the bulk of the discussions with my children about sexual intimacy are my responsibility, I see much wisdom in a child having the security of a handful of trusted adults who they know without a doubt are in their corner.
10. Not using the multitude of Christian resources available.
Okay, let me just say that as Christian parents, we have NO excuse for not talking to our kids about sex — when there are so many resources available.  You may not agree with everything in every resource, but grow in your confidence in gleaning what will benefit your child.
Here are just a few resources.  If  you know of others, add them to the comments so we all can benefit.
Learning About Sex for the Christian Family (Series by Concordia Publishing).  Fabulous.  Books broken down by gender and age ranges, starting from very young on up through age 18.
Talking to Your Kids About Sex by Mark Laaser
Sexy Girls: How Hot is Too Hot by Hayley DiMarco
Technical Virgin: How Far is Too Far by Hayley DiMarco (for teen girls)
Almost Sex: 9 Signs You Are About to Go Too Far by Michael DiMarco (for teen boys)
B4U Date: 7 Things You Need to Know Before Your Next Date by Hayley and Michael DiMarco
Preparing Your Son for Every Man's Battle by Stephen Arterburn and Fred Stoeker
Every Young Man's Battle by Stephen Arterburn and Fred Stoeker
Every Young Woman's Battle (series of books) by Shannon Ethridge and Stephen Arterburn
Sure, when all is said and done, there are no guarantees that your child is going to follow God's plan for them with regard to sexual intimacy.
But the odds increase greatly when you do the courageous thing and nurture on-going age appropriate dialogue.
What's at stake is clear.
Be a world changer.  Starting with your own child.
Copyright 2011, Julie Sibert. Intimacy in Marriage Blog. Links may be monetized.
Never want to miss one of my posts?  Subscribe via email on this page.  And be sure to join my more than 9,000 followers on my Facebook page and 10,000 followers on Twitter.