I was on this online conference last year and am super excited to be included again. Of course, I'll be talking about sex, but there are so many sessions, my friends! There are 50+ video sessions and downloadable workbooks on a wide range of topics affecting marriage.
If you sign up for the free registration, you will have access to the video sessions for 24 hours once they release May 12-14.  If you want longer access, no worries!  There is an ALL ACCESS pass for longer access (and you get a ton of BONUSES with the pass).  It's only $39, but only if you choose to invest by May 11. Then the price goes up.
At the minimum, grab the FREE registration and you can decide later about the All Access Pass.
Some of the 50+ topics included to enrich your marriage:
Four Strategies to Create an Unbreakable Marriage
Staying Close When Life Feels Far from Normal
3 Ways to Create Intimate Sexual Connection in Your Marriage (That's my session!!)
4 Keys to a Faith-filled Marriage
Being Faithful Stewards of Our Finances
Life After Kids: Thriving in Your Empty Nest
Breaking Free from Self-Sabotaging Behaviors that Hurt You and Your Marriage
3 Steps to Teaching Children a Biblical View of Money
The Four Phases of Healing After Sexual Betrayal
How to Overcome Body Image Struggles
Tethering to Truth when Marriage Feels Tangled
Becoming One Flesh: Handling Conflict in Marriage
3 Secrets to a Happy "In Love" Marriage
Uniquely Two, United as One: When Opposites Get Married
In Sickness and in Health: How to Thrive in Marriage when the Unexpected Happens
4 Simple Steps to Get Your Husband to Know What You Want from Him
Create a Thriving Marriage while Soaring Professionally
AND MORE!
This conference is an avenue toward the insights that can transform your marriage. But you will miss out if you don't take advantage of the free registration. Click this link for more details or the image below. You'll be glad you did!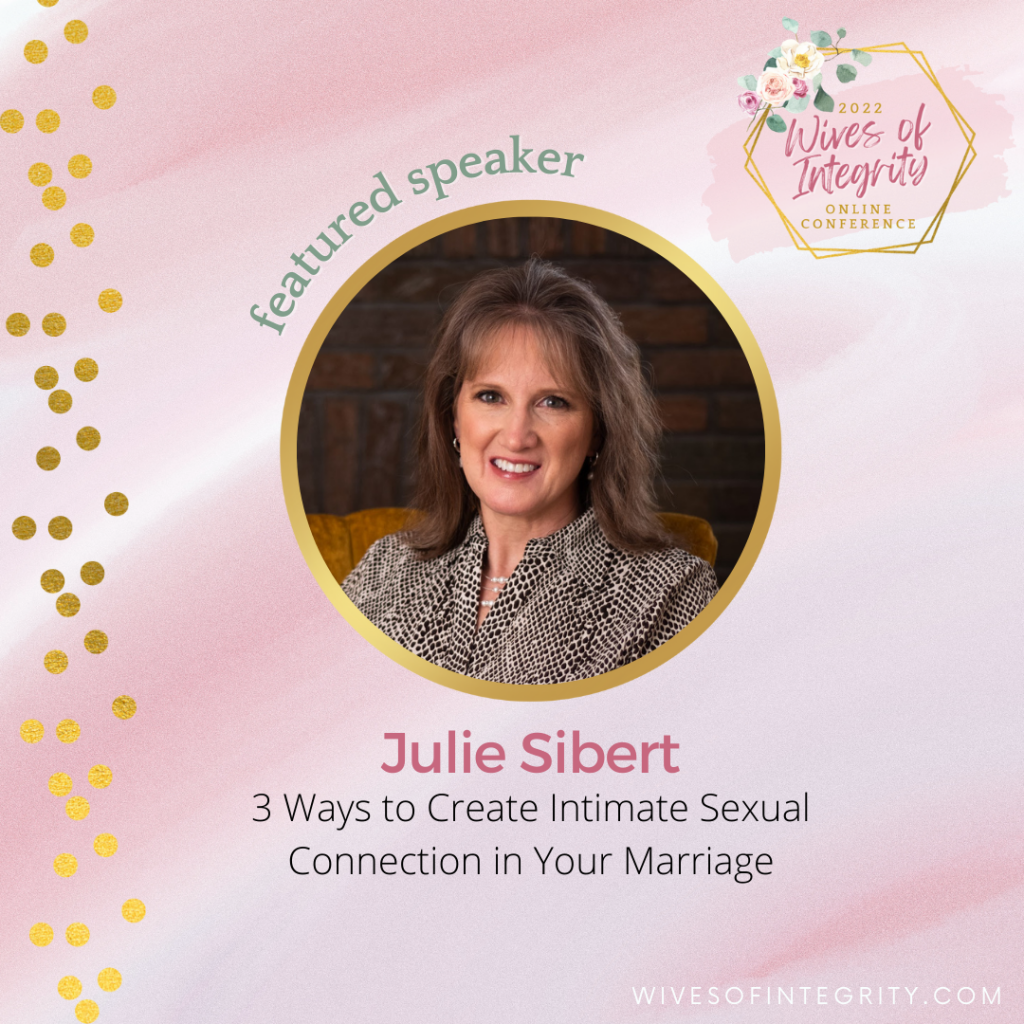 Copyright 2022, Julie Sibert. Intimacy in Marriage Blog. Links may be monetized.
Never want to miss one of my posts?  Subscribe via email on this page.  And be sure to join my more than 10,000 followers on my Facebook page and 11,000 followers on Twitter.