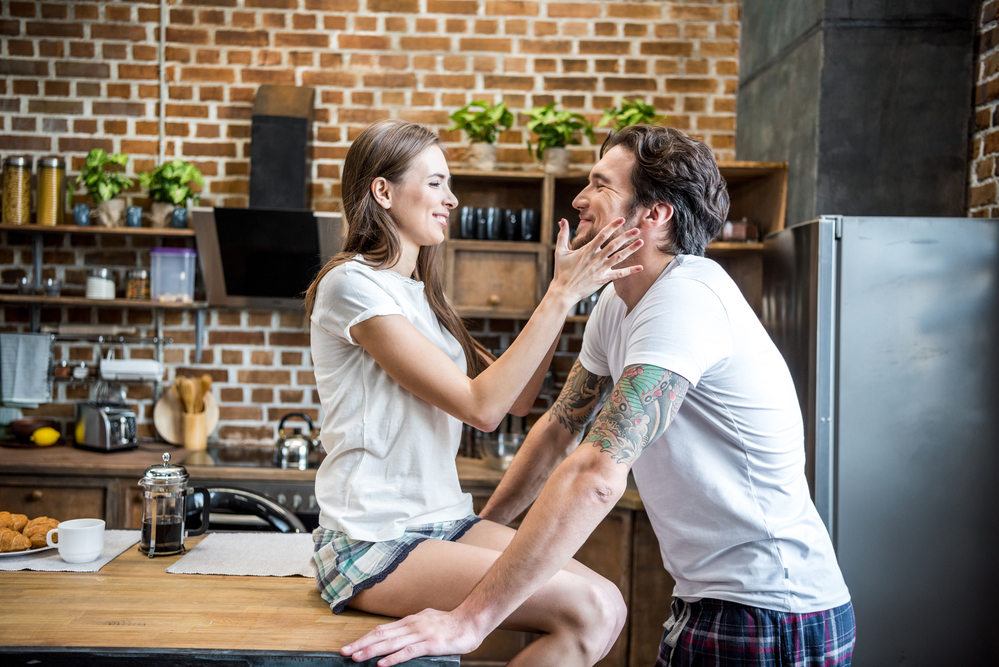 Sex in the kitchen. Hmmm. I would say it depends on the kitchen.
And by "depends on the kitchen," I'm thinking more along the lines "is the kitchen comfortable for sexual escapades"—rather than "whose kitchen are we talking about?!"
No one wants to think about having sex in someone else's kitchen, at least not someone you know, right?! Sex in grandma's kitchen? Hard no. Sex in the in-laws' kitchen? Hard no. Sex in the uber cool Airbnb kitchen? Well…that may be up for consideration. 
For purposes today, let's talk about sex in your kitchen, because that's the one to which you have the most access. If you're going to have sex in a kitchen, more than likely it's going to be your own. I mean, at least you know when it was last cleaned.
Can sex in the kitchen be sizzling hot?! I'm not so sure about intercourse, unless of course the kitchen has some comfort features. Nice padded window seat? Nice padded bench seat or chairs? Any sort of padding seems to up the comfort game a bit, making actual intercourse more plausible.
Intercourse on the kitchen floor or counter or kitchen table may seem spontaneous and passionate in our imaginations, but it all just sounds super uncomfortable from a logistical standpoint. Something about a hard surface just sounds painful. But hey… if you can make it work, go for it!
Now I have to offer the disclaimer that my husband and I have never had sex in our kitchen, because our kitchen is totally not conducive to any kind of comfort. Even the linoleum floor is super worn out, so nothing about that seems appealing.
As far as intercourse in a kitchen, I think you'd be hard pressed to find many couples who have actually done that.
But let's talk about foreplay and sexual play and suggestive innuendo and "getting things started" in the kitchen. All of that feels scrumptiously delicious!
And if you're going to have something feel scrumptiously delicious from a sex standpoint, what better place than the kitchen for that kind of saucy action?!
Food can be incredibly sensual and fun. There are so many nerve endings in the mouth. And there are many types of foods that lend themselves well to sexual arousal, whether you are feeding each other or licking something off each other. Of course, things like whipped cream, pudding, ice cream, chocolate syrup, honey and regular syrup all come to mind—foods that are smooth and sweet.
There truly is ample room for creativity when it comes to food. Types of foods, temperature of the food, the way you incorporate it into your sexual foreplay and playfulness—if it's something the two of you find appealing, give it a try!
I do have one word of caution about a particular food. If you are getting playful with yogurt, remember that it is a culture. Nothing good can come from getting yogurt in warm moist crevices, so keep the yogurt away from the genital area. I have a friend who actually learned this lesson the hard way.
Okay, lots of ideas with food. But you wouldn't have to include food at all, and you could still have a hot sexual time in the kitchen.
Water and ice can bring tantalizing sensations, if used sensually. Gently drawing your wet finger tips or an ice cube across your spouse's arm, neck or waist is one idea.
And certainly a heavy make-out session and the wandering of hands doesn't have to be reserved for the bedroom or living room. You can initiate that kind of interest in the kitchen. Sometimes these sorts of things can be sweet precursors to all you will do later in the bedroom.
You could make oral sex work in a kitchen as well, probably more so if the wife is offering this kind of pleasure to her husband. I'm not saying he can't reciprocate; it's just the angles and possible positions probably work better for him receiving from her. He could be sitting in a kitchen chair, for example, and she could kneel in front of him. Or depending on if you have an island in your kitchen, you could get creative if you have enough counter space?!
I hope it goes without saying, but probably good that I say it anyway. Be sure to maintain your exclusivity. Cooking up any kind of sexual activity in the kitchen may leave you a bit vulnerable to being walked in on or viewed through windows. If this is a risk, plan accordingly.
If you have kiddos in the house (or anyone in the house, for that matter), you may want to reserve the kitchen escapades for when you're alone. If your kids are littles, you know best if you'll hear them before they toddle in to discover you. And, of course, if you have drapes or blinds, pull those things shut so the neighbors aren't privy to your passionate play.
Maybe you've reached this point in the post and you are thinking back on times when you and your spouse have turned up the heat in the kitchen. Or maybe you're reading this and making a mental list of ways you'd like to start heating things up!
As someone who is a big fan of sexual affection, I think the kitchen definitely can be in the repertoire of your frisky locations.
Things can get sizzlin' hot in the kitchen! Why not serve up some action tonight?!
For more reading, you can cruise through my list of past posts, as well as my page with a bunch of posts on orgasm.
Copyright 2020, Julie Sibert. Intimacy in Marriage Blog. Links may be monetized.
Never want to miss one of my posts?  Subscribe via email on this page.  And be sure to join my more than 10,000 followers on my Facebook page and 11,000 followers on Twitter.