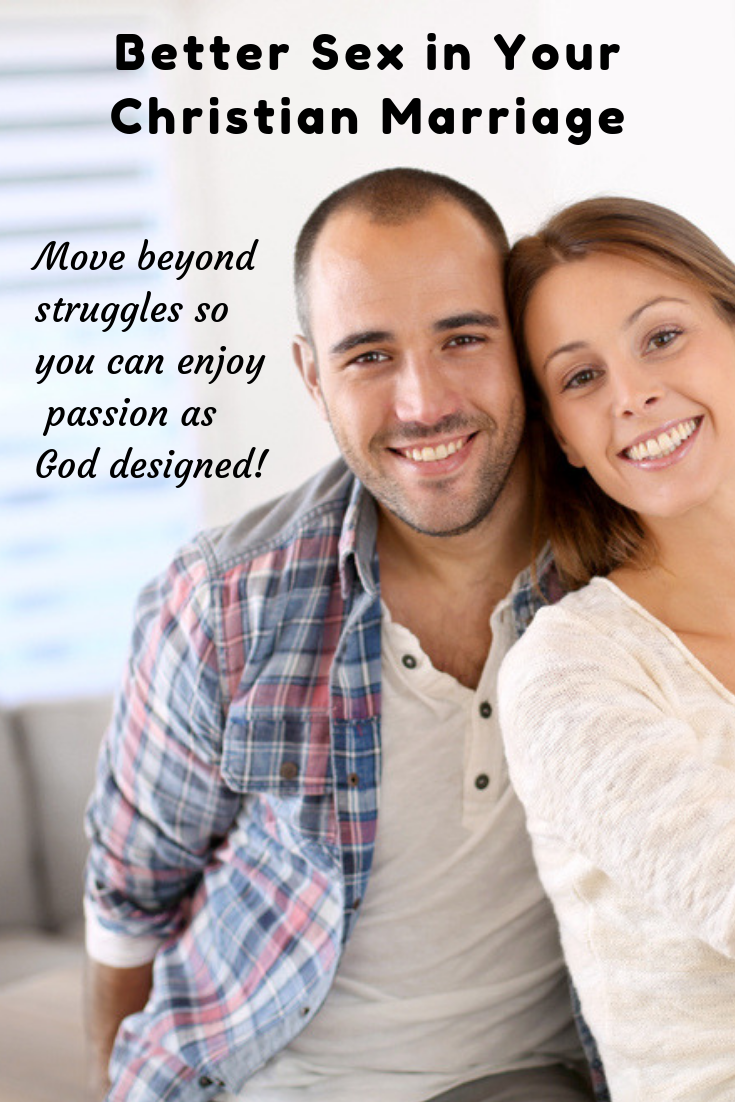 Recently I taught our 14-year-old how to do laundry.  I know. I know. It seems like I'm way behind on this, like I should have taught him when he was 10 or 12 or any time before 14.
But a better philosophy is that TODAY is a good day to learn.
And you know what? He did! He picked up the tips, he grew in his confidence and he now knows how to do laundry. Score for him. Score for me.
As a married Christian, you may have felt for a long time that you and your spouse can't get on the same page about building passionate sexual intimacy in your marriage.
Maybe you even think it's too late to learn.
Skewed perceptions, past sexual hurts, unresolved relationship issues, misunderstandings, confusion about how to turn each other on — it all snowballs. And it's all landed you right here, wondering if you can untangle the difficulties and move toward hot passionate mutually-enoyable sex.
But you know what? TODAY is a good day to learn! Today is a good day to be intentional about your intimacy.
You can't change the past, but you can choose as a couple to build authentic intimacy now.
I love speaking hope and encouragement into couples lives. If I can help married Christians have better sex, then game on. I'm all in. I want to help. That's why I've blogged for years, spoken publicly whenever given the opportunity and connected with countless people one-on-one.
I've discovered along the way that technology helps make helping easier. Easier for me and easier for you!
Are you ready for better sex in your marriage? Are you ready as a couple to be intentional about picking up more tips, better understanding what God says about sex, and learning specific ways to arouse each other?
I have put together a program that is packed full of insights. It's called Better Sex in Your Marriage, and I have no doubt you can glean phenomenal insights — ones that are perfect for building more passionate lovemaking in your marriage.
This opportunity gives you access to all this…
FIVE VIDEO SESSIONS you can watch at your own pace
DOWNLOADABLE PDFs for each session. Great conversation starters to become more comfortable talking about sex, resolving struggles and finding new ways to nurture passionate lovemaking.
30+ SPECIFC TIPS on boosting passion. This downloadable PDF is packed with specific tips for you two as a couple, as well as tips for the wife and tips for the husband.
LIST OF CHRISTIAN RESOURCES. Yes, a great list of places to turn for more help and ideas on building the best intimacy possible.
PLUS if you are one of the initial 100 couples who sign up for this first offering of the program, you get all kinds of BONUSES, including…
BONUS Q&A where you anonymously can ask any questions you want on sex.
ENTRY IN A BOOK GIVEAWAY where one couple will win a collection of author-signed books on intimacy from Shannon Ethridge, J. Parker, Ruth Buezis, Tom and Debi Walter, and more!
BONUS VIDEO that is all about insights on the genitals and ways to arouse your spouse!
LOWEST INTRODUCTORY PRICE. The next time I offer this program, it won't include the bonuses and it won't be at this great price.
And if you go through the program and all the resources and determine it wasn't worth it and you learned nothing, then I will give you your money back.
I'm taking only 100 couples this first go-around. I'm calling this 100 my visionary group! No more than 100 couples, because the number of questions this awesome group will generate is all I can handle in the Bonus Q&A.
So if you want to be one of the 100, check out ALL THE DETAILS at this link or click on the image in this post. Don't delay. Because today is a good day to learn!
CLICK HERE to at least find out more >>> Yes, Julie… I definitely want to know more!
Here's to great sex!
For more reading, cruise through my list of past posts. as well as my page with a bunch of posts on orgasm.
Copyright 2019, Julie Sibert. Intimacy in Marriage Blog. Links may be monetized.
Never want to miss one of my posts?  Subscribe via email on this page.  And be sure to join my more than 10,000 followers on my Facebook page and 11,000 followers on Twitter.