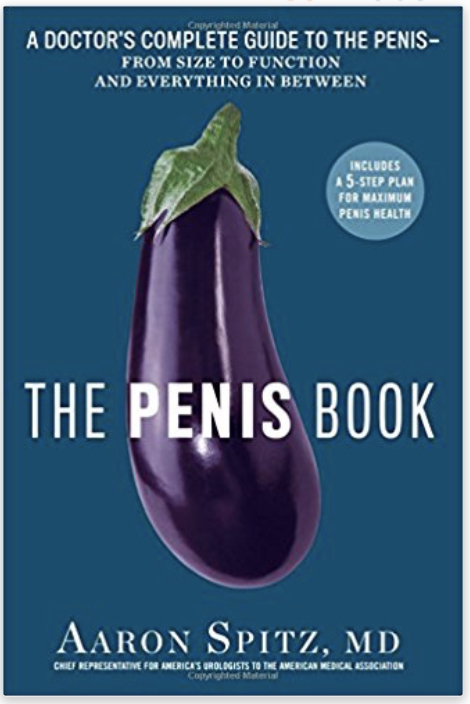 Awhile back I was meandering through some TV channels and came across a talk show where urologist Dr. Aaron Spitz was talking about his new book, The Penis Book.
It wasn't out at the time (but it is now), so I contacted the publisher to see if they would send me an advance copy.
I know, I know. Just some light casual reading for your average everyday sexual intimacy blogger.
I love this book!  It is so conversational and flows so well — it is a layman's guide to all things that have to do with the penis.
Dr. Spitz would be thrilled I just referred to it as a layman's guide. I'm going to see how many puns I can work into this post.
I was pleasantly surprised at how Dr. Spitz covers so much comprehensive and accurate information, but in a way that people who are not doctors can easily understand.
That being said, his tone might be too casual for some people as he explains all the ins and outs and stuff you didn't even think to uncover about the pocket rocket.  He does use every euphemism and slang word ever laid on the penis.
As someone who has read the book, though, I personally think his casual and a light-hearted tone is what makes the information so helpful and accessible.
I learned a lot. And I thought I was already pretty well versed on the penis and sex.  I found his candor refreshing, because generally speaking, there is not a load of solid and mature dialogue happening about the penis outside of the medical world.
This book has stamina. It goes a long way to help men and women better understand the penis. As I was reading the book, I was thinking how men especially may like to read this book, especially if they are concerned about anything regarding their penis.
The book is not a substitute for seeing your doctor, but it could help you compile a firm list of questions before you head in for your appointment.
And certainly I want you to know that Dr. Spitz's casual tone doesn't mean he doesn't take the subject at hand seriously, because he clearly does. He has the credentials to show that he is qualified to talk at length about the penis, and there is nothing cloudy about his passion for the topic.
Dr. Spitz is an expert in male sexual health and fertility and serves as the lead delegate to the American Medical Association in the area of urology, so the man knows what he is talking about.
The Penis Book is divided into three sections:
PART ONE: How It Works
PART TWO: How to Work It
PART THREE: The Doc Explains Penis Problems
Not only does he explain thoroughly the mechanics of the penis (how it is wired, what makes it tick, what happens during arousal and ejaculation, the impact of hormones and so on), he also goes deep on dispelling myths (bigger is not always better).
And he explores treatments for everything from premature ejaculation to erectile dysfunction to inability to ejaculate. I liked that he explained why certain treatments or medicines work the way they do. You'll learn about a lot more than Viagra, as he also explains things like penile pumps and implants.
He conveys insightful information on what impacts the function and health of the penis, whether it be prescription medicines, medical conditions, emotional health, aging, injuries, etc.
He reiterates what many of us already know — the more we exercise, eat right and are intentional about a healthy lifestyle, the better all body parts function (including the penis).
Very. Thorough.
The one word of disclosure I would offer is that because the book is written for a much broader audience than the Christian niche, it does cover topics that may make some Christians uncomfortable.
You have to remember that Dr. Spitz is trying to share helpful information (most of which is physiological and a reflection of his experience as a doctor). His goal isn't to sway his reader on morality issues.
If you read this book, you have to be able to filter out what doesn't harmonize with your beliefs in order to take hold of the information that is beneficial for you.
For example, Dr. Spitz explains gender dysphoria and gender reassignment surgery, and I know those topics can stir impassioned discussion from a morality standpoint. If you don't want to read about that, then skip that part.
And while he doesn't come right out and say pornography is wrong, I will reassure you that the bulk of his discussion on pornography comes from the angle that it is destructive to individuals and relationships.
He deglamorizes the porn industry by sharing sobering facts about what it takes to make porn (long hours, bad pay), the staggering number of STDs among porn stars, and the almost incomprehensible "average number of sexual partners" a porn star has.
I found his section on pornography reaffirmed what countless people have discovered, whether from participating in its production or partaking of it as a consumer — pornography is excruciatingly harmful in ways that many people don't comprehend until they are trying to get it out of their life.
My overall feeling about the book?
Well, as I said earlier, the long and the short of it is I love The Penis Book. I read it as someone who cares about sexual intimacy in marriage, so obviously I care about what is happening with the penis.
It is indeed a great read on something that is sometimes hard to understand.
Copyright 2018, Julie Sibert. Intimacy in Marriage Blog. Links may be monetized.
Never want to miss one of my posts?  Subscribe via email on this page.  And be sure to join my more than 9,000 followers on my Facebook page and 10,000 followers on Twitter.