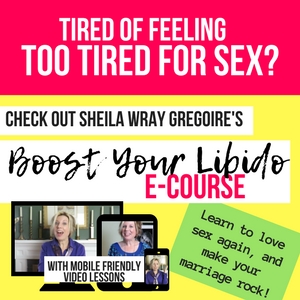 I'm on a roll with wanting you to have more passionate sexual intimacy!
Let 2018 be the year that you turn things around sexually in your marriage.
My friend and fellow sex champion, Sheila Gregoire, has a tremendous way you can be on that path to better sexual intimacy in your marriage just in time for Valentine's Day!
Sheila and I both have heard great things about her "Boost Your Libido" course. If I didn't believe in its potential to help couples in their sexual intimacy, I wouldn't share it.
Now here's where you need to pay close attention.  

This course right now is only $39

. But it's going up in price after Feb. 14.
So if you are looking for a Valentine's Day gift your husband will love, why not give him (and yourself!) a boost in your desire for sex?
You'll be investing in your marriage. $39 is about the cost of a date night dinner, so consider the Boost Your Libido course a date night — one that makes all subsequent date nights better!
For less than forty dollars, you get the "Boost Your Libido" ebook, 10 video modules, downloadable PDFs. Seriously. So much great information full of great ideas to help you and your husband enjoy more passionate and enriching lovemaking.
Isn't that what you want? Isn't it what your husband wants, too? Sexual intimacy that you both crave and enjoy?!
I know you want to make every penny count. So I say get it now before the price goes up.
Because Sheila is generous, she gives me a portion of each sale. She's super kind to do that, but she's even more kind because she has dedicated years to helping marriages like yours experience more intimacy.
Rock out Valentine's Day this year, okay? Make it one that both you and your husband will look back on and say, "THAT was the year we turned things around for the better sexually in our marriage!"
Go to the link now to at least find out more >>> Yes, Julie! I Am Definitely Want a Fabulous Valentine's Day!
Copyright 2018, Julie Sibert. Intimacy in Marriage Blog. Links may be monetized.
Never want to miss one of my posts?  Subscribe via email on this page.  And be sure to join my more than 9,000 followers on my Facebook page and 10,000 followers on Twitter.