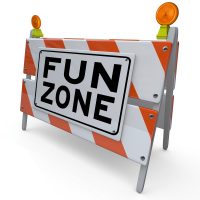 Think about it for a moment. When was the last time you had fun during sex?
I don't know about you, but when my life becomes out of whack (too much adulting and too little frivolity), my sexual frustration seems to escalate.
Maybe that's because beyond all the marital bonding benefits of sex (yes, those benefits are nice), I also happen to be a fanatical fan of the stress relief and fun.
Love. It. Seriously, love the stress relief and fun of sex.
Which is probably why I get worn out by adulting that sabotages sexual playfulness.
I know the adulting is necessary. I get it. How else is the dog going to be current on her shots or the elderly parent make it to her hair appointment or the left sock be matched to the right? I swear I live with heathens — a gazillion socks and half are in need of a profile on match.com.
I digress. What were we talking about?
Oh, that's right. FUN SEX.
I love fun sex!  You know, the kind of sex where you abandon yourself to playfulness, pleasure and position variety.
Okay, about that last point.
My beloved and I are old-ish, so our position variety wouldn't exactly get us any book deals. BUT there are moments when we still surprise even ourselves. I mean, for about 23.5 seconds, but surprised nonetheless. I don't want to brag, but I think I heard "We are the Champions" playing in the background the other night.
For all the hoopla we give to romantic drawn-out tender candlelight sex, I think we also need to give a few high fives to the kind of sex that is just plain fun (or funny, depending on the scenario).
My pal J. Parker wrote a few fabulous posts worth the read, including Does He Make You Laugh? and Most Embarrassing Moments During Sex.
So let's be the type of married folk — young and old and in-between — who are all about having fun when we get frisky.
3 Ways to Have More Fun During Sex
1. Take yourself lightly!
A friend once sent me a funny meme of a woman trying to replicate sensual poses — you know, the kind of poses that look all photoshopped and well-lit and decked out with perfectly-fitting lingerie and a "come hither" look in smokey-makeup eyes.
The funny meme showed how most of us would really look trying to pull off a get-up like that.
Hilarious. I laughed out loud, because it's so true.  I've never been able to master the smokey eye thing. Never. If I tried to come to bed with smokey eyes, my husband would probably think I'd gotten into a fight in the carpool line at the middle school.
Point being? Take yourself lightly.  Be playful. When we take ourselves lightly, fun just seems to sprint to the forefront of our lives (and our beds).
2. Try something new.
I'm not talking about anything that requires elaborate planning. Just incorporate something simple and fun in your sexual intimacy that you've never included before.
The first thing that comes to my mind is chocolate syrup. But that possibly is because I've been trying to give up sugar, and chocolate syrup sounds so good right now. So. Good.
I would at this moment genuinely enjoy some chocolate syrup without shame, regardless of whether I was having sex. But with sex sounds extra scrumptious. And I'd be working off the calories, so clearly the sugar conundrum wouldn't matter.
Another friend mentioned to me recently that sex is essentially horizontal jogging. Eureka! "Chocolate syrup" and "sex" are now my New Year's Resolution!
But hey, it wouldn't have to be chocolate syrup.
Maybe your fun could be from playing some music that seems like odd music as a lovemaking soundtrack.  I personally wouldn't pull up "The Wheels on the Bus Go Round and Round," but if that does it for you, then I'm not going to judge, sister.
The Veggie Tales Theme Song certainly could have some sexual innuendo in it if we listen to it enough.  And let's be honest. Who of us with kids hasn't listened to the Veggie Tales Theme Song enough?
"Broccoli! Celery! Gotta be! Veggie Tales!!"
Any. Way. Moving on.
Have you ever blindfolded each other? Simple, yet playful.
I once tried to replace the regular bulbs in our ceiling fan with these crazy multi-colored bulbs. Not sure if they intensified any orgasm in the room that night, but we did laugh a lot. You know, at the thought that changing the lightbulbs was going to create some epiphany in our lovemaking.
I've once thought of dressing up as "sexy maid." But then it occurred to me my beloved would be more turned on by me actually cleaning. And. Well. That's not going to happen.
But maybe the "sexy maid" outfit could work for you!
Better yet, get messy with the chocolate syrup and then come in as sexy maid (with smokey eyes, of course) to clean it all up. All while burning calories, as Bob the Tomato sings in the background.
Just an idea. Make it your own.
3. Be more playful with your clothes on.
Doesn't life just wear on you at times?
You once were hot lovers and now your conversation has been reduced to "I think we maybe suck as parents" and "I can't believe the store-brand laundry detergent smells more like wet dog than spring rain" and "this leftover lasagna maybe has gone bad. Here. Try it."
You glance around and all the playfulness in life has dissipated, and now even with your clothes on, you just aren't playful.
But here's the thing. If you can find a way to be more playful with your clothes on, that will help usher you into fun sex once the clothes are off. (It's a loose working theory, but I'm convinced it has some validity).
A great way to be more playful with your clothes on is to develop lots of inside jokes. Certainly, strive to be appropriate, but shared mockery is a bit of an aphrodisiac (Again. Loose working theory. Humor me and play along.)
One time my husband and I were taking our kids to Adventureland in Iowa (It's the cool kind of amusement park that you take your kids to when you don't have the cash or patience to go big and drag them on a plane to Disney World). And it happens to be only a couple hours from where we live.
Anyway, while driving to Adventureland, we saw a license plate that said Wookie.  This trip to Adventureland was like seven years ago, we aren't even Star Wars fans, and we still manage to cleverly work the word Wookie into our daily conversation. Stupid, I know.  But funny inside joke for us, nonetheless.
So there you have it — some suggestions on bringing more sexual fun back into your life and your bed.  "Say NO to Boring Sex!"
I'm now thinking my husband and I should get matching t-shirts that say that. Seems like the totally appropriate thing to wear to our son's next parent-teacher conference. You know. At the middle school.
Copyright 2018, Julie Sibert. Intimacy in Marriage Blog. Links may be monetized.
Never want to miss one of my posts?  Subscribe via email on this page.  And be sure to join my more than 9,000 followers on my Facebook page and 10,000 followers on Twitter.