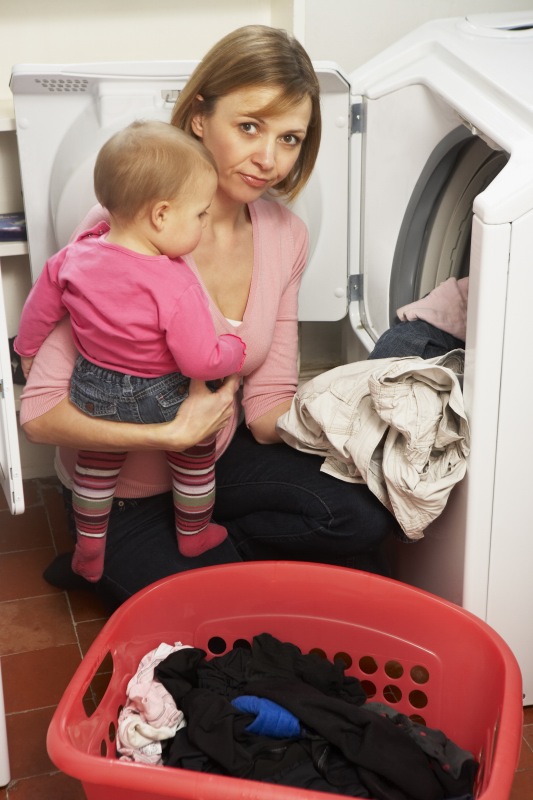 As many of you know, some other wives and I did a day retreat recently for engaged and newly-married Christian women.
Our goal was to give them a solid and exciting foundation for building great sexual intimacy in their marriage earlier rather than later.
One of the questions that came up during the Q/A period was, "How do I nurture intimacy while my children are young?  It seems really difficult to find the time and energy."
If you are a mom of littles, you know what we're talking about here.
For all the strides we've made with dual parenting, the reality is that in most homes, the bulk of caring for babies and small children falls to the mamas.
For one, if a mother is nursing, her body literally is not her own, but rather is a feeding trough for the little tyke (yes, I know it is a bonding experience, but it can be hard to view your breasts as an arousal point when they are a hot commodity as a food source).
And even if you aren't nursing, but have monkeys children under the age of 5, you spend a great deal of your time as a makeshift jungle gym — holding, cuddling, reading, soothing, zipping, snapping, washing, wiping, dressing, playing, and so forth.
By the end of the day, the thought of being touched, even by the man you married, doesn't sound near as appealing as falling asleep beneath your sheets or slipping into a hot bath.
But.
(You knew I would have a disclaimer).
Here's the thing.
If you don't figure out how to have sex (and have it often) when they are little, you may be shocked to discover that you have less time and motivation when they turn into annoying inquisitive middle-schoolers or rebellious independent high-schoolers.
If you don't nurture sex now, then when?
Every season of parenting has its time constraints and energy depletion. Every. Season.
I kid you not.
I remember when my children were small, a friend of mine with older children essentially said to me, "Brace yourself. If you think your life is crazy now, you haven't seen anything yet."
Sure, the little tykes turn into big tykes who no longer paw at you (or want to be seen with you), BUT your parenting responsibilities tend to double, triple and quadruple (like rabbits, but less adorable).
And on a more serious note, one of the more common times of divorce in a marriage is between years 20 and 25 (depending on which source you read).
Why?
Because by that time, if a couple hasn't nurtured their intimacy and marriage, there's no compelling reason to stay together.  The kids are grown and gone (or at least on their way out).  More often than not, finances are more stable, making living separate lives seem more doable.
And one or both spouses finds themselves looking at the other and thinking, "I just don't know you anymore. And I really don't want to stay."
Don't shoot the messenger.
Remember, I'm here to give you hope that you don't have to be like those couples who get 20 years in, only to realize they really want out.
If you are a parent of babies or littles, intimacy in your marriage doesn't have to be put on hold until that youngest child is heading out the door.
Here are 5 tips for nurturing hot sex in your marriage NOW, rather than LATER:
1. Put the kids in their own room.
I know, I know.
Some of you are big on the whole family bed concept.  Sadly, what I think happens in too many houses isn't family bed at all, but rather "mom and kid" bed, while dad sleeps elsewhere.
Regardless of whether you're all sharing a bed or if you've told yourself "just while they are little,"  I'm going to challenge you to reclaim some marital ground.
Personally, I think your bed should be the one place in the house that is just about the two of you.  Much easier to teach those kids that they have their own space in their room, rather than fight the battle of getting them out of your bed after they've been sleeping in it for 6 years.
2.  Lower your standards on what doesn't matter.
About 85% of it doesn't matter.  Pour most of your heart into what does matter — your relationships.
If you have to push the unfolded laundry off the bed or leave the dishes till morning or constantly have a family room that looks like Toys R Us just blew up, so be it.
There's something profound about drawing a line in the sand.
The dishes can wait. The laundry can wait.  Put those kids to bed, take your spouse's hand, go into your bedroom, and shut the door.
Shut the door. And open your heart and arms.
3.  Be sexually suggestive throughout the

da

y.
Our bodies tend to follow the lead of our thoughts and words.  Be sexually playful with each other, through your phone calls, an occasional note in the brief case or lunch box, creative texts, "I can't wait till we can be alone" glances.
You get the idea. I don't have to paint you a picture.  But if I did, it would have a lot of sexual innuendo in it.
4. Don't wait for perfect moments.
A lot of great sex can be had in 20 minutes. Sure, we'd all like an ideal setting and a leisurely hour, but are you really going to build anything solid on the rare occasions when the stars align and everything is perfect?
Nope.
A better approach is to adapt.  You're in a season of having little kids, so you have no choice but to get creative. If you don't, your intimacy will suffer.
5.  Don't just go through the motions.
Sadly, a lie that a lot of women tell themselves is, "I'll give him what he wants and then he'll stop asking."
Have you entertained such thought?
If so, not only have your shortchanged your husband (who likely doesn't want obligatory sex), you've also shortchanged yourself.  Orgasm and sexual closeness are great stress relievers and help us keep things in perspective.
A little sexual perspective can do wonders for the chaos of parenting littles.
I get that you're in a demanding time of life.  And it's messy.  But here's the deal.  Life is messy.
If you don't nurture sex now, then when?
Copyright 2016, Julie Sibert. Intimacy in Marriage Blog. Links may be monetized.
Never want to miss one of my posts?  Subscribe via email on this page.  And be sure to join my more than 9,000 followers on my Facebook page and 10,000 followers on Twitter.