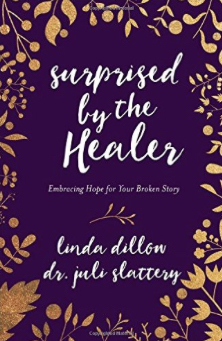 Whenever I speak to women's groups on sexual intimacy, I know that within the group there are some women who have experienced sexual pain.
Maybe it is their husband's pornography addiction.
Maybe it is their own past or current promiscuity.
Maybe it is abortion or sexual abuse or infidelity.
And maybe it's confusion about the vision they had for sex in their lives — or the shame about being careless with sex.
Whatever the unique circumstances of the pain, it's there — and often these women think they are the only one.
And this isn't just true when I speak before a group.  The same could be said whenever I sit in church or at my kid's baseball game or in a restaurant.
If we could glimpse into the heartache of countless women's pasts and presents, we'd see sexual brokenness that seems insurmountable, even for an all-powerful and faithful God.
But — and this is an important revelation — there are true stories of redemption and healing that give us hope.
We can claim hope that sexual tragedy, whatever its form, does not have the final say about anyone's identity and future.  God wants to meet everyone at their point of sadness and loss.
Surprised by the Healer, a new book by Linda Dillow and Dr. Juli Slattery, gives us nine of those true stories — women who found God's heart and faithfulness were stronger than the devastation of sexual disillusionment and scars.
I was invited to be part of the launch team for this book, which I think will become a tender resource to help any woman on her path toward sexual healing and wholeness.
An aspect I greatly appreciated about Surprised by the Healer is that while not all of the stories have fairytale endings, each is rich with evidence that God's hand is on more than our earthly circumstances.
The authors share this with us:
"God has not promised to heal our temporary brokenness, although He can and sometimes does. What He does promise is to redeem completely those things that are everlasting: our hearts, souls, and spirits."
I admit, these women's stories are not easy to read.
But they are sacred reminders that no matter the details of someone's path, God longs to permeate with His truths and love.  He longs to coax anyone who is hurting out of the shadows of their sexual regret, abuse and heartache.
Throughout their book, Linda and Juli offer insights and encouragement as well, including a 10-week Bible study at the back that would be ideal for a women's small group, support group or individually.
(My suggestion would be go through the Bible study with at least a few other trusted women, as I think it's good to have comrades when we're looking at our deepest hurts).
I shared the book with a couple of friends who I know have faced sexual struggles.  One of my friends immediately told me she knew of other women who could benefit from the book.
And isn't that what God longs for us to do — shine light into dark places and offer encouragement where it is needed most?
Whether you have faced sexual regret or pain of any sort, pick up a copy of this book.  And even if you don't think you can identify with the women's stories, I guarantee Surprised by the Healer will help build your empathy for women who are hurting.
I'm tremendously grateful for the work Linda and Juli are doing. We need more voices like theirs in the arena, particularly in the body of believers.  We need voices that courageously speak up when others prefer silence, and courageously paint a framework of God's love, His truths about sex, and His vision for sexual redemption.
You all know I'm a fan of voices like that!
Copyright 2016, Julie Sibert. Intimacy in Marriage Blog. Links may be monetized.
Never want to miss one of my posts?  Subscribe via email on this page.  And be sure to join my more than 9,000 followers on my Facebook page and 10,000 followers on Twitter.