I have great news!
Author and speaker Dr. Juli Slattery has released a book I believe will become a vital "go to" guide for any woman wanting to better understand love, sex and intimacy.
The book is 25 Questions You're Afraid to Ask about Love, Sex and Intimacy, and Juli asked if I would read it and get the word out about it.
She sent me a copy and offered an additional one I could give away (because honestly, I'm not giving up my copy!)
Here are three things that are astonishingly profound and beautiful about this book:
It's comprehensive without being cumbersome.
Seriously, this is what first caught my attention by the time I was 2-3 chapters in.  Juli tackles tough questions and strikes the right chord between saying too much and not saying enough.
She doesn't gloss over tough topics, which makes me think she put a lot of thought into her word choices.  She makes every word count.  The end result is that in every chapter, she gives us deeply needed points and clarifications — without drowning us in lengthy hard-to-follow paragraphs.
It's an "easy" read, so to speak, yet doesn't back down from the challenging questions where many women are hungering for solid feedback.
It's biblical.
Make no mistake, she drenches this book in God's love and in His indisputable Word.  Juli humbly recognizes that without God's wisdom, generosity and truth, we cannot frame sex and intimate love in its right context.  We simply can't do it.
If we want to follow His plan, we are left with no choice but to align ourselves with His heart and Word.  What we do with our bodies and our relationships matters.
She does a great job conveying all that with grace and love.
It's conversational.
The first two points I made are obviously deal-breakers for me if I'm going to recommend a book, but this last one is what really piques my interest.
Is the book conversational?  Do I read it and feel like I'm having coffee with this woman?
Yes!
This is why I think this will be a book that can spur great conversations across generations.
It would be easy to assume the book is geared only toward younger women, but I believe it also would be an ideal book for a women's book club or small group, no matter the ages of the women.
I also think it would be a great book for a couple of single female friends to go through together to help encourage each other and hold each other accountable.
And no doubt it has nuggets of insight for women who are engaged, as well as those who have been married for quite awhile.
So, all that being said, you want to read this book, right?
If you simply can't wait one minute longer, head on over to Amazon and buy it.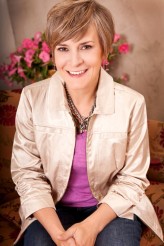 Dr. Juli Slattery is a clinical psychologist, author, speaker and host of the weekly radio program Java with Juli. She is also the cofounder of Authentic Intimacy, a ministry passionate about reclaiming God's design for intimacy.  Juli and her husband, Mike, have been married for over 20 years and are raising their three boys in Colorado.
Never want to miss one of my posts?  Subscribe via email on this page.  And be sure to join my more than 9,000 followers on my Facebook page and 10,000 followers on Twitter.
Copyright 2015, Julie Sibert. Intimacy in Marriage Blog. Links may be monetized.