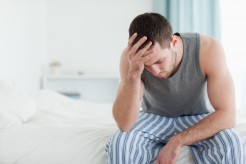 I receive more emails and comments from men than I do from women.
This does not surprise me.
What did initially surprise me, though, when I began blogging is the depth of pain expressed in these emails from men who hunger for more sexual intimacy in their marriage.
Notice I just wrote "sexual intimacy," rather than using the word "sex."
Nearly all the communication I receive from husbands clearly shows that sex is not just sex to them (contrary to what popular culture and stereotyping would lead us to believe).
They aren't just looking for a release.
Because let's face it, they could get that from their own hand.  Sure, some resort to secret masturbation on a regular basis, because they see no other option afforded them. Yet most would gladly admit that what they really want is to make love to their wife.
Sex is never just about sex.  It's about wanting to feel connected, affirmed and one with the person to whom you've pledged your life.
Some marriages are high on conflict about sex and incredibly low on resolution and healing.  Two people slowly drift away from each other sexually, either because healing the disconnect is not a shared value or because one or both spouses believe the marriage is irretrievably broken sexually.
My God, marriage is hard, isn't it?  I get that. I know.
I don't minimize the challenge it is to build an intimate marriage. Being married is a high and holy calling and it is hard, hard work.  And so much impacts sexual intimacy, from hormonal and physical issues to relationship struggles to betrayal to life circumstances to skewed views about sex.
The list goes on.
But it is tragic commentary in a marriage when either spouse has prayed for God to take away something that is inherently woven into the very design of marriage.  God's design for marriage.
I am grieved any time I read an email or comment where a husband has resigned to defeat, thinking there is no longer any viable option but to pray — even beg — for God to take his sexual desire away.
The devastation of laying next to a woman who neither pursues him sexually nor responds lovingly to his initiation is just too much.  Too much.
To frame this in another perspective, consider if you as a wife are feeling emotionally neglected by your husband.
Do you pray that God remove your desire for emotional oneness with the man you fell in love with and married?
Some of you may pray this, but my guess is that most women in that situation do not wish for their desire for emotional connection to go away.
They would rather see the relationship healed and strengthened, right?
Deep down when a husband has prayed God take his sexual desire away, what he is really screaming from the caverns of his soul is that he desperately wants the relationship healed and strengthened.
He wants — genuinely wants — authentic sexual intimacy with the woman he married.
If there are struggles in your marriage about sexual frequency, do you ever wonder if your husband has prayed for God to take his sexual desire away?
Well, here's the deal.
God probably isn't going to answer that prayer with a yes.
And even if He did, would we really consider that a victory for your marriage?
Never want to miss one of my posts?  Subscribe via email on this page.  And be sure to join my more than 9,000 followers on my Facebook page and 10,000 followers on Twitter.
Copyright 2015, Julie Sibert. Intimacy in Marriage Blog. Links may be monetized.