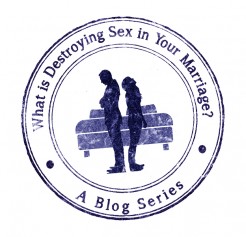 For many women, perimenopause and menopause can take a significant toll on sexual intimacy in marriage. 
In today's post, Debi Walter of The Romantic Vineyard shares authentically about her own journey, as well as information I think you will find helpful no matter your age. Debi's post is part of my ongoing guest blog series on things that destroy sex in marriage.
Before I begin, may I encourage all of you who are in your 20s and 30s to not check out of reading this because you think it doesn't apply to you.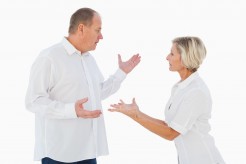 I've researched and written this post primarily with you in mind. Promise to read it? Ok, good. Thank you!
When Julie asked us to contribute to her guest blog series on things that take a toll on sex in marriage, I knew I had to approach the topic of Sex and Menopause and Perimenopause (PM).
Having gone through this myself (I'm 56), I only had my limited experience and a few friends I've talk to from which to glean. This is why I decided to ask readers through a 10-question survey about this apparently much-needed topic.
I also solicited the help from the CMBA marriage bloggers I know and asked them to alert their readers of the survey as well. I am pleased with the response. If you participated, thank you!
First, let me say, menopause is a mystery to most couples, even when you're going through it.
Desires that once were a given, may no longer be on the radar screen. For those who have yet to experience it, you most likely don't care to think about "that stage" of life. You're too busy raising a family for goodness sakes.
I get that.
Second, everyone is different when it comes to how they'll go through the "change of life," as my parent's generation called it.
After reading nearly 200 respondents answers to my survey, I understand why they gave it that name; It can change your life in ways you never thought would happen- – not to you anyway.
Finally, whatever difficulty you've had with your sexual intimacy and in your marriage for that matter, will be magnified during this season. This is why if you're young and reading this, please, please work hard to keep the lines of communication open through all that you face together.
Holding back out of fear, shame or pride will only make things worse as the years pass. The pain you experience now in facing it won't compare to the pain many of the couples shared who are facing menopause and unable to connect with their spouse in an understanding way.
If you're not sure what the difference is between menopause and perimenopause or what any of it is, The Mayo Clinic provides this helpful definition:
"Perimenopause means 'around menopause' and refers to the time period during which a woman's body makes its natural transition toward permanent infertility (menopause). Perimenopause is also called the menopausal transition.
Women start perimenopause at different ages. You may notice signs of progression toward menopause, such as menstrual irregularity, sometime in your 40s. But some women notice changes as early as their mid-30s.
The level of your estrogen — the main female hormone — rises and falls unevenly during perimenopause. Your menstrual cycles may lengthen or shorten, and you may begin having menstrual cycles in which your ovaries don't release an egg (ovulate). You may also experience menopause-like symptoms, such as hot flashes, sleep problems and vaginal dryness. Treatments are available to help ease these symptoms.
Once you've gone through 12 consecutive months without a menstrual period, you've officially reached menopause, and the perimenopause period is over."
MY STORY
My experience began overnight when we went through an unexpected stressful season in our life. I thought I was struggling with anger and moodiness because of our situation, but it wasn't like me.
I'd always been very optimistic about life, but suddenly I was seeing things like a pessimist. Everything was a negative, and my husband was perplexed to say the least.
So was I.
About 6 months into it, I had my annual appointment scheduled with my doctor and this is when we discovered my moodiness wasn't only a reaction to my circumstances. My hormone levels had bottomed out as if I were in menopause, yet I was still having regular menstrual cycles.
I was full blown in the perimenopausal stage. I was 50.
Thankfully, because my husband and I have worked hard through our marriage to keep the lines of communication open, and we have enjoyed a healthy sex life, we were able to navigate the moody waters of my hormones.
I believe we have weathered the worst of it now, nearly 6 years after it began. Sure, things are different. The physical desire isn't as strong as it once was, but it's still there. It just takes a little more time to get things going.
The emotional connection to my husband and the love we share makes sex worth pursuing. It may not occur as often as it used to, but when it does, I would say it's better than it's ever been.
That's our story, and it's only one among thousands that are unique to each couple. Everyone is writing the story of their sex life with each encounter that they share. You will experience things that will challenge your intimacy in ways others may not.
The key is to be intentional together as you walk through difficulty.
Here are some facts that will help you know what it can be like for some women and the difficulty they have to enjoy their sexual encounters. (Source: The Mayo Clinic)
Physical Challenges of Perimenopause (PM):
Vaginal dryness
Lack of libido (desire for sex)
Weight gain
Lack of sleep due to hot flashes and insomnia
Embarrassing sweating to the point of having to change clothes often
When touched the heat soars, which limits physical contact with husband
Thinning of vaginal walls causing bleeding and severe pain
Mood changes
Loss of bone density
Change in cholesterol levels
Vulnerable to urinary and vaginal infections
Menstrual irregularity – including skipping periods altogether or heavier, longer lasting periods.
I share all of this with you because it helps to be informed. Many women would rather not think about it. I know, because this is what I did.
I was afraid to hear of the nightmares other women had experienced. I didn't want to think that that could be me one day. I totally ignored the wisdom and advice that could have prepared me more for this season, because I was too proud thinking that would never be me.
I don't want you to go 6 months wondering what in the world is wrong with you, like I did. Burying your head in the sand will not make it go away. It will just ensure you're not prepared when it comes.
Surprisingly, many menopausal couples no longer have sex or rarely do for various reasons. This is sad to me, and makes me grateful that we are still able to enjoy our sexual intimacy. But there are many couples whose sex life is still going strong, even if it's not as often.
I want to close with this excellent advice from one of the survey respondents to all of you who are wondering what this season will hold for you. Don't be fearful, instead prepare. Here is what they had to say:
"Let your husband be a priority in your life. He will be with you through all the ups and downs. Have date nights, do your best to keep romance alive. Put him before your girlfriends. Get away for the weekend if you can. I wish I would have trusted God more and worried less. My husband has taken good care of us and our kids. Have fun with your husband!!!"
To read the survey results, see the embedded graph further down in this post or go to this link.
Ecclesiastes 3:1-8,11 ESV holds new meaning when read in light of our subject.
For everything there is a season, and a time for every matter under heaven:
a time to be born, and a time to die;
a time to plant, and a time to pluck up what is planted;
a time to kill, and a time to heal;
a time to break down, and a time to build up;
a time to weep, and a time to laugh;
a time to mourn, and a time to dance;
a time to cast away stones, and a time to gather stones together;
a time to embrace, and a time to refrain from embracing;
a time to seek, and a time to lose;
a time to keep, and a time to cast away;
a time to tear, and a time to sew;
a time to keep silence, and a time to speak;
a time to love, and a time to hate;
a time for war, and a time for peace…
…He has made everything beautiful in its time.
Kind of sounds like those vows we said on our wedding day, doesn't it?
For richer or poorer, for better or worse?
We hope this helps open the door of communication between you and your spouse. Let them read this post and see if they can relate to what has been shared.
Take time and read the responses in our survey (the survey results are below or at this link).
Set aside some time to talk about it. If menopause is far down the road, still plan a date night to discuss with your spouse how they would respond to some of the examples given.
Be aware and prepare.
Menopause and Its Effect On Your Sex Life
Debi Walter blogs regularly at The Romantic Vineyard. She and her husband, Tom, are true champions of marriage.  They live in Florida and have three grown children.
Never want to miss one of my posts?  Subscribe via email on this page.  And be sure to join my more than 9,000 followers on my Facebook page and 10,000 followers on Twitter.
Copyright 2015, Julie Sibert. Intimacy in Marriage Blog. Links may be monetized.