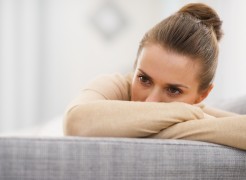 Occasionally, I receive an email from someone who is beyond frustration (and somewhat exasperated) by the fact that they have never had sex in their marriage.
Usually the person I hear from is the one being denied sex, and they don't know how to resolve this.
One husband who wrote to me said he and his wife had been married 7 years and never once had had sex. Seriously. 7 Years.
Most emails I get about this topic, though, are desperate cries for help from people who have been married less than a couple of years.
Regardless of how long a couple has been married — a few months or a few years or even longer — it is not okay that one person (or sadly, in some cases, both people) have completely avoided consummating the marriage.
Sex is part of marriage.  No matter how anyone would try to argue or justify otherwise, God and His Word are not vague about this.  Sex is intricately woven into the design of marriage.
Yes, in some instances, there are medical reasons that make it difficult for a woman in particular to have intercourse. She likely was a virgin when she married, and understandably didn't know these challenges even existed until she and her husband tried to have sex.
I'm not downplaying physical challenges.
In those instances, I know it takes courage for a woman to reach out to doctors, but that is what she needs to do.  The impact of physical challenges, such as vaginismus, often can be eliminated or at least minimized through the right physical therapy and medical assistance.
If you think there is a physical challenge that is preventing you from having AND enjoying sex, please do not delay in seeing a gynecologist.  If you have to, get second and third opinions.  Don't give up.
If there is not a physical reason for sex being painful or extremely difficult, then what could be some of the other reasons sex hasn't happened?
If you are in a marriage that has not been consummated or if sex has happened only a few times, do any of the below resonate with you:
1 Do you have skewed views about sex?
Did you grow up hearing that sex is always wrong, dirty or gross?  Sadly, Christians perpetuate these lies the most, particularly Christians who never saw the value of sex in their own marriages.
Or did you simply hear "don't do it" so often in your teen years and early 20s, that now it is difficult for you to see sex as permissible, even though you are married? Oh my, I hear from many married women who don't know how to "flip the switch" and now see sex as something to pursue rather than something to avoid.
I encourage you to dig into God's Word and reliable Christian resources that will help you see that sex is a totally good and needed experience in your marriage.  God designed sexual pleasure and sexual oneness for a husband and a wife.
It's time to put lies and half-truths behind you and get down to the holy business of being married, including enjoying sex.
2 Are you scared that you don't know how to have sex?
If you and/or your spouse were virgins when you married, you may feel apprehensive about sex, because you aren't sure how to have sex.
There's a lot to be said for trial and error — simply exploring each other's bodies and offering good feedback to each other about what feels good.  Give yourself permission and room to learn and grow in your sexual confidence.
Don't rule out books, websites, etc., that give solid Christian guidance on enjoying sex.
3 Do you have relationship struggles outside of bed?
If you and your spouse are already having a hard time enjoying each other's friendship and company while you are clothed, it is no wonder that getting naked and vulnerable beneath the sheets feels impossible.
Don't ignore the disconnect and problems you are having in your relationship.
The more you shed light on those problems and seek to resolve them, the more likely your intimacy (sexual and otherwise) will grow.
4  Are you stuck in the "no sex" routine?
Sometimes when I hear from people who haven't had sex yet in their marriage, the scenario looks something like this:
The wedding was so exciting and exhausting and incredible.  Then the honeymoon was eagerly anticipated, yet the couple was still exhausted from all the wedding festivities. Then they came home to settle into life together, go back to work, and write thank you notes.
And. Still. No. Sex.
Before long, they fell into a routine of "no sex," all the while thinking, "It will happen someday."
Someday never came. And then weeks and months (and sometimes years) passed, and someday still never came.
And now the two people are paralyzed (and possibly embarrassed) in knowing how to finally have sex.
If that describes your situation, time for a heart-to-heart with each other.  Time to get real.  This situation isn't going to fix itself.
The two of you are going to have to get outside your comfort zone, get outside your routine and start exploring a sexual relationship with each other.
You are husband and wife.  You need to be having sex.
5 Were you sexually abused in your past?
Your hesitancy about sex could be rooted in the tragic experience of past sexual abuse.
Sometimes people know full well they were abused and other people have repressed these experiences, only to have them then resurface during intimate encounters during their marriage.
If you were sexually abused in any way, I hope and pray you know that those people who wronged you and committed the abuse are to blame, not you.  While healing from and moving beyond past sexual abuse can be a difficult journey, that kind of healing is vital for the health of your marriage.
There are resources available to help you face and heal from that pain, including counseling, books, seminars, blogs, etc.
The reality is that as a married person, you are left with a choice.  You can either continue to let that abuse wreak havoc and devastation in your life or you can find ways to embrace sex in its right context of marriage and enjoy it.
Don't let past sexual abuse continue to rob you and the person with whom you fell in love.  Sexual abuse has already taken enough from you.
The above 5 reasons are not exhaustive, but they cover quite a bit of ground as to why a couple possibly hasn't had sex yet.
For some couples, this is a real issue.  And they would never dream of talking about it, even to their closest friends or family, for fear of feeling like a failure or being seen as an oddity.
But I want to shed light into those dark places and speak hope into your discouragement and paralysis.
If there really is no reason you shouldn't be having sex (like illness, injury or extended separation because of military deployment or work commitments), then you need to be having sex — and finding ways to fully enjoy it.
You are worth it. Your spouse is worth it.  Your marriage is worth it.
Never want to miss one of my posts?  Subscribe via email on this page.  And be sure to join my more than 9,000 followers on my Facebook page and 10,000 followers on Twitter.
Copyright 2015, Julie Sibert. Intimacy in Marriage Blog. Links may be monetized.