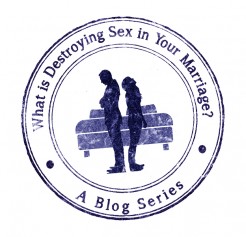 Orgasmic pleasure in a marriage can elude many couples.  The causes behind the struggle can vary.
In today's post, Tony and Alisa DiLorenzo of One Extraordinary Marriage share about the impact orgasm has not only on sexual intimacy, but marriage as a whole. The DiLorenzos' post is part of my ongoing guest blog series on things that destroy sex in marriage.
I so appreciate them sharing as part of this series.  Tony and Alisa were some of the first bloggers I met in the internet world of speaking encouragement into the lives of married couples trying to nurture their intimacy.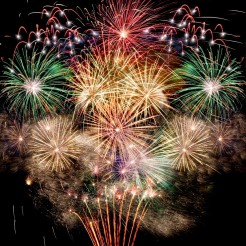 Is lack of orgasm destroying your marriage? The short answer is yes AND no.
Well, that cleared things up for each of you, didn't it?
The truth is that marriages are destroyed by many things and there are two sides to this particular question.
Let's explore this in more detail.
First, let me be very clear, I am able to have an orgasm and I do enjoy them.
I do not have an orgasm every time that I have sex.
Sometimes that is by choice and sometimes that is by circumstances.
I know that not everyone is able to have an orgasm. There can be medical reasons for lack of orgasm. There can be emotional reasons for lack of orgasm. There can even be knowledge reasons for lack of orgasm.
Let's start with that last point — the fact that you have to know how your body works.
You have to know what feels good for you in order to be able to share that with your spouse. If you don't know what works, how can you expect your spouse to figure it out?
Your spouse does not have ESP.
Am I referring to self-exploration? Yes! Mutual self-exploration.
When you were in school, did you have a  Sex Ed class?
Well…
…now, you get to participate in the grown-up, married version, and it's SO much better than what was in any textbook.
You have the opportunity to explore and learn with your spouse in a loving and creating environment. So what are you waiting for?
Now, back to the original question:
Is Lack of Orgasm Destroying Your Marriage? YES
For a person to experience orgasm, especially a woman, there has to be a combination of factors:
emotional connection
vulnerability
trust
communication
To fully let go in a sexual experience, to be willing to throw all caution to the wind, to be fully present in the moment, you have to let go of everything else around you.
You have to be willing to be caught up in the experiences, to surrender your body, mind, and soul to another person.
In the busyness of our world, that is a hard thing to do.  It takes a combination of willpower and desire to "flip the switch" to decide to be vulnerable, to decide to be fully present.
When these factors are not present, the chances for an orgasm are greatly diminished.
It's more than just the orgasm though.
When these particular factors are not present, there are greater problems in the marriage.
The lack of orgasm, and more likely the lack of sex, becomes a symptom of something else going on in the relationship.
So yes, if a lack of orgasm is due to the factors listed above, it could be indicative that your marriage is being destroyed.
Is Lack of Orgasm Destroying Your Marriage? NO
On the other hand, there are those times when the two of you are engaged in sexual activity with no orgasm. It happens and it's OK, as long as the two of you are able to communicate what's going on.
You won't always come to orgasm when you are having a quickie or when you are in a different place.
Many times there is a medical or situational lack of orgasm, and the two of you are aware of it.
You know that something is going on with the health of your spouse. You know that you only have 5 minutes before a child is going to come and knock on the door.
It's no surprise that due to stress, one of you might not be able to orgasm…
…and yet, the two of you are making the time to connect with one another, to be physical with each other.
To do what you can, with what you have, allows the two of you to be able to grow your marriage, no matter what the circumstances are.
The orgasm can be a barometer of what's going on the relationship, but not the only measure.
The most important thing in your marriage is that the two of you making time for one another and making each other a priority.
If you would like to read more posts about orgasm, check out this page.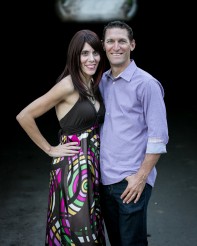 Tony & Alisa equip couples struggling with a lack of time, communication or intimacy with specific tools and strategies to create the extraordinary relationship they desire. One quick tool is their 6 Questions To Get The Conversation Started This Week (And Keep It Going).
Never want to miss one of my posts?  Subscribe via email on this page.  And be sure to join my more than 9,000 followers on my Facebook page and 10,000 followers on Twitter.
Copyright 2015, Julie Sibert. Intimacy in Marriage Blog. Links may be monetized.