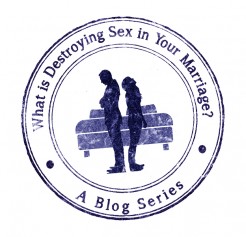 Today is part 1 of a guest blog series on what destroys sex in marriage and what we can do about it.
We are fortunate today to have my friend J Parker from Hot Holy Humorous digging into this issue of body image and how it impacts sexual intimacy in marriage…
What are two words most wives never want to hear in the same sentence? Naked and mirror.
If you shuddered just then, you're not alone. Body image is one major reason wives cite for not feeling comfortable getting naked and engaging in sexual intimacy with their husbands.
Whenever I write on how we feel about our bodies, I receive comments and concerns from wives struggling with this issue. Understandably, their deeply-felt concerns about their bodies interfere with wanting to make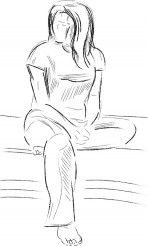 love.
If only God had made sex where you didn't have to get naked…
Actually, I believe "get naked" is a good provision from God. But before you can feel that way, you have to adopt His perspective about your beauty.
Don't feel pretty enough to pare down to your barely theres, much less your bare necessities?
Why do you feel bad about yourself?
Although I don't know you, I'll tell you why: You're believing lies. I don't know your specific situation, so I can't say which lies you're believing. Yet I feel confident you have messages running through your brain about your appearance, your worth, your beauty that don't comport with how your Heavenly Father made and sees you.
"For you created my inmost being; you knit me together in my mother's womb. I praise you because I am fearfully and wonderfully made; your works are wonderful, I know that full well" (Psalm 139:13-14).
Maybe you've read this scripture, perhaps many times, but do you believe it about yourself?
God knit you, right? In your mama's tummy? Then yep, you're "fearfully and wonderfully made." The real question is…do you know that full well?
Begin today by replacing the wrong messages looping through your head with God's truth. Place this scripture on your mirror, recite it daily, memorize it. Plant it deep in your heart.
What's so great about you?
A lot actually. But unfortunately we get stuck in recounting our flaws more than our assets. What always fascinates me is talking to a gorgeous woman—you know, that gal everyone agrees has been kissed by good genes and the fickle Fairy of Fabulous Fortune—and discovering she hates her thunder thighs. Or whatever it is.
I'm not expecting you to send sympathy gifts to that woman, but realize we all do ourselves a vast disservice and don't represent the truth when we focus on those aspects we don't like. Everyone has stuff they don't like, but what matters is what you emphasize.
When you look at yourself in the mirror, clothed or naked, start pointing out your goodies, girlfriend! Everyone has those too.
If you can't name three things off the top of your head or while staring in the mirror you like about yourself, try harder or ask a good friend for help. Repeat those three beauty traits to yourself like a mantra, and eventually add another trait, then another, and so on and so on.
Make a habit of being good to yourself when you look in the mirror. Be your own Fabulous Fairy of Fortune. You don't even need a magic wand.
What about your husband?
Another certainty when I blog about body image is hubbies defending their wives. Most husbands are protective of their wives already, but it's weird that when it comes to our beauty, our men are often defending us against, well, us.
Time and time again, I hear from husbands who say, in spite of whatever flaws his wife concentrates on, he married a "make-my-heart-thump" hottie. And he hates it when you won't share your body with him because you've decided it's not good enough.
Allow your husband to reassure you of your beauty. Let him see you naked and proclaim, "How do I love thee? Let me count the ways!"
It's not about perfection to him—and newsflash, he ain't perfect either—but rather your femininity, openness, confidence, and connection. He adores that this woman's body is his—his to view, his to appreciate, his to pleasure, his to satisfy.
Yes, it's your body, but it also belongs to your husband.
"The wife does not have authority over her own body but yields it to her husband. In the same way, the husband does not have authority over his own body but yields it to his wife" (1 Corinthians 7:4).
Let go of worries about your body's imperfections and let your husband reassure you of your beauty.
Will you accomplish all of this tomorrow? No, of course not. This is a journey from feeling inadequate to feeling beautiful. But if you don't feel good about your body, your marriage's sexual intimacy is suffering. And you are suffering—not experiencing fully what God wants you to have.
Take a first step. Recognize the importance of embracing your self-worth and the unique beauty God knitted into you.
Walk confidently into the marital bedroom, reveal all your beauty and imperfections, and make something that's also beautiful—make love with your husband.
"For your royal husband delights in your beauty" Psalm 45:11 (NLT).

J. Parker is the author of two books on sex in marriage, Sex Savvy and Intimacy Revealed, and most recently a collection of marriage stories, Behind Closed Doors. She writes the Hot, Holy & Humorous blog, where she uses a biblical perspective and blunt sense of humor to foster Christian sexuality in marriage. You can read more of her thoughts at www.hotholyhumorous.com.
Copyright 2015, Julie Sibert. Intimacy in Marriage Blog. Links may be monetized.
Never want to miss one of my posts?  Subscribe via email on this page.  And be sure to join my more than 9,000 followers on my Facebook page and 10,000 followers on Twitter.