Is SEX is a struggle in your marriage?
If so, what's behind that?
How did you arrive at this place where intimacy is anything but intimate — and maybe isn't even happening at all?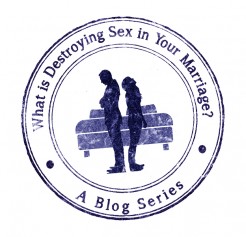 I am kicking off a guest blog series on the things that destroy sex in marriage and what we can do about it.
There are so many passionate Christian bloggers who want to speak hope to couples struggling with their sexual intimacy.
In the coming days and weeks, as part of this series, I will be sharing posts from Dustin Riechmann, Kevin Bullard, Cassie Celestain, Lori Lowe, Belah Rose, Sheila Gregoire, Tony and Alisa DiLorenzo, Kate Aldrich, Gaye Groover Christmus, Paul Byerly, J Parker, Jen Smith, Bonny Burns, Chris Taylor, Debi Walter, Stu Gray and more!
They'll each share on a specific struggle. More exciting is they'll be giving insights on what you can do to stop that struggle from sabotaging sexual intimacy in your marriage.
I mean seriously, they'll be rocking it out with insights that you can use to nurture better intimacy in your marriage.
Don't want to miss any of the posts?  Of course you don't! You can make sure you get them all by subscribing to my feed.
Won't you come along for the ride and glean ideas that could positively impact your marriage?



Never want to miss one of my posts?  Subscribe via email on this page.  And be sure to join my more than 9,000 followers on my Facebook page and 10,000 followers on Twitter.
Copyright 2015, Julie Sibert. Intimacy in Marriage Blog. Links may be monetized.