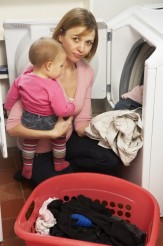 Do you make excuses for not having sex with your husband?
I ask that question with a humble heart that has a passion for encouraging women in this area of their marriage.
Some wives are making excuses. I think these are some of the worst.
1. I'm too tired.
Before you go all ballistic on me, I know all about being tired.
I too live in a vortex of things clawing for my attention.
Forms that have to be signed, meals that have to be cooked, laundry that has to be cleaned and put away.  Work demands that are… well… demanding. Needy little creatures I gave birth to who are whining about lost Legos or Minecraft tragedies or no milk in the fridge.
I have walked the floor at midnight with a crabby newborn. I have held the head of a puking grade-schooler.  I have worked until 2 a.m. on work projects.
I get tired.  I get it.
BUT, if you are consistently too tired for sex, then something's gotta give.
If your husband is always getting what's leftover in your heart, head and hands, then something's gotta give.
Something. Has. Got. To. Give.
Take an honest look at why you are too tired and make changes — even baby steps — so that you will have more energy for sex.
2. My show is on.
Well, if your show is on, then tell your husband you will be up for some lovemaking after the show is done.  Then follow through.
The follow-through is key.  Because false hope and half truths and empty promises are assassins to healthy sexual intimacy.  Killers, I tell you.
And the collateral damage to your marriage is just too high a price to pay, all in the name of the latest episode of "Scandal" or "Parenthood" or "19 Kids and Counting."
I like to unwind with a show every now and then too, but I can't tell you the number of times I hear from husbands whose wives want to sit in front of the TV (or computer) for hours every night — yet don't have any interest in having sex.
While your show is on, your marriage may be dying. One episode at a time.
3. I have to do stuff for the kids.
Yes. Yes you do. You have to build a strong healthy marriage.
But that's really hard to do if you are overly diligent about catering to every request that walks in the door or out of the backpack or into the email inbox.
If you want to protect time for sexual intimacy in your marriage, you need to become discerning about what is vital to your children — and what is wasted effort that won't make a lick of difference.
You have to decide if the 25 kids in your child's classroom really need homemade cookies for their class party — or if store-bought ones will suffice just fine.
I know there are times we want to go all "super parent" for our kids with the "perfect" Halloween costume or prom dress or birthday party, but at some point you need to stand back. Take a breath.
Those little creatures you and your husband created — they need a mama and daddy who love and cherish each other.
That means you have to intentionally carve out time to shut the bedroom door, forget about homemade cookies, and enjoy sex with your husband.
4. I need to clean the house.
That sticky kitchen floor and unfolded laundry can wait.  It can.
Unless you are being nominated for that hoarders show and desperately need the help of organizers from IKEA, then you likely don't need to clean your house at this moment.
Sure, no one wants to live in filth, but my experience has been that the definition of clean you might be holding up for your home is exhausting you and consuming you — to the point that "clean" might just be an idol on your heart.
Sometimes the wisest and best investment you can make in keeping your house in order is to push the laundry off the bed and make love to your husband.
Or, if you want to do the super-clean house thing, more power to you.  Just don't let it get in the way of connecting sexually with your husband on a fairly regular basis.
5. The kids will hear us.
First of all, are you certain they will hear you?
Most kids, once they are asleep, are indeed asleep, traipsing through dream land without a care in the world about your sexual escapades two doors down the hallway.
If you still are concerned, then take a few precautions.
Shut and lock the bedroom door, put some music on, try to be more discreet with your shrills of ecstasy, invest in a good bed that won't creak. Get creative about planning times to occasionally have sex when the kids are eating cookie dough at grandma's or enjoying a play date at a friend's house.
And if they do interrupt you (funny story about us here), then see it as bump in the road rather than a complete derailment of your intimacy for the evening.
Sure, the kids may hear you at some point.  But no matter their age, it's a great opportunity to have some age-appropriate conversations with your kids about sex.
It's completely okay to tell younger children that mommy and daddy need some alone time and that no one is getting hurt.
It's totally appropriate to tell pre-teen kids and teenagers that sex is a healthy and enjoyable part of marriage.  (If the teens hear you having sex, my guess is they will never let you know; but you still need to have the conversations with them).
There you have it — what I see as the 5 worst excuses for not having sex.  (Notice I didn't include "I have a headache" as one of the excuses.  Hey, if you have that many headaches, you need to see a doctor right away. Like, right away.)
If sexual intimacy in your marriage is dying on the mountainside of the above 5 excuses, are you really okay with that?
I would be willing to bet your husband isn't.
Copyright 2014, Julie Sibert. Intimacy in Marriage Blog. Links may be monetized.
Never want to miss one of my posts?  Subscribe via email on this page.  And be sure to join my more than 9,000 followers on my Facebook page and 10,000 followers on Twitter.