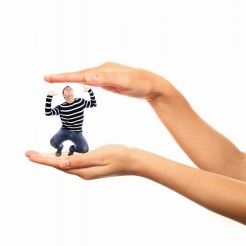 Just for the record, I gave equal air time in the post "How to Destroy Your Wife's Womanhood in 10 Easy Steps."
Here's how you can destroy your husband's manhood in 10 easy steps…
1. Ignore him sexually (or just go through the motions).
Sex matters. And many husbands are dying on the inside, wishing their wives understood how much it really does matter.
If your husband is like most, he wants a wife who is not only sexually available, but also sexually enthusiastic.  If this is a big struggle for you, figure out why.  And then do something about it.
2. Desire things that are not realistic purchases with his salary.
It is a tremendous responsibility to be a financial provider for a family.  Some guys shoulder this completely alone.
But whether you and your husband both work outside the home — or he is the main breadwinner — strive to be partners in financial responsibility.
Don't intensify financial instability in your marriage by desiring things that are not realistic for your household income.
If you struggle with this, find a mature sister in Christ to pray with you about getting your heart aligned with God on all things financial.
3. Fake orgasm.
I know you may think that you are helping his ego by faking orgasm, but you are harboring a lie in your marriage bed.  That's bad spiritual mojo, if you ask me.
Be sexually vulnerable with him instead and show him how to sexually please you.  Your orgasm matters.  God designed it and He wants you to experience it.  I'm guessing your husband wants that for you as well, which is why I wrote the post 3 Reasons Your Husband Likes It When You Climax.
4. Consistently run to your family every time you have a marital struggle.
Leave and cleave.  If ever there was a key ingredient to marital success, it has to be this.  Leave and cleave.
I'm not saying you don't need safe confidantes when things get rocky.  You just don't need those havens to be your family.  It is impossible for them to give you impartial advice.
5.  Expect him to be like one of your girlfriends.
He's a guy. He doesn't need endless conversation about endless details.  Yes, you and your husband need conversation and it serves a vital role to the health of your marriage.
But don't expect that conversation to look like the camaraderie you have with your gal pals.
6. Immediately say "no" to what are reasonable sexual requests.
Obviously, if he is requesting another woman join the two of you in bed, or that you watch porn with him, or that the two of you take up "swinging" with the neighbors, you definitely need to say "no."  Activities like this compromise the sacredness of marital sexual intimacy.
BUT, if he is desiring sexual variety for which you have no biblical or reasonable justification to deny, then don't be so quick to say "no."
Sex in a position other than missionary position?  Oral sex? Sex on the couch?  A quickie when he comes home for lunch?
My goodness, these are not so far out of bounds that you should be so quick to shut him down.
7. Never thank him for what he contributes to the life you share.
One of the ways my husband shows love is acts of service.
He mows the yard, changes oil in the car, hangs pictures for me, repairs broken stuff and so forth (not to mention works full time and does part-time work on the side).   He contributes tremendously to our life.
It would be easy to just take all this for granted.  And honestly, I did for awhile.
But I've gotten better about thanking him, because I know what a positive impact it has on him to know all his effort is not in vain.
8. Expect him to parent like you parent.
Dads are different than moms.  Better at some things, worse at other things; but different nonetheless.  Yet, what they offer children is of value.
If your husband is a good dad — even if he parents different than you — stop getting in his way.  He's giving your children something you can't give them.
9. Become hyper-sensitive to what are normal male behaviors.
Trust me, I completely get that you don't want him farting and burping at Easter Brunch at your mom's.  But in the same regard, you need to have reasonable expectations of how he behaves in the privacy of his own home.
For the most part, I just think guys are rougher around the edges.  But is this really such a monumental thing?
Who cares that he wants to lay around in his old college shirt and sweatpants and watch the ball game.  If he wants to eat an entire plate of nachos. At 11 p.m. In his underwear.  Is this really cause for alarm? Probably not.
And gals, he will never be able to wrap a present as well as you.  If you ask him to wrap the present, be grateful he wrapped it. Don't re-wrap it.
10. Use his lack of Bible knowledge to your advantage.
This is spiritual righteousness.
It makes your husband feel like crap when you point out that you understand the Bible better than him.
In many marriages, the wife has a better understanding of Scripture, whether it be because she takes more Bible studies, was raised in a stronger Christian home or has been a Christian longer than her husband.
It's not that having a thorough understanding of God's Word is bad.  It's actually good.  But if you have such a deep understanding, then you likely recognize how much God talks about the character quality of humility.
Your husband possibly already feels inadequate as the spiritual leader in your home.  Don't add to his insecurity.  Find ways instead to build him up, including in your private quiet time with the Lord.
Yes, every marriage is different.  And I imagine if we brainstormed awhile longer, we could come up with other ways to destroy a husband's manhood.
But let's not be those types of wives.  Instead, let's be wives with an authentic responsibility to help our husbands be the men God has called them to be.  Let's be all about building manhood, not destroying it.
Copyright 2013, Julie Sibert. Intimacy in Marriage Blog. Links may be monetized.
Never want to miss one of my posts?  Subscribe via email on this page.  And be sure to join my more than 9,000 followers on my Facebook page and 10,000 followers on Twitter.