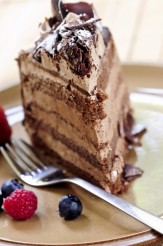 Today is my birthday.
Ironically, the older I get, the more I like my birthday!  Seriously.
It's nice to be pampered, to hang out with my closest friends and loved ones and to appreciate all the goodness life has to offer.
What does this have to do with sex, you may be wondering?!
Sadly, for some married couples, the only time of the year they are having sex is on birthdays and anniversaries.  Instead of celebrating sexual intimacy throughout the year, they confine it to only a few spots on the calendar.
If this is the pattern in your marriage, I humbly recognize that there's probably a reason or two behind that.
Unresolved issues. Unaddressed pain.  Emotional distance.  Apathy. Poor communication.
And maybe you are the one who has tried to address these sexual intimacy struggles to no avail.
I receive emails regularly from men and and women who are deeply wounded by their spouses' lack of interest in nurturing intimacy.  It grieves my heart.  And in a way, it inspires me to keep writing and championing the need for married couples to foster sexual intimacy as God desires they would.
There is work yet to be done, and I see that.
On the other hand, as you read this, you may be realizing you are the one who has been indifferent about sex.
If you search your heart and the Scriptures and you realize you could step in a healthier direction… and do something to nurture sexual intimacy in your marriage… why not take that courageous step now?
Don't wait for a birthday.
Don't wait for an anniversary.
When you get to a point where mutually-valued sexual intimacy is the rule rather than the exception, you won't think of sex as "birthday sex" or "anniversary sex."   You'll just think of it as "sex" — a fabulously intimate and vital aspect of your relationship.
I get birthday sex all the time.  We just call it sex.
And it's always a reason to celebrate.
Copyright 2013, Julie Sibert. Intimacy in Marriage Blog.