Many of you follow me because you are looking for ways to grow more intimately connected with your spouse—sexually, emotionally, spiritually.
And I'm always saying that little steps count. They add up. It's the intentional effort that makes a difference.
So keeping in line with my heart to help couples, I am hopeful and enthusiastic about this affordable offer of the 2022 Marriage Bundle. Let's face it. There's a lot to be said for "affordable" at this time in our economy, so if you are going to invest in your marriage, why not get the most return on $20?!
I was asked to contribute a brand new eBook to the 2022 Marriage Bundle. It's titled, "The Sex You Desire with Your Spouse You Love: 5 Tips to Make it Possible." This eBook is available right now only with this bundle. It hasn't been released anywhere else. And it's only ONE resource in this bundle.
There are eBooks, eCourses, date night ideas, videos and more! Amazingly, if you added up the value of all the resources, they would come in around $400. And normally this bundle sells for $35. 
BUT for a limited time, if you use my #promo aff

link, you can get it for $20.

Yes, 20 digital resources for $1 each. If you are ready for that deal, you can go

straight to the link here

or click on the below image. (Your price will reduce to $20 at checkout).
I personally know several of these contributors, including J. Parker, Dustin Riechmann, the Kerchevals, and Oliver and Denise Marcelle!
You can keep reading further down in this post to learn more specifics about ALL the resources included, so you can feel certain it is well worth the $20. I understand if you want descriptions of exactly what's included.
Even if you picked up a handful of ideas relevant to your marriage, the $20 cost is

incredibly reasonable

. But I think you will pick up a lot more than that!
Here is the #promo link or click on the photo:

Imagine, with just one click of a button, you get top marriage courses, eBooks, printables, and date nights! Each resource has been selected to help you have a whole lot more fun, passion and healthy connection in your marriage.
Want a closer look at what's included?
Below are the descriptions of each digital resource included.  At any point when you are ready to spend just $20 for the entire bundle, click on any of the photos and that will take you to my #promo aff link, which is what gives you the affordable deal of 20 resources for $20.
The 2022 Marriage Bundle:
1. Positions Matching Bedroom Game by Ultimate Intimacy Are you ready to bring back the fireworks and passion into your marriage? Need something new in the bedroom? Our non-graphic position cards are the perfect way to spice things up and try something new in a fun way! Over 75 positions!
2. The Marriage Tree eBool by Tandem Marriage Tandem Marriage knows what it takes to have a thriving marriage because they have been helping couples do just that for over 25 years now. The Marriage Tree is a beautiful and insightful new eBook that utilizes the analogy of caring for trees as a beautiful new way to see your own marriage and care for it. And it works! You have never read a marriage book like this.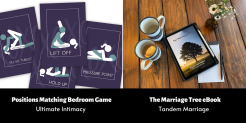 3. Time Blocking Blueprint by A Purpose Driven Mom Learn how to tackle ALL of your TO-DOs (YES! It's possible!) with doable strategies that make sense for YOUR life. This eCourse covers plans and contingency plans for when life throws you a curveball. Video instruction and ready-made Trello boards help you plan YOUR life in a way that makes sense for YOU.
4. Navigating Differences in Sexual Desire Workshop by Get Your Marriage On! Do you want sex more or less than your spouse? Is this desire gap an issue in your marriage? Through this workshop by marriage coach Dan Purcell, you'll learn practical strategies you can implement right away to help the two of you get on the same page sexually. It includes a 16 page downloadable workbook and a 1.5 hour video course!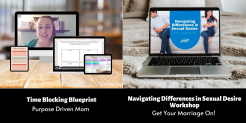 5. How to Have a Strong and Thriving Marriage After Kids by My Love Thinks In this 90-minute webinar, Dr. Morgan Cutlip explains the most common 4 challenges couples struggle with after kids—and then gives the one secret to success in relationships and offers practical tips and tools to stay close and feel connected when it feels like kids are pulling you apart.
6. Creating Partnership Families E-Course by Dr. Julie Hanks You'll want to take notes as you listen to this well researched and in-depth course, full of the most important information on the Partnership Model of Family Organization.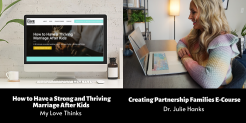 7. 4-Week Connection Challenge by Awesome Marriage It's easy to get disconnected in marriage. Distractions, screens, relational strife and other things pull at our attention and we forget to connect with our spouse. If you feel more like roommates than friends, of if you just need some better and new ways to connect, this challenge is for you!
8. Masterful Communication: The Six Communication Styles by Dr. Tamara Fackrell Transform your marriage communication and have a happier marriage as you master this most pivotal tool. In this course training, you will assess your own communication style, and explore and understand the six styles of communication. You can learn how communication styles unlock your perspective and knowledge for dealing with all communication situations to become masterful at communication!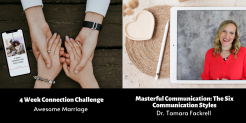 9. Romance the Write Way by Engaged Marriage Rekindle the romance (and intimacy) in your marriage with a step-by-step letter writing process that takes less than 15 minutes. Plus, you'll get our exclusive Love Letter Templates to make it super easy and fun! Includes 40 romantic writing prompts.
10. Designing & Building a Custom Marriage by Emil Harker, CST, LMFT Do you want a marriage by default or design? Why not use design theory and insights from one of the country's top marriage and sex therapist to create a custom marriage? In this program, you will be guided to work through frustrations and disappointments with comfort to eliminate unresolved issues and resentments. Create closeness, passion, and intimacy and keep it.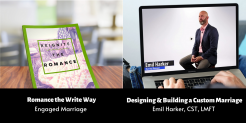 11. Intimacy Revealed: 52 Devotions to Enhance Sex in Marriage by Hot, Holy, & Humorous From bestselling author J. Parker, you'll love this devotional book for Christian wives to better understand God's gift of marital sex. Just a few minutes each week will help you move toward mutual, intimate, satisfying sexual intimacy in your marriage.
12. Making the Most of a Messy Marriage by Jay and Laura Laffoon We have to admit that we are all a mess at times! Now we are in this thing called marriage and we have a messy marriage! Jay and Laura help you identify areas that every marriage finds messy and unpack the tools needed to make the most of the mess!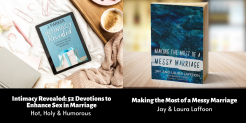 13. Better Sex in Your Marriage eBook: The Sex You Desire with the Spouse You Love by Julie Sibert of Intimacy in Marriage Do you desire more intimate, passionate and pleasurable sex with the person you married? Sexual connection is absolutely vital to healthy marriage, and this eBook will show you what it takes to get there! Transform your intimacy today with these 5 proven tips! You will be glad you did!
14. My $40,000 Lesson In Marital Communication by Julie Teffeteller Buckle up buttercup, because Julie Teffeteller's newest masterclass will completely transform the way you look at communication! She's boiled down over a decade's worth of communication studies and some very pricey life lessons and combined them into a lighthearted, humorous, and value PACKED workshop. And as an added bonus, she's also throwing in her newest eBook—365 Progressive Conversation Starters!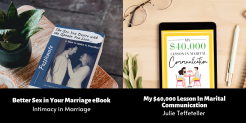 15. The Dance of Desire — Navigating the Dance of Sexual Pursuit and Rejection by Intimate Covenant If you've been married for any length of time, you understand the delicate dance that plays out in your relationship between sexual desire, pursuit, and rejection. In this video presentation, we'll look at this dance and what lessons we can learn to help us dance more gracefully in our own marriages. Plus, we've provided a printable outline and discussion questions so you can continue the conversation in your own marriage.
16. Growing a Higher Love: 6 Relationship Practices to Deepen Your Love by Dr. Matt Townsend This edu-taining, 2-hour date night was recorded in front of a live audience of 1200+ people. In a very humorous way, Matt Townsend covers 6 important character building tools, skills, and tricks to strengthen your character and deepen your love!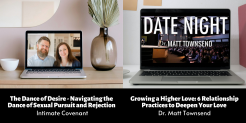 17. The Marriage Bible Study Bundle +Bonuses by Marriage Legacy University Couples' Bible study shouldn't be boring or hard. The Kerchevals have taken two of their favorite things, the Bible and marriage, to create The Marriage Bible Study Bundle. These engaging, candid, and fun studies will draw you closer to God and one another. You will receive four video workshops, four printable Bible studies, and bonuses to enjoy at home or on the go.
18. Marriage Toolkit Challenge by Denoli No matter where you are in your marriage journey, this marriage toolkit will be beneficial to you! Join Oliver and Denise Marcelle as they share valuable tools you can use to help you construct your relationship into the masterpiece you've always wanted! In each video, they highlight a different tool that is essential in building and maintaining a healthy and thriving marriage.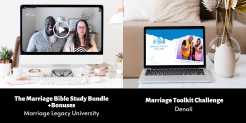 19. 10-Day Recharge Your Relationship Challenge by Love After Baby Take the challenge for daily ways to connect with your partner and fill your cup, from conversation starters and date ideas to self-care tips and journaling prompts. No need to do it all! Just pick and choose what feels right—it all adds to your Emotional Bank Account!
20. Pick Your Date Adventure App by The Dating Divas "What should we do for date night?"—There's an APP for that! In this app, your choices can lead you to one of 30 completely unique date nights! No more browsing the internet endlessly for an idea that catches your eye, and no more browsing through Netflix before you fall asleep on the couch next to each other. All YOU have to do is open the app and pick your date night adventure, one question at a time!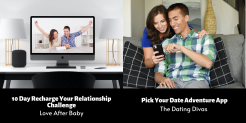 Wow. That is a lot of resources you can use over several weeks and months to transform your marriage for the better!
The 2022 Marriage Bundle is available at $20 for a limited time.
Here is my #promo link that will bring the price to $20 when you go to checkout:
And here's to more ideas for stronger connection, deeper intimacy and growing closer to the person you married—all for $20!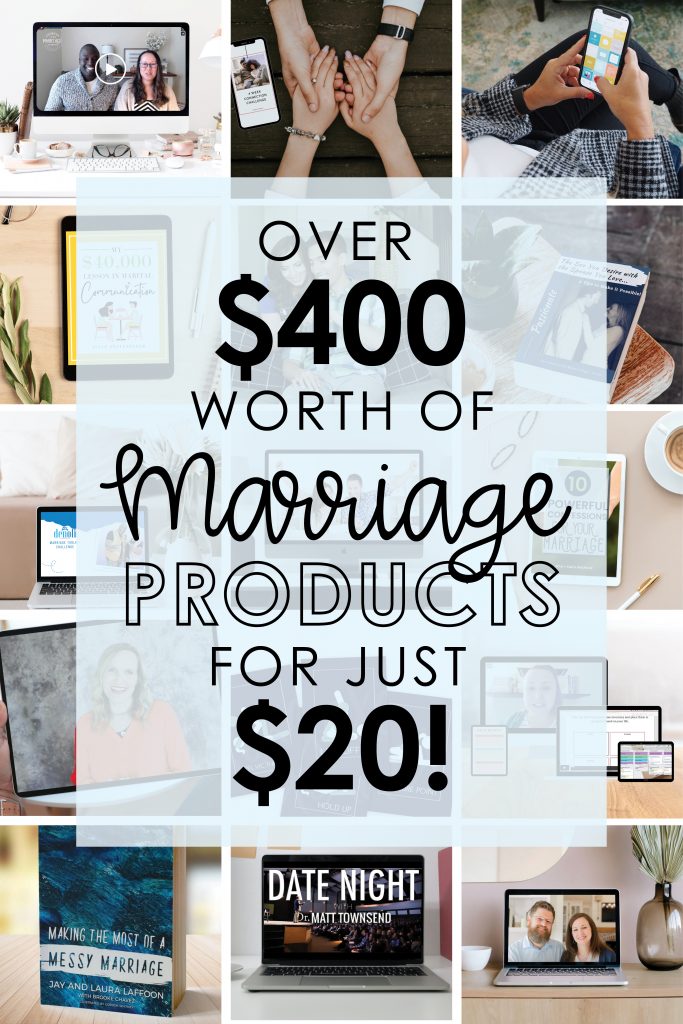 Copyright 2022, Julie Sibert. Intimacy in Marriage Blog. Links may be monetized.
Never want to miss one of my posts?  Subscribe via email on this page.  And be sure to join my more than 10,000 followers on my Facebook page and 11,000 followers on Twitter.
SaveSave