Even in these tight economic times, it just makes good sense to keep investing in your marriage! You can do that right now at an incredible price of $20. But the offer is for a limited time, so don't delay.
This year's Marriage Bundle of digital resources is a must have… one click at an incredible price that could help you create the space, time and connection you crave with your spouse.
The bundle includes more than $400 in resources.

BUT it is only $20

when you use my #promo link. Keep reading to learn more or go straight to the link now.
IMPORTANT

: 
You will see it at $35, but when you add it to your cart and then go to the checkout page, the discount code is automatically applied and YOUR PRICE reduces to only $20!
This is about creating a happier, closer and more passionate relationship. I was happy to contribute the following eBook as one of the resources you will receive:
The Sex You Desire with the Spouse You LOVE: 5 Tips to Make It Possible 
You'll also get other digital downloads, including marriage courses, eBooks, printables, and date night ideas. Each digital resource has been selected to help you build a stronger more intimate marriage.
These are resources from TOP marriage experts, bloggers, and professionals to create the ULTIMATE Marriage Bundle!
The 2022 Marriage Bundle is available for a limited time. Want the complete list? It's amazing what's included.

All for only $20 with my unique link

. Here goes…
Better Sex in Your Marriage: The Sex You Desire with the Spouse You Love (eBook)
How to Have a Strong and Thriving Marriage After Kids (eCourse)
Making the Most of a Messy Marriage (PDF)
Growing a Higher Love: 6 Relationship Practices to Deepen Your Love (Virtual Date Night)
The Marriage Tree (eBook)
Positions Matching Bedroom Game (PDF)
4-Week Connection Challenge (PDF)
Marriage Toolkit Challenge (Videos)
Masterful Communication: The Six Communication Styes (eCourse)
Romance the Write Way (PDF)
Intimacy Revealed: 52 Devotions to Enhance Sex in Marriage (PDF)
Time Blocking Blueprint (eCourse)
Creating Partnership Families (eCourse)
My $40,000 Lesson in Marital Communication (Video Workshop)
The Dance of Desire—Navigating the Dance of Sexual Pursuit and Rejection (eCourse)
The Marriage Bible Study Bundle + Bonuses (4 Workshops and 4 Printable Bible Studies)
10-Day Recharge Your Relationship Challenge
Pick Your Date Adventure (App)
Yes, all of that! All of these products in this Marriage Bundle are worth OVER $400 if you purchase them individually.

But you can get them all RIGHT NOW for

the incredibly reasonable price of ONLY $20 using my link. Remember, it initially shows at $35, but that price WILL reduce to $20 when you go to check out.
Don't delay. Invest in your marriage today by going to my link by clicking on the below image: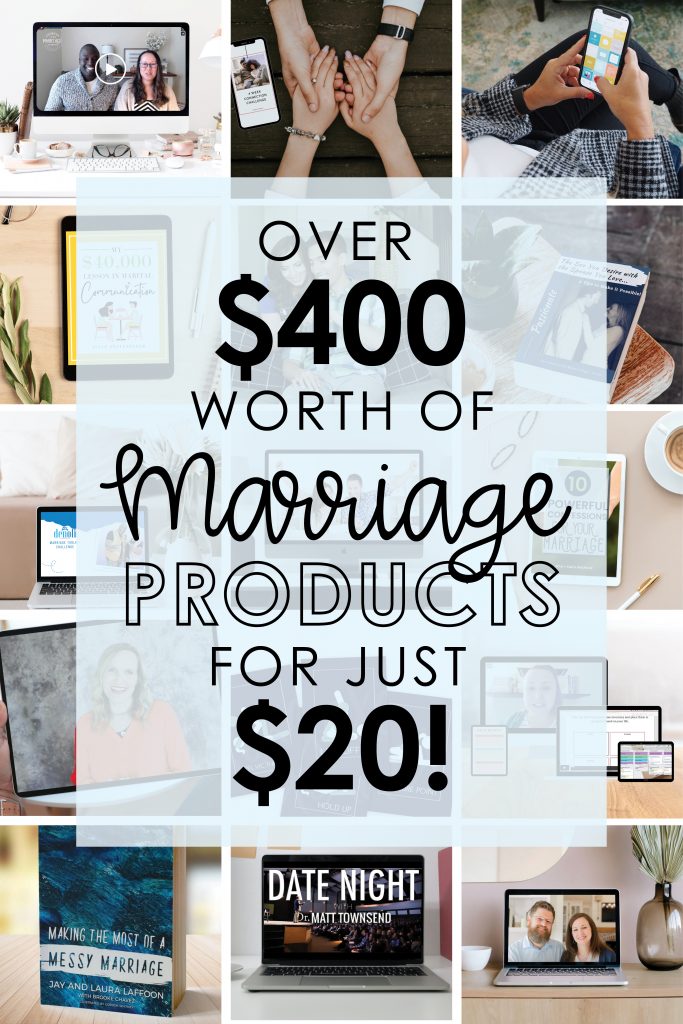 Copyright 2022, Julie Sibert. Intimacy in Marriage Blog. Links may be monetized.
Never want to miss one of my posts?  Subscribe via email on this page.  And be sure to join my more than 10,000 followers on my Facebook page and 11,000 followers on Twitter.