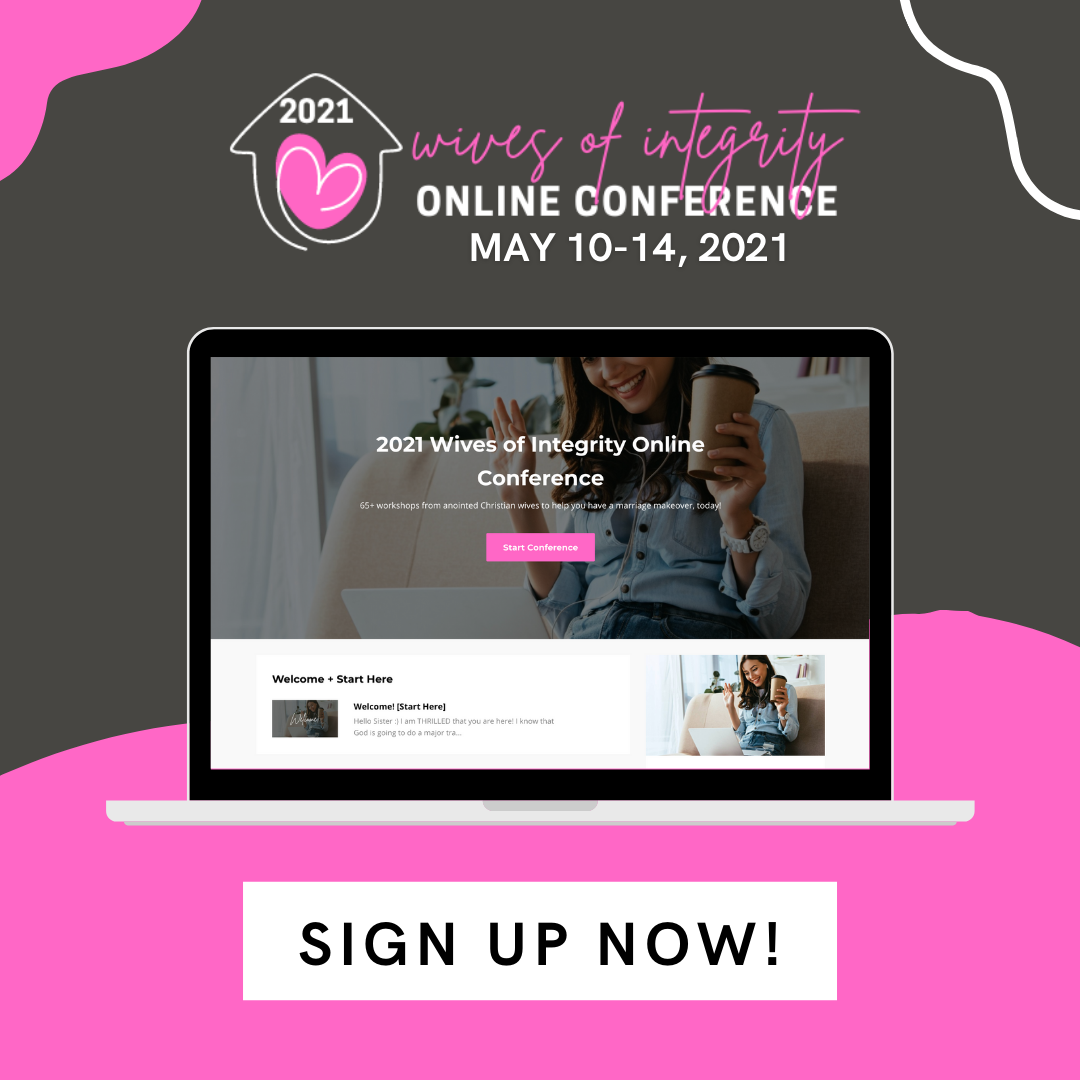 YES!! With 60+ workshops, the 2021 Wives of Integrity Online Conference could be amazing for your marriage.
Below are some of the workshops you will have access to. You will miss out, though, if you don't register.
Whether you are a wife or a husband reading this right now, consider how this conference could be a great encouragement for your marriage.
We are talking biblically-sound teaching with videos and downloadable workbooks, all aimed at encouraging and equipping you in your marriage.
I'm EXCITED to be one of the speakers uplifting you and other wives! Of course, I will be talking about SEX, but there are so many other topics as well. (I'm not even the only speaker on sex!)

How to Be More Connected as a Couple through Your Faith

Sex and Marriage: Cultivating Desire and Passion Amidst Life's Chaos

Better than Happily Ever After: Six Truths to Transform Your Marriage

Managing Expectations When You're Married to the Military

5 Mistakes Newlyweds Make that Derail Their Marriage

Cultivating Peace with Your Spouse When Life is in Flux

Bringing Your Sexy Back Into the Bedroom 

Forged and Flourishing: Rising from the Ashes of Grief

Building Financial Intimacy in Marriage
How to Draw Close to Your Husband
Sex and the Tired Wife
How Micro-Cheating Can Chisel Away at a Healthy Marriage 
How to Create a Christ-Centered Home
AND SO MANY MORE SESSIONS
For a more complete list of the main conference sessions, go to this link.
How does the conference work, Julie?!
EASY! You sign up for FREE with my affiliate link. When the conference goes live each day May 10-14, you will have FREE access to the day's sessions for 24 hours. (For example, Monday's sessions go live at 9 am Eastern and are free until 9 am Tuesday). If you want access beyond that for one year, you pay a reasonable upgrade fee. PLUS, there are other opportunities that will be available.
What if I know I'll want to watch the sessions at my convenience, rather than just on the day they release?
Great question! Maybe you already know you want longer access than the free period. Once you register with my link (#aff), you will receive an option to get the All-Access Pass. This pass will be $39 if you lock it in by May 9 (Remember… it gives you access to the sessions for a year!)  If you wait to invest in the All-Access Pass once the conference has started, the investment goes up to $59. Still a deal, but the $39 is a steal.
At the minimum, what should I do NOW?
You should take advantage of the FREE registration now (#aff). That way, you know you have access to the sessions for 24 hours once they release. You can always decide tomorrow or some time before May 9 if you want the All-Access Pass.
Wouldn't you rather register for FREE now than wait and end up wishing you had—only to have it be too late for the FREE access?  Makes much more sense to register now.
Will I really pick up good information, Julie?
How could you not pick up good information with this many sessions? There's so much content, brimming with material all aimed at encouraging you. You know how passionate I am about talking about sex? All these speakers are passionate and committed to coming alongside you and other women to give them nuggets of relational gold!
Here's my affiliate registration link again:
Remember, it's free sign up now, so you might as well take advantage of it. This choice could have such a positive impact on your marriage going forward. Might as well see what it's all about!
Copyright 2021, Julie Sibert. Intimacy in Marriage Blog. Links may be monetized.
Never want to miss one of my posts?  Subscribe via email on this page.  And be sure to join my more than 10,000 followers on my Facebook page and 11,000 followers on Twitter.