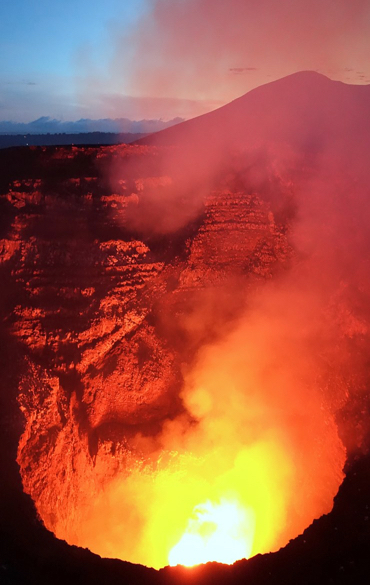 On Wednesday, Nik Wallenda walked on a tightrope over the active Masaya Volcano in Nicaragua. Kind of sexy, if you ask me…even with the safety harness.
Sadly, some people have criticized him for using the harness, despite the fact he did the entire walk without falling. It looked crazy and daunting.
Would any of us have hopped on that one-inch wire, hooked on the harness and done the same walk? I can't speak for you, but I'm going to have to go with a hard "no" for my answer. Just for some perspective on the haters over the harness, let's remember no one ever criticized stunt man Evel Knievel for wearing a helmet. (Now I'm dating myself. Too funny!)
Wallenda hails from the famed Wallenda family, generations of which have done high wire acts and circus acts and wowed crowds around the world.
Some members of the family have fallen to their death or been seriously injured. Nik is known for highly-publicized feats, including walks across Niagara Falls, the Grand Canyon, and waters filled with barracudas, piranhas and sharks.
What stood out to me about Nik in this walk over the volcano is how forthright and genuine he was in sharing the Gospel.
He was mic'd and spoke quite a bit during the walk, including singing praise songs at times and admiring God's wonder as he glanced at the lava below him. I don't know anything about Nik's faith walk (no pun intended!), but the man clearly exuded his love of Christ.
So props to you, Nik Wallenda—for the jaunt across the volcano. And for not being shy in sharing the love of Jesus Christ on national TV.
For more reading, you can cruise through my list of past posts. as well as my page with a bunch of posts on orgasm.
And I have a 5 video series available on building better sex in your marriage. Great way to invest in your marriage!  You can find out all about it at this link:  Better Sex in Your Christian Marriage.
Copyright 2020, Julie Sibert. Intimacy in Marriage Blog. Links may be monetized.
Never want to miss one of my posts?  Subscribe via email on this page.  And be sure to join my more than 10,000 followers on my Facebook page and 11,000 followers on Twitter.