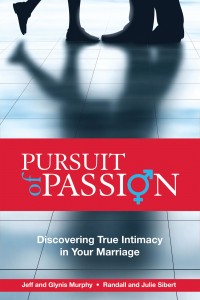 I'm spending Thursdays giving you an overview of chapters of my book Pursuit of Passion: Discovering True Intimacy in Your Marriage. If you missed chapters that have already been reviewed, you can find those posts at this page.
Chapter 5 is all about desire and arousal — more importantly, how do a husband and a wife nurture those in marriage. No surprise that what builds physical desire is closely related to what builds emotional desire and vice versa.
We offer up good insights on specific ways you can nurture all forms of intimacy in your marriage.  We also strive to raise awareness on what destroys intimacy and what you can do as a couple to protect your marriage from these.
The second half of the chapter gets into actual physical arousal and how to make the most of this phase of lovemaking.  Everything that leads up to orgasm plays an important role in the entire sexual encounter, so as a husband and a wife, you do your marriage a world of good when you take to heart this aspect of sex.
Chapter 5 sets the stage for Chapter 6, which is all about climax and how that intense pleasure for both a husband and a wife benefits them individually and as a couple!
As with all the chapters in the book, we offer a few questions at the end of the chapter to help generate good dialogue between a husband and wife about sexual intimacy. As I've mentioned in previous posts, the book is an ideal gift for an engaged or newly-married couple, but no doubt anyone who is married could gain some helpful insights.
Want to know more? You can check out our book website or go straight to Amazon. And definitely keep coming back on subsequent Thursdays as I unpack additional chapters.
For more reading, cruise through my list of past posts. as well as my page with a bunch of posts on orgasm.
Copyright 2019, Julie Sibert. Intimacy in Marriage Blog. Links may be monetized.
Never want to miss one of my posts?  Subscribe via email on this page.  And be sure to join my more than 10,000 followers on my Facebook page and 11,000 followers on Twitter.